5 Delicious Recipes for Oktoberfest
Oktoberfest, which originally began as a wedding celebration over 200 years ago for Bavaria's Crown Prince Ludwig, has grown into an annual event that's now celebrated all over the world. Oktoberfest usually begins sixteen days prior to the first Sunday in October and is filled with lots of traditional foods, beer and entertainment.
While this German fall festival may be canceled this year, that doesn't mean you and your family can't still celebrate it at home with some festive and delicious bratwurst dishes! To help get you started, we've put together five of the best Oktoberfest recipes that feature our authentic German bratwursts.
1. Bratwurst With Bacon and Apple Sauerkraut
Our bratwurst with bacon and apple sauerkraut recipe is the perfect way to kick off the fall season and celebrate Oktoberfest. This dish combines sweet and savory bratwursts with bacon for a flavorful and hearty meal. A medley of other ingredients — including juniper berries, bay leaves and white wine — are added into the cast-iron casserole dish to complement the meaty flavors. With grainy mustard as the finishing touch, your entire family will feel as if you are dining in Bavaria.
2. Beer Bratwurst With Sauerkraut
Combine bratwurst sausage with everyone's drink of choice this Oktoberfest — beer! Our beer bratwurst with sauerkraut will surely have everyone asking for seconds. Our Premio beer bratwurst is sautéed with onions then seasoned with caraway seeds. The finishing touch? Plenty of sauerkraut! As this dish bakes for 20-35 minutes, you can work on crafting some of your favorite German sides for an Oktoberfest feast your family won't soon forget.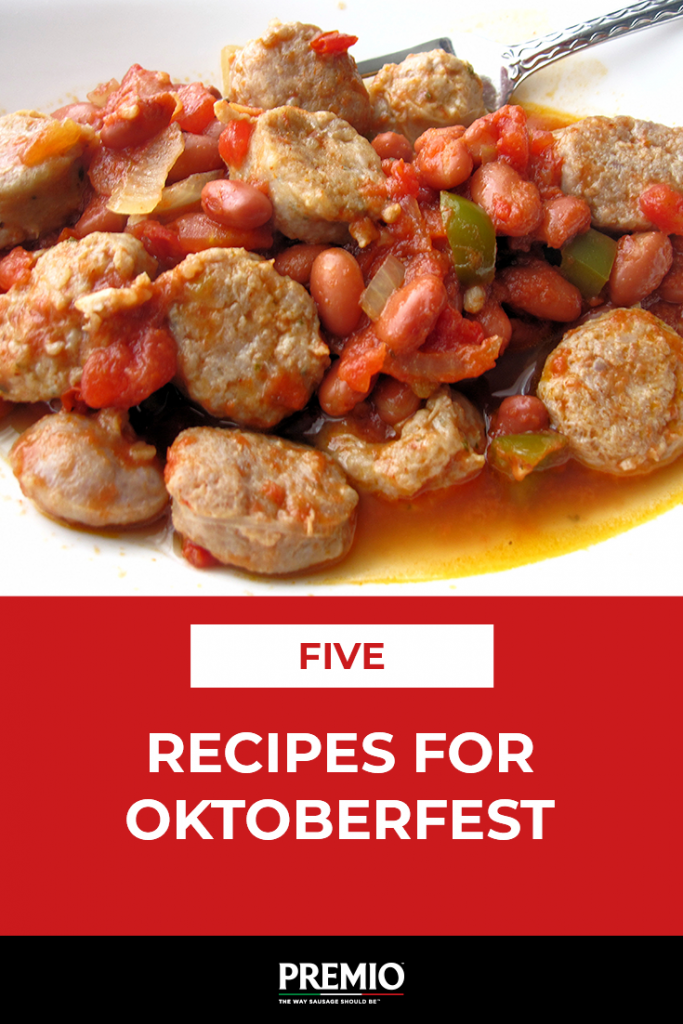 3. Barbecued Bratwurst and Beans
With the cooler fall temperatures, you've most likely already retired your grill for the season. That doesn't mean you can't still enjoy a barbecued dish this Oktoberfest. Our barbecued bratwurst and beans recipe is quick and easy to make — right from your stovetop. Our bratwurst will steal the show while kidney beans, tomatoes and onions add complementing flavors and transform it into a mouth-watering, hearty dish.
4. German Octoberfest Pizza
With kielbasa sausage, sauerkraut and mounds of cheddar cheese, our German Octoberfest pizza will without a doubt be a family favorite. You won't even have to worry about kneading and tossing pizza dough to make this quick and easy recipe. Instead, this recipe incorporates refrigerated pizza dough so you can whip up the pizza in no time and get back to merrymaking with your family.
5. Beer Bratwurst Skillet Dinner
If you are searching for a one-dish Oktoberfest sausage recipe, our beer bratwurst skillet dinner will not disappoint. This dish features Idaho potatoes, onions and green peppers and is coated in a thick, seasoned gravy. The result is a flavorful and filling meal that pairs perfectly with crusty bread and your favorite beer.
Indulge in a Taste of Old-World Germany With Premio Bratwurst
When you buy bratwurst sausage from Premio Foods, you'll be able to indulge in the finest cuts of butcher quality meat and imported spices. No matter which recipe you choose, our authentic German bratwursts will satisfy your entire family this Oktoberfest.
If you're wondering where to buy our fresh and flavorful bratwurst, our store locator will help you find the store nearest you that stocks Premio products.
Do you have a favorite German drink you can't wait to sip on this Oktoberfest? Share it with us in the comments!