5 Valentine's Day Breakfast Ideas for Kids
Valentine's Day is a holiday to celebrate love, and it doesn't have to be limited to couples. Kids should be included in Valentine's Day as well. Celebrating Valentine's Day for kids is a great day to show them how much you love them and teach them the importance of spreading love and kindness to others.
Whether you're a parent, aunt, uncle or grandparent, you can show the children in your life how much you love them with a fun Valentine's Day breakfast. To make the day even more fun for your kids, you can invite them to help you cook. To celebrate this fun holiday with your little ones, consider the following fun Valentine's Day meal ideas for kids:
1. Sausage French Toast Rolls
Sausage French toast rolls are kid-friendly because they are both nutritious and appealing to little ones. Kids will love the sweet taste of sugar and cinnamon, and the sausage adds B vitamins to make this a nutritious recipe. To add even more vitamins and nutrients to this meal, you can serve it with fruit and dipping sauce. Your little ones will love the French toast small roll shapes, which make them easy to serve and eat.
To make sausage French toast rolls, start by mixing eggs and other tasty ingredients in a bowl and cooking Premio Sweet Italian Sausage in a skillet according to the package instructions. Make sure you cook the sausage to a minimum of 160 degrees Fahrenheit. You can let your kids help you flatten bread slices with a rolling pin before you wrap them around the cooked sausage links, and then they can help you dip the bread-wrapped sausage links in your egg mixture so you can cook them in a skillet.
Make this breakfast Valentine's Day-themed with some heart-shaped fruit on the side. You can let your little ones cut heart shapes out of strawberries or cantaloupe using a small heart-shaped cookie cutter.
2. Pancake Muffins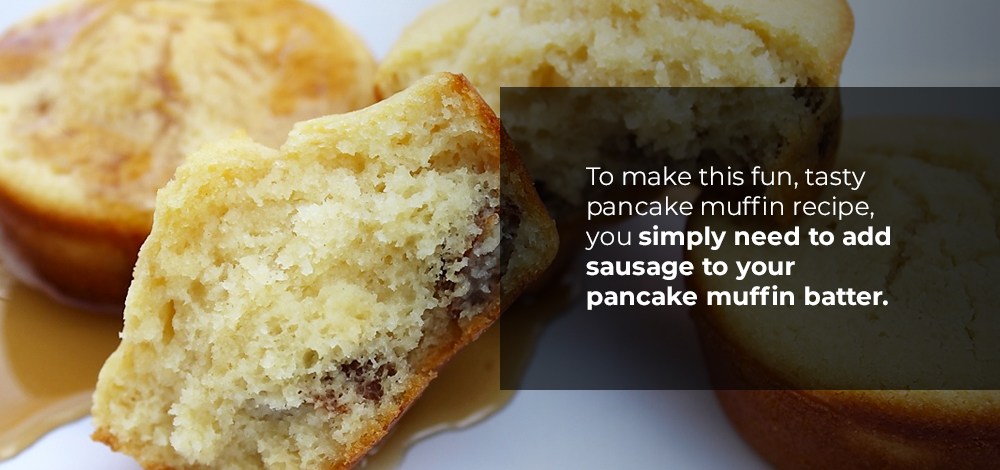 Kids love snacks, so preparing a traditional breakfast food in snack form is a great way to make a breakfast your little ones will love. Pancake muffins transform traditional pancakes into bite-sized handheld snacks that you can serve to your child before school or sneak into their lunchbox for a fun Valentine's Day surprise if they eat breakfast at school. You can even add protein to this recipe with any Premio sausage variation. Nutritious sausage will enhance the usually sweet pancake flavor with a savory and salty combination.
To make this fun, tasty pancake muffin recipe, you simply need to add sausage to your pancake muffin batter. Combine the dry ingredients in one bowl. In another bowl, mix egg, butter, milk and vanilla, then combine these two mixtures. Cook the Premio sausage in a skillet according to instructions on the package before adding bite-size pieces to the batter. Make sure the sausage is cooked to a minimum of 160 degrees Fahrenheit before adding it to the batter.
Next, you will scoop the batter into separate sections on a muffin tin and bake for 14-16 minutes. Your kids can scoop the batter into the muffin tin sections if they'd like to help with the cooking process. You can pair this fun recipe with a strawberry smoothie for a Valentine's Day-themed breakfast.
3. Pancake Hearts
Celebrate Valentine's Day with some fun-themed pancakes. Kids will love the fun heart-shaped pancakes, and you can make them more nutritious by mixing protein-packed Premio sausage into the pancake mix.
To make this recipe, simply mix your pancake batter according to the instructions on the box, cook your Premio Sweet Italian Sausage in a skillet and mix some bite-size pieces into the batter. Finally, you will use a pancake pen to create some heart shapes before cooking them. To involve your little ones in the cooking process, you can exclude the pancake pen and allow your children to cut heart shapes from cooked pancakes using a cookie cutter.
4. Heart-Shaped Breakfast Biscuits
Heart-shaped breakfast biscuits are as fun to make as they are to eat. Kids will love the fun Valentine's Day-themed shapes, and they'll enjoy helping you prepare them. To make this recipe, grab your preferred brand of refrigerator biscuits and your favorite Premio sausage variety. Arrange the biscuits on a baking sheet and cut them horizontally. Add some small chunks of cooked sausage to the biscuit along with shredded cheese and any other additions your children might enjoy. Before adding the sausage, make sure you cook it to a minimum of 160 degrees Fahrenheit.
This is also a great chance to sneak some chopped veggies into the meal, or allow your kids to choose their favorite veggies to add. After you add your preferred ingredients, place the two biscuit halves back together. Cut each biscuit with a heart-shaped cookie cutter before baking them according to the instructions on the biscuit can. Your little ones can join in on the fun by spooning their favorite chopped veggies onto the biscuits or cutting the heart shapes with the cookie cutter themselves.
5. Bacon-Wrapped Sausage Stuffing Bites
Bacon-wrapped sausage stuffing bites are fun, bite-sized wraps you can share with your little ones on Valentine's Day. Their small size makes them perfect for toddlers, and they contain plenty of protein and veggies. With Premio Sweet Italian Sausage, fresh herbs, celery, onion and more, this well-balanced meal is savory and nutritious.
To make this recipe, you will prepare Premio Sweet Italian Sausage in a skillet and then add sautéed onions and celery, egg, chicken stock and breadcrumbs to create a stuffing. Make sure the sausage is cooked to a minimum of 160 degrees Fahrenheit. You will then wrap a half-slice of bacon around small stuffing balls and secure them with toothpicks before baking them for about 20 to 25 minutes.
Involve your children in the preparation process by allowing them to mix the stuffing with a spoon and roll it into bite-size pieces before you add the bacon.
Cook a Fun Valentine's Day Breakfast With Premio Sausage
Planning a special Valentine's Day for children is fun and easy. Preparing fun Valentine's Day meals for kids is a creative way to show them how much you care about them. It's also a great opportunity to involve them in the cooking process and teach them some new skills. Participating in easy cooking tasks can help kids develop independence and confidence.
Cook a fun Valentine's Day breakfast with your little ones using quality Premio sausage. Our sausage is fresh and comes in many different flavors, so you can ensure your family is eating nutritious food. Locate a store near you to purchase Premio products for your next meal.