Tips for Cooking With Kids
Most kids love to cook, and that's just a simple truth. Maybe it has to do with the magic of watching a handful of ingredients turn into something delicious. Perhaps it's the creative component in baking that kids like for the same reason they like painting or building sand castles. Or it could just be that there's something inherently fun and messy that appeals to kids about mixing different things together. Maybe they just like to feel like they're imitating the adults they know by doing "grown-up" things.
Whether you're a parent, a teacher, aunt or uncle, there's no reason you shouldn't nurture this interest and skill in kids, even from a very young age. Tap into that interest while the kitchen is still exciting to kids, and you may be able to foster a love of cooking and baking that extends well into their adult years and serves them well for a whole lifetime.
However, cooking with toddlers and even older children isn't without its challenges. The kitchen is full of dangers, after all. From the oven and stovetop to the sharp knives and electric mixer, there are plenty of ways a child could accidentally injure themselves.
To help get your kids cooking in a safe and protective environment, we've compiled this guide for teaching kids to cook. We'll talk age-appropriate cooking skills, cooking with kids' recipes, tips for keeping young people safe in the kitchen and more. Stick to these tips, and you'll have a budding chef on your hands in no time.
What Are the Benefits of Cooking With Kids?
There are so many reasons to cook with the children in your life. Even if you aren't a parent yourself, it can be a fun and rewarding experience that both you and the child in question will enjoy and look forward to doing again. With this in mind, here are a few of the top reasons you should consider cooking with kids.
1. It Teaches Educational Skills
A kitchen is a great place for kids to practice some of the skills they'll be learning at school and use them in a real-world setting, making them come alive beyond just performing them in the classroom. If they're still learning how to read, the kitchen can be a great setting to test these skills as they can practice reading the recipe. Math skills come into play as well, as they can convert cups to pints, doubling recipes or even calculating the time left on the oven buzzer.

2. It Teaches Life Skills
While not everyone needs to have the skills of a professional chef, everyone should be comfortable in a kitchen and know how to follow a recipe. One of the best ways to learn these skills is to start young. The earlier you begin cooking and baking, the more ingrained it will become in your life, and the more comfortable you'll be with it later on. So why not let the kids into the kitchen — under supervision, of course? They'll learn valuable skills and abilities that will serve them for an entire lifetime.
3. It Enhances Their Palettes
Do you know a child that's a picky eater? Maybe they have approximately three foods they like and refuse to try anything else? If that's the case, cooking might be the solution. Kids are more likely to be excited about trying foods if they made or helped make them. They'll feel proud of their work and want to eat it as well as share it with the rest of their family. Over time, they're more likely to forget to be picky eaters and more likely to become curious about new foods.
4. It's the Perfect Bonding Time
It doesn't matter what your relationship to the child in question is. Whether you're a parent, an older sibling, aunt, uncle, teacher or family friend, it's a great idea to do activities together to foster trust and build a meaningful bond with one another. Cooking is the perfect opportunity for this type of bonding moment. It requires you to communicate with one another while collaborating to produce something delicious. Don't forget, there's plenty of time to chat and talk with one another while your dish is in the oven.
What to Expect When Cooking With Kids
The amount of work that a child will actually be able to do in the kitchen will be limited by how old they are, as well as how much experience they have. Some kids may be ready to take the helm and do most of the work themselves, while others won't be able to do much more than stir the bowl or lick the beaters.
Keeping in mind these various limitations, try practicing these tips for teaching kids to cook:
1. Go Slow
Be prepared for cooking to take longer than normal when you add in an extra set of small hands. Younger kids may need help, and you may need to give them extra instructions. Be patient and try to go slow, explaining things as you complete each step. By planning for the cooking session to take extra time, you'll be ready for it and avoid any frustration when things take too long.

2. Expect a Mess
Kids are messy. Put them in a kitchen, and suddenly they become twice as messy. Especially the first few times you cook with kids, you should expect to have a minor mess on your hands afterward. That's alright, though, as it's just part of the learning process. Try enlisting your child's help in cleaning up afterward as well.
3. Pick the Right Recipe
While all kids will benefit from learning to cook, it's important to keep the recipe and the ingredients age-appropriate. For example, your kids will be great at helping you make cookies. They might not be so great at helping you with the Sunday roast. Pick foods they're familiar with and stick to fairly simple, straightforward recipes.
4. Explain Things
Many kids are naturally curious and will ask questions as you cook together. They might ask what different ingredients to add to the recipe, or why you do things one way instead of another. Take these moments as the learning opportunities they are and talk through the recipe as you go, explaining it in ways they'll understand.
5. Let Them Touch and Taste
With kids, it's important that they feel involved in the process. One of the best ways you can do this is by letting them get their hands dirty. Let them feel the ingredients — after washing their hands! Encourage them to taste the different ingredients and ask them what they think. Let them fully immerse themselves in the process.
6. Think of Ways to Include Them
Depending on the recipe you're cooking together, there are likely to be several steps your child can't be involved in, due to safety concerns or a lack of experience. To make up for this, pay extra attention to the little tasks that they can perform, and make sure to let them. Maybe they can stir or measure out ingredients, or even taste-test. Get creative and see how many ways you can let them help out.
7. Always Put Safety First
As kids grow older, you can relax these rules slightly and allow them access to the more dangerous parts of the kitchen. Early on, however, safety needs to come first. Keep sharp knives away from children until they know how to use them, and make sure they understand never to stick their hands into the mixer while it's running. Teach them to always stand back from the oven and the stovetop when they're on, and avoid positioning pots and pans on the front burner with the handle sticking out where a small child could accidentally knock it with their hands.

8. Make Cooking Fun
The more fun kids have when they're cooking, the more they'll enjoy themselves and the more they'll want to continue with it. So let yourself be flexible and listen to what your child wants to do. Are they curious what would happen if they dumped a few drops of food coloring in the cake batter? Why not let them try it? Do they want to know what that recipe would taste like with nuts? Go ahead and show them.
Kids Cooking Skills by Age
The amount of work your child will be able to do depends a great deal on how old they are and how much experience they have in the kitchen. To help you gauge this, we've compiled tasks that kids in each age group should be able to perform, as well as a recipe that may be appropriate. Keep in mind that these kids cooking ideas are guidelines and may need to be adjusted for your child's needs. One child may be well ahead of their age group, while another may be best off working with tasks designed for a younger cohort.
1. Ages 3-5
For the preschool through kindergarten age range, you'll want to keep things simple and fun. A few of the tasks you might assign to kids this age include:
Stirring batter in a bowl
Rinsing fruits and veggies
Pouring liquid or dry ingredients
Using cookies cutters
Mashing potatoes
Rolling dough
Spreading jelly onto bread
With these types of skills in mind, try working together with your preschooler to whip up a batch of yummy Sausage Pinwheels. For this recipe, you'll need:
1 jar tomato sauce
1 package frozen puff pastry sheets
½ cup mozzarella cheese
1/4 cup parmesan cheese
Egg wash made from one egg and 2 tablespoons of water
Fresh Parmesan cheese
Fresh basil
With this recipe, kids can help out by rolling out the dough with a rolling pin, spreading sauce onto the dough, and even rolling up the pastry sheets into the long log roll. If you feel your child is ready, you might even help them use a small knife to cut the long roll into individual pinwheels. Once the pinwheels are out of the oven, don't forget to enjoy them together.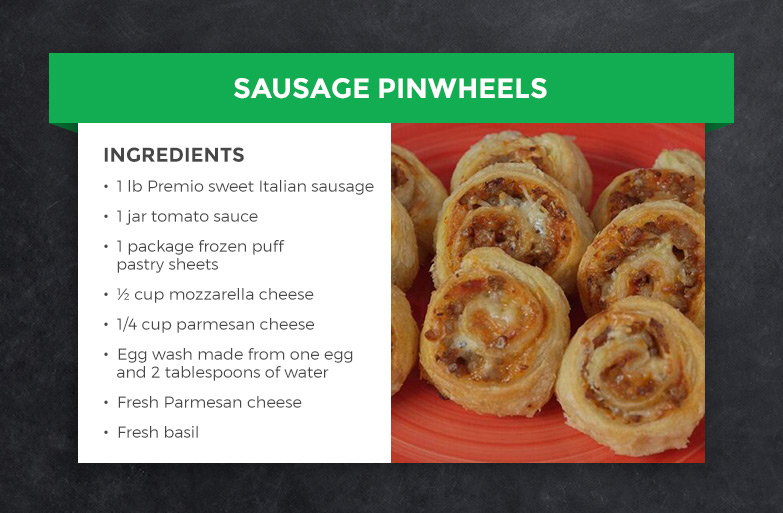 2. Ages 6-8
First and second graders will typically have a little finer motor control than preschoolers and will be ready to handle slightly more advanced tasks. Safety is still important, but at this age, you should be able to entrust your kids with:
Frosting cupcakes
Mixing dough and batter
Using hand tools like a can opener or a cheese grater
Peeling fruits and veggies
Boiling pasta or eggs
Using small paring knives to chop ingredients
Frying grilled cheese sandwiches
With this new arsenal of skills up their sleeves, your child may be ready to tackle this Chicago Deep Dish Pizza recipe. To make this tasty pizza, you'll need:
For the dough
4 cups flour
3 tablespoons cornmeal
1 ¾ tablespoons salt
2 ¾ tablespoons yeast
2 tablespoons olive oil
4 tablespoons melted butter
2 tablespoons vegetable oil
1 cup and 2 tablespoons warm water
1 potato
For the Toppings
1 ½ cups Premio sweet Italian sausage
3 cups canned San Marzano tomatoes
2 cups shredded Mozzarella cheese
½ cup grated Romano cheese
½ cup grated Parmesan cheese
Dried oregano
For the Garnish
Grated Parmesan
Dried oregano
Red pepper flakes
With this recipe, kids can easily mix together the ingredients of the dough and, if you choose to knead it by hand, they may enjoy giving this a try — although it may take some work with your muscles to truly finish the kneading. Additionally, kids can spread the dough out on the pizza stone or try, and they can go wild with their creative skills and decorate the pizza with toppings in whatever pattern they like. Best of all? This pizza makes a delicious treat to share with all your friends and family afterward.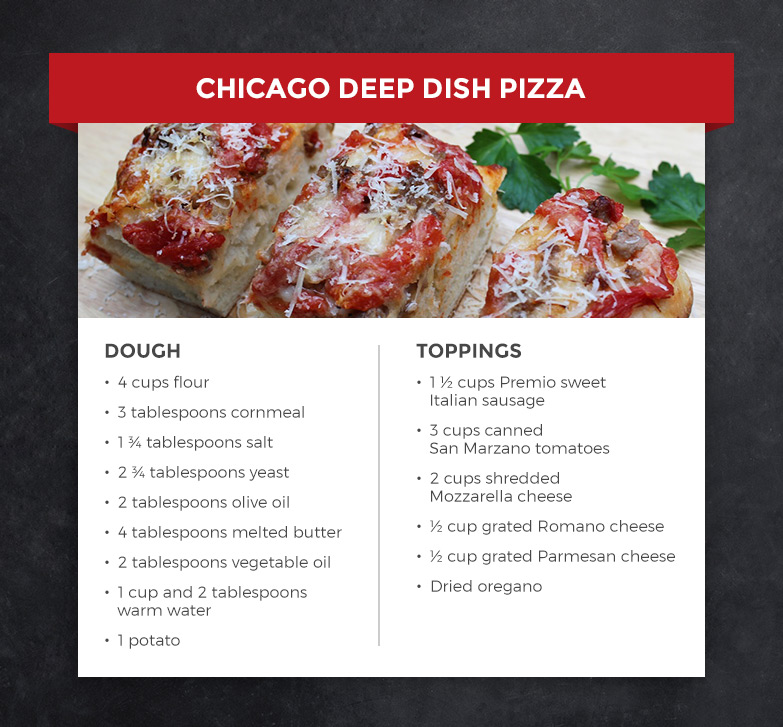 3. Ages 9-11
For kids in mid to late elementary school, they should be responsible and coordinated enough to handle some of the more dangerous elements of cooking. They should be able to handle knives and the oven, although you'll want to make sure they understand the basic rules of safety. Older kids in this age group may enjoy helping out by:
Slicing and trimming fruits and veggies
Operating the oven and stove
Baking easy breads and muffins
Kneading dough
Steaming rice
Roasting veggies
Frying burgers, pancakes and sandwiches
Operating appliances like blenders and Panini presses
If your preteen is up to the challenge of these sorts of tasks, they may be ready to tackle something like these Macho Nachos with Premio Chorizo. For this recipe, you'll need to gather:
1 stack stale corn tortilla chips
Canola oil
1 tablespoon chopped garlic
¼ tsp ground cumin
2 cups pinto beans
½ tsp chili powder
¼ tsp salt
1 ½ cups grated pepper jack cheese
1 ½ cups grated sharp cheddar cheese
1 small diced white onion
5 jalapeños, sliced and seeded
1 cup sour cream
1 tablespoon lime juice
Chopped cilantro
Kids can take control of this recipe by frying the tortillas, mixing together the beans and seasonings and assembling the nachos themselves. They can take put the nachos in the oven and take them out again, and they should be able to create a garnish as well. While you may need to step in to cook the sausage, your preteen should be able to do almost everything else themselves.
Browse More Recipes to Cook With Your Kids
None of these recipes are complete without the delicious and savory Premio sausage varieties at their core. To stock up on Premio sausage, use our handy store locator to find a distributor near you. And for more great ideas to whip up in the kitchen with the kids in your life, browse the hundreds of tasty recipes on our website today.