Best Condiments and Toppings on Sausage
With a $24 billion condiment market in the U.S., it's clear that people are willing to buy and try all sorts of condiments to find the perfect toppings to complement their favorite foods. When it comes to sausage, many toppings will add flavor and texture to an already-delicious food. We've compiled a list of 15 of the best sausage condiments for you to try so you can enjoy quality sausage in a variety of ways.

1. Caramelized Onions
Caramelized onions offer the perfect combination of sweet and savory to take any quality sausage to the next level. If you like your onions on the sweeter side, use Vidalia onions instead of standard yellow onions. Slice onions and let them cook down and caramelize in butter or oil on the stove. Then add a heaping spoonful onto a sausage and enjoy.
2. Sauteed Peppers
Sauteed red, green and yellow peppers are a traditional and tasty choice to top Italian sausage, and they work well on nearly any type of sausage. You may want to mix them with onions for a delicious combination. With onions, you'll want to let them caramelize and cook down, but with peppers, you can cook them for less time so they maintain some crunch.

3. Mustard
Mustard is another one of the best condiments on sausage, and there are many kinds to choose from. Yellow mustard and spicy brown mustard are both classic options, but you can also try other types like dijon, beer mustard or whole grain mustard. Mustard that includes whole seeds in it will add a bit of texture to your sausage in addition to the pop of flavor.
4. Ketchup
Let's start with one of the most popular condiments in the U.S. — ketchup. Ketchup is an all-purpose condiment that works well when you want to keep it simple and enjoy the taste of a quality bratwurst. For a twist on traditional ketchup, try curry ketchup. This spiced-up version of ketchup is known for topping currywurst, a popular street food in Germany.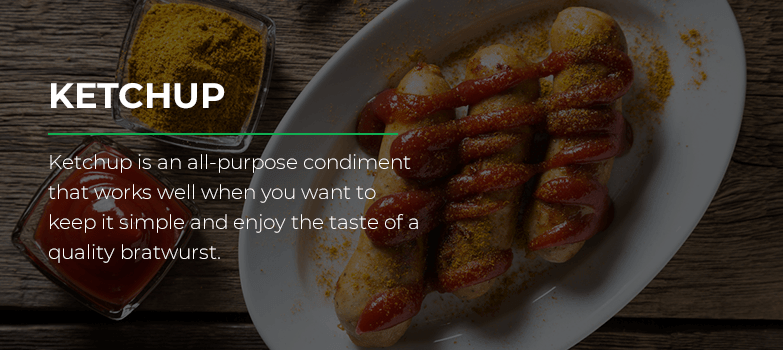 5. Sauerkraut
Sauerkraut is a more controversial sausage topping, but for those who love it, nothing else can compete with the sharp tanginess it adds to a kielbasa or other sausage. The sharpness of sauerkraut can help balance the richness and fat of sausage. Many people enjoy adding mustard or other condiments along with their sauerkraut, as well.
6. Russian Dressing
Russian dressing is known as the signature condiment on a Reuben sandwich, but it can be delicious on sausage, as well. Add some sauerkraut, and you'll have yourself a Reuben-inspired sausage. There are many different versions of Russian dressing, so find a recipe you like online and try to make some at home to enjoy with sausage.
7. Pickle Relish
Pickle relish is a classic condiment on hot dogs, and it's great on sausage, as well. Use it by itself or add it along with other toppings. Relish provides some sharpness and crunch that can elevate the whole flavor and texture profile of your meal. If you choose sweet pickle relish, it will also add some sweetness. If you're not a fan of typical pickle relish, try other pickled vegetables or a different type of relish.
8. Jalapeño Peppers
If you like some heat with your sausage, try adding some jalapeño peppers. You can enjoy jalapeños either fresh or from a jar or can. If you opt for fresh peppers and want to keep the heat down, remove the seeds inside and then slice the pepper. Green chiles are a good alternative to try if you want a hot pepper that's milder than a jalapeño.
9. Cheese Sauce
No list of condiments for sausage would be complete without cheese. There are many types of cheese you could add to sausage, but one of the best and easiest ways to enjoy cheese as a sausage condiment is to drizzle cheese sauce over your sausage. Whether you like nacho style cheese, white queso or any other type of cheese sauce, hot, creamy cheese is a great topping to try on sausage.
10. Chili
While you're adding cheese, why not add some chili, as well? A sausage chili sandwich is a gourmet take on the all-American chili dog, so you can expect it to be a crowd-pleaser every time you serve it to your family or friends. In addition to chili and cheese, top your sausage with some raw onions for a nice crunch.
11. Marinara Sauce
For Italian sausage, you can't go wrong with marinara sauce. You can add meat to your sauce if you want it to be extra hardy. For a delicious Italian sausage sandwich, start with a quality Italian sausage in a toasted sub roll and add marinara sauce, provolone or mozzarella cheese and peppers and onions if you want.
12. Salsa
When you're looking for a fresh sausage topping that's perfect for a summer barbeque, try salsa. You can buy a variety of salsa types at the grocery store, or you can make your own at home. Try our recipes for spicy watermelon salsa on Italian sausage or avocado, sausage, tomato and mango salsa to enjoy unexpected, fruity combinations that are delicious with sausage.
13. Coleslaw
Another great fresh topping for sausage is coleslaw. There are many types of slaw you can try outside of traditional coleslaw, so use your creativity. If you're serving up Cajun sausage, opt for a spicy slaw for an extra punch of flavor. Whatever kind you choose, slaw is fresh, crunchy and cold, which makes it a great complement to top a rich sausage that's hot off the grill or skillet.
14. Barbeque Sauce
You may not think of barbeque sauce as a condiment for sausage, but it can be an excellent topper. Consider the flavors present in your sausage and choose a barbeque sauce that will either capitalize on those same flavors or balance it out with some different flavors. For example, for a sweet Italian sausage, you could opt for a sugary barbeque sauce to add to the sweetness or choose a vinegar-based sauce to provide a different flavor.
15. Horseradish Sauce
Horseradish sauce has a robust spicy flavor while also being cool and creamy. This makes it an interesting condiment that tastes great with a variety of dishes. If you enjoy the taste of horseradish, try it on a grilled brat or any other form of sausage. Horseradish mustard is another delicious option you can try.
Find Premio Sausage in a Store Near You
Condiments can certainly do a lot to dress up any sausage, but you always want to start with a succulent, high-quality sausage. At Premio, we use time-honored methods and wholesome ingredients to create mouthwatering sausages in a variety of flavors and styles. Use our store locator tool to find a store near you where you can pick up fresh Premio sausage to cook at home. Once you see how delicious our sausage is, you can try all the toppings above and more to enjoy it in a variety of ways you and your family will love.