Change Up Your Meals With Chorizo
You have undoubtedly eaten sausage before, but have you ever tried chorizo? This specialty sausage originated in Spain and later became a favorite food in Mexico. Known for its spiciness, it also comes in a mild, sweeter variety. What are the differences between Spanish and Mexican chorizo, and how can you use it in your recipes? Read on for facts about chorizo sausage, one of our favorite types of meat.

What Is Chorizo Sausage Made out of
Chorizo is a type of spicy sausage made from chopped or ground pork and seasoned with a varied mix of spices. It is a staple of Spanish and Mexican food, and the sausage is prepared differently depending on the specific culture.
Mexican chorizo is made with fresh pork seasoned with chile peppers and vinegar, whereas Spanish chorizo is seasoned with garlic and either sweet or hot smoked paprika. Spanish chorizo is dried and cured rather than fresh, making it perfect for tapas or charcuterie boards.
Although chorizo is traditionally spicy and made with pork, it's possible to find alternatives that are milder or prepared from a different kind of meat. You can buy fully cooked chorizo sausage to cut into slices like salami, or softer semi-cured chorizo.
The History of Chorizo                                                
Chorizo has been around for hundreds of years. Its invention coincided with the arrival of the spice paprika to Spain. Paprika gave the sausage its red color, setting it apart from the traditional black sausages that had been consumed to that point.
Chorizo became known for its smoky flavor, thanks to the smoked paprika. Both sweet and hot chorizo are available, and they're generally made from pork and pork fat.
Spanish vs. Mexican Chorizo
Which nation makes the best chorizo sausage? This debate may never be settled, as the two flavors are so distinctive. You can love both Mexican chorizo and Spanish chorizo, but you should understand the difference. The Mexican version uses slightly different seasonings, and the meat is ground instead of chopped.
Looking for something more exotic? Some regions of Mexico sell a "green" chorizo, made with tomatillos and garlic. There are regional differences to the meats in Spain, as well. Pamplona, for instance, produces a thicker sausage, while other versions have garlic.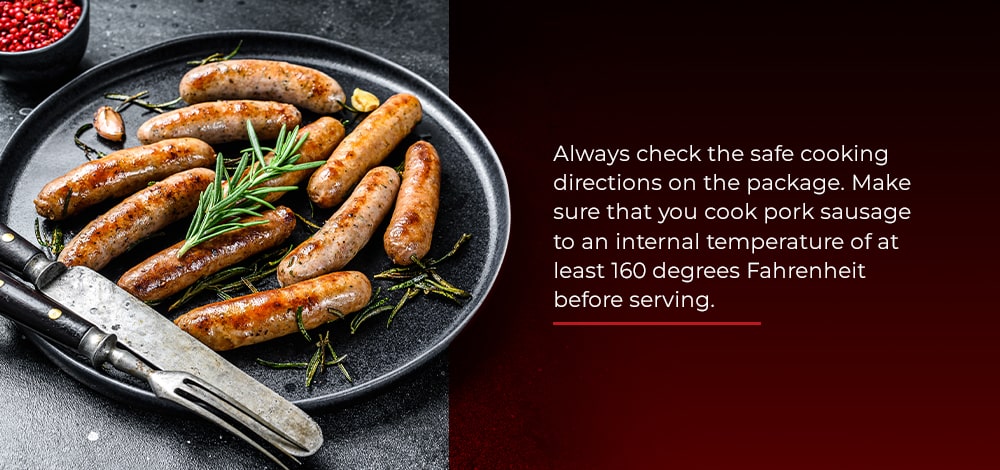 How to Cook Chorizo Sausage
Always check the safe cooking directions on the package. Make sure that you cook pork sausage to an internal temperature of at least 160 degrees Fahrenheit before serving. If you're using fresh chorizo, check the package to determine if the casing is edible. Synthetic casings need to be removed before cooking, while edible casings can be left in place.
As a flavorful sausage, chorizo brings life to many dishes, whether you're cooking an American-style meal or food with Mexican and Spanish influences.
How to Incorporate Chorizo Into Your Recipes
It doesn't take any special preparation or planning to begin adding chorizo to your dishes. You can use it as a replacement for ground meat in your favorite recipes to add a unique flavor. Below are some meal ideas for cooking with chorizo:
Cook it for breakfast and serve it with eggs, topping sliced sausage with slices of cheese.
Use it in traditional Mexican or Spanish cuisines.
Get creative by tossing fully cooked crumbled sausage into a healthy salad.
Serve it as an hors d'ouvre with olives, cheese or slices of your favorite fruits.
Slice it for use in coldcut sandwhiches.
Cook it in stews and soups, or use it as a delicious garnish.
Slice the versatile meat into mac 'n cheese.
Combine it with beef for a tasty meatloaf.
Use it in a spaghetti dinner in place of traditional Italian sausage.
Substitute it into a lasagna for a unique twist on an old favorite.
What to Make With Chorizo Sausage
If you're looking for a place to start, we have countless chorizo recipes you can experiment with. They all highlight the smoky, spicy flavor of this sausage, which pairs particularly well with chickpeas and tomato. Any foods that can pick up on the smoky undertones of the chorizo will make an excellent dinner.
Here are three of our favorites:
Ground Pork Taco Nachos: Prepare our Ground Pork Taco Nachos with chorizo sausage for an authentically Mexican flavor. Salty nachos loaded with umami meat and spicy jalapenos make a flavorful combination that you can serve at a home movie night or potluck dinner.
Peanut Butter Meatballs: Try something totally new — make our Peanut Butter Meatballs to introduce your family to this spicy sausage. The combination of sweet peanut butter with a spicy sausage is a savory delight.
Spicy Tortilla Soup: Prepare a quick and simple Spicy Tortilla Soup for a pick-me-up on a cold day. The sour cream helps balance the spiciness of the sausage, salsa and chili powder.
Where to Buy Chorizo Sausage
You can purchase chorizo from Premio Foods. Our chorizo is a traditional favorite with a nice kick.
We offer two convenient ways to purchase our sausages: You can check out our store locator to find a grocery near you that sells Premio Foods products, or you can order directly from our website — we'll ship the chorizo directly to your house.
Whichever purchasing method you choose, you'll get a fun new way to eat your favorite meat. Buy our chorizo today to bring a little spice to your life.