4 Recipe Ideas to Spice Up Your Cinco de Mayo
Just because you have to spend Cinco de Mayo at home doesn't meant you can't host a fun celebration with your family—you can even invite your friends to join a virtual Cinco de Mayo potluck! After all, who doesn't love celebrating with drinks and Mexican food?
To help you celebrate this fun holiday, we put together some quick sausage recipes to incorporate into your fiesta.
1. Bold Sausage Tacos
You can't have a Mexican feast without tacos! For tacos with a twist, try our Bold Sausage Tacos. They feature our Premio Hot Italian Sausage Meat along with a mixture of chili beans, corn and diced tomatoes. These ingredients are all stuffed into hard taco shells and then topped with sour cream and cheese for a bold finish.
In less than 30 minutes, you'll have a filling and festive meal that your entire family will love.
2. Chicken Sausage & Shrimp Taco Bowls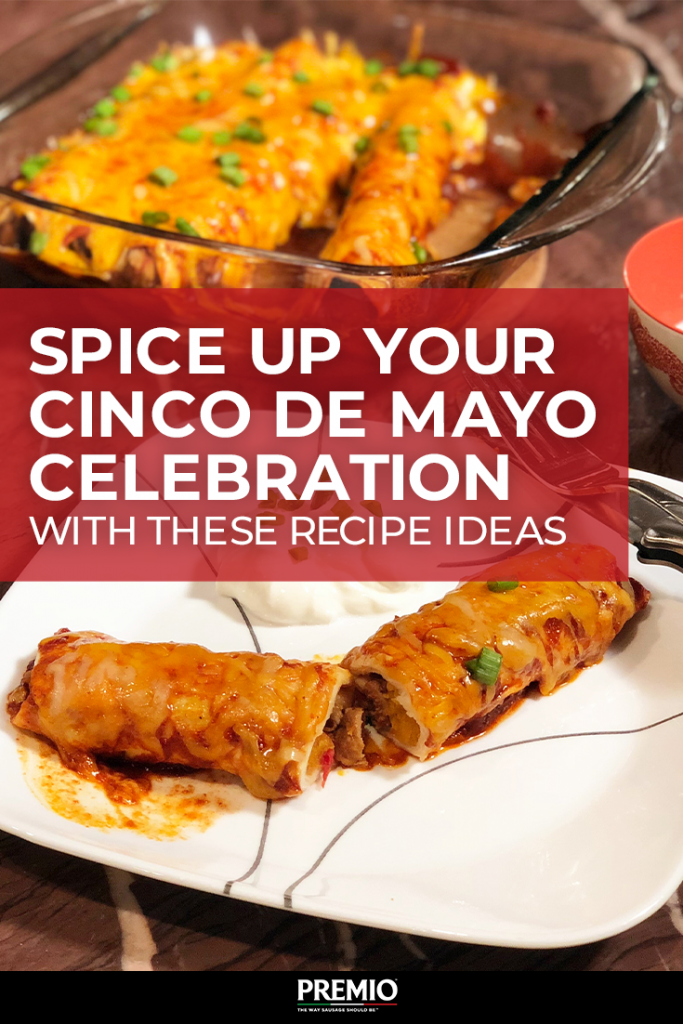 For more of a grown-up version of tacos, try our Chicken Sausage & Shrimp Taco Bowls. You'll get all the flavor of traditional tacos, but without the messy shells.
Just take our Premio Sweet Italian Chicken Sausage and some shrimp, season them and then cook until slightly browned in a grill pan. After that, assembly is a breeze. Top your base of romaine lettuce with black beans, tomato, red onion, cheese and sour cream. Add some crunch with tortilla chips and you'll have a colorful and tasty meal in a matter of minutes.
3. Grilled Shrimp Tacos With Crumbled Sausage & Sriracha Slaw
Celebrate Cinco de Mayo with our fresh and flavorful Grilled Shrimp Tacos With Crumbled Sausage & Sriracha Slaw. This recipe is perfect for parties because you can prepare parts of it, like the slaw, ahead of time. When you make the slaw the day before, it also allows all the flavors to marinate and come together. Win-win!
Both the shrimp and our Premio Hot Italian Sausage Meat is seasoned and cooked on the grill. After grilling, the meat is placed into the taco and topped with the marinated sriracha coleslaw. With a splash of lime and pepper jack cheese, these tacos will be ready to be served to friends and family.
4. Mexican Loaded Potato Skins
Our Mexican Loaded Potato Skins are perfect as either an appetizer or as a side dish. Your guests will love this fun finger food centered around our Premio Hot Italian Sausage Meat.
After the sausage is cooked and seasoned, it's piled into the russet potato skins and then topped with colorful cherry tomatoes, spring onions, avocado and sour cream. The presentation will be just as delightful as the taste!
Celebrate Cinco de Mayo with Premio Foods
At Premio Foods, we have all the varieties of sausage you need to create all kinds of Cinco de Mayo-themed recipes. Whether you prefer Hot, Mild or Sweet Italian sausages or prefer to incorporate one of our Wold Flavor varieties, your family will taste the Premio difference.
That's because, for over 40 years, we have perfected the art of Italian sausage-making as we held on to our commitment to quality and family.
Order your fresh sausage online and enjoy an unforgettable fiesta with your loved ones. Do you have a favorite Cinco de Mayo drink you plan to pair with your recipes? Let us know in the comments!