Recipes Perfect for a Potluck

What's not to love about a good old-fashioned potluck dinner? You and your friends — or perhaps you and an organization you're a part of — all get together to eat dinner. You get to enjoy the company of good friends or family members, and you get a great dinner! Best of all? You only have to cook one potluck dish to share with everyone!
But we also know potlucks can get a little repetitive, especially if you always do them with the same people. Everyone tends to bring the same recipes repeatedly. Plus, people usually bring relatively safe recipes because they don't want to risk bringing something everyone else won't like.
Today, we want to help you break the trend of boring, safe and repetitive potluck dishes. If you're looking for some new dishes to bring to a potluck, we've compiled a list of easy potluck recipes we think would be the perfect touch for any occasion.
Let's take a look at our top 6 potluck dinner recipes.
1. Potluck Sausage Casserole
This casserole is bursting at the seams with Italian sausage, pasta and veggies — it's sure to be a crowd-pleaser at any potluck function. Don't forget to pick up Premio sausage at your local grocery retailer.
Yields: 10 servings
Ingredients:
16 ounces (1 package) penne pasta
1 pound ground Premio Mild Italian Sausage
1 onion, finely chopped
1 carrot, finely chopped
1-1 ½ teaspoons dried oregano
1 teaspoon salt
1 ½ teaspoons pepper
1 tablespoon butter
1 tablespoon olive oil
1 zucchini, cut lengthwise and sliced
1 cup mushrooms, chopped
6 garlic cloves, minced
15 ounces (1 can) tomato sauce
14 ounces (1 jar) pasta sauce with meat
2 cups mozzarella cheese, shredded
Instructions:
Preheat your oven to 350 degrees (F). Cook the pasta, drain and transfer to a well-greased 13×9 baking dish. Using a large skillet, cook the ground sausage for six to eight minutes over medium heat, crumbling it as it cooks. Drain and remove them from the pan.
Using the same skillet, heat butter and olive oil. Add the salt, pepper, onion, carrot and oregano, cooking and stirring everything for five minutes. Add mushrooms, zucchini and garlic, then cook and stir the mixture for another six to eight minutes, or until the veggies are tender.
Stir tomato sauce, pasta sauce and crumbled sausage in with the veggies. Remove the skillet from the stove and pour the entire mixture over the pasta in the baking dish. Sprinkle shredded cheese across the top. Cover the whole casserole with foil coated with cooking spray and bake for 10 minutes. Remove the foil and continue cooking for an additional 15 to 20 minutes. After this time, the cheese should be melted and the casserole should appear golden brown. Let stand for 10 minutes to cool before serving.

2. Festival Sausage Bake
If you're a fan of the previous recipe, you'll enjoy this next one, too. This Festival Sausage Bake combines similar flavors of pasta, sauce, cheese and sausage, but it's also unique enough to bring to the next potluck and not feel like you're making the same dish twice. It has that great "comfort food" feeling that will be sure to have everyone coming back for seconds!
Yields: 4 servings
Ingredients:
1 pound rigatoni
2 tablespoons vegetable oil
1 ¼ pounds of Premio's Hot Italian Sausage, cut into ½-inch strips
2 green bell peppers, cut into ½-inch pieces
2 onions, cut into ¼-inch strips
2 teaspoons garlic, minced
2 jars pasta sauce
¼ cup Parmesan cheese, grated
1 cup Mozzarella cheese, shredded
Instructions:
Preheat the oven to 350 degrees (F). Cook the pasta, drain it and set it aside. On your stove, over medium heat, prepare your oil in a large skillet. Add the sausage, peppers, garlic and onions, and cook the entire mixture for 15 to 20 minutes, stirring occasionally. Once the sausage is thoroughly cooked and the veggies are tender, remove the skillet from the stove.
Drain your sausage mixture and pour it into a large mixing bowl. Add your cooked pasta, sauce and Parmesan cheese, then mix well. Pour the mixture into a 9×13 baking dish, cover it with foil and bake it for about 20 minutes.
After 20 minutes, remove the dish from the oven, pull the foil off and sprinkle the top with mozzarella cheese. Pop the pasta bake back into the oven for an additional 10 minutes to allow the cheese to melt.
Sausage Dip
When we think of potlucks, many of us might immediately imagine casseroles. This is for a good reason — they're deliciously designed to feed a lot of people. But what about those times when you're asked to bring an appetizer or a side dish? When a casserole doesn't quite fit the bill, try a hearty and cheesy sausage dip that's sure to please. We won't tell if you double the recipe even for a small group, 'cause it's that tasty!
Yields: 3-5 servings
Ingredients:
No oven needed here — grab a medium-sized skillet and warm your burner to medium heat. Start with just the sausage — you'll remove the casings after — and cook until done, according to directions on package. Drain, then pull off the casings and chop. Once chopped, add the sour cream, soup mix, grated cheese and spinach. Mix thoroughly and let sit on stovetop over medium heat while the cheese melts everything together.
Scoop into your favorite serving bowl and mix well. Serve with tasty chips on the side, ready for dippin'.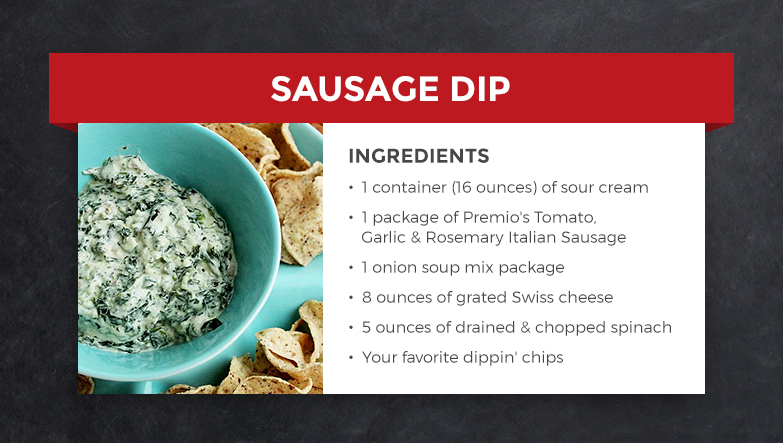 Italian Nachos
Looking for an appetizer recipe that's exciting enough for the adults, but not too scary for the kids to try? Look no further than these tasty Italian nachos. If you don't have any sausage on hand, remember to pick some up from your closest Premio distributor.
Ingredients:
1 package Premio Sweet Luganiga Sausage
1 package wonton wrappers
2 to 3 cups Mozzarella cheese, shredded
Pepperoni
Pepperoncini's
Italian seasoning
Marinara sauce
Oil
Instructions:
Preheat the oven to 350 degrees (F). Cut the wonton wrappers in half and heat half an inch of oil on the stove in a small frying pan. Using this pan and oil, fry the wonton wrappers for 15 to 20 seconds on both sides.
Once the wrappers are fried, set them aside on a baking tray or platter and cover them with half the Mozzarella cheese. On top of this layer of cheese, add the rest of the wrappers, then another layer of the rest of the cheese. On top of this final cheese layer, add all the pepperoni, pepperoncini's and sausage you want. Sprinkle Italian seasoning generously over everything.
Bake the nachos in the preheated oven until the cheese has fully melted. Remove them from the oven and serve while they're still warm. For best results, use marinara sauce for dipping.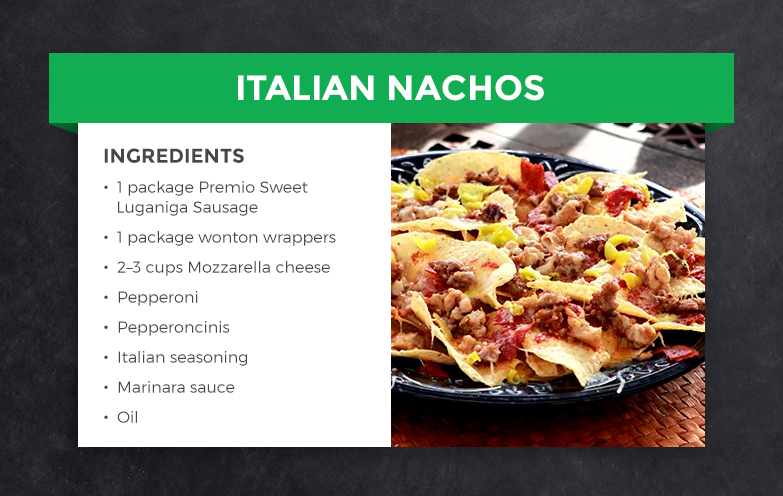 Premio Three-Meat Chili
Looking for a good soup or stew recipe for a winter potluck? If you need to feed a crowd on a cold winter day, look no further than our Premio Three-Meat Chili. Its hearty flavor will be sure to warm everyone up in no time.
Yields: 6-8 servings
Ingredients:
2 pounds of Premio's Sweet Italian Sausage Meat
1 pound ground beef, drained and cooked
28 ounces (2 cans) diced tomatoes, undrained
15-16 ounces (2 cans) kidney and red pinto beans, washed and drained
1 pound smoked kielbasa, halved, sliced and cooked until browned
2 onions, diced
2 green bell peppers, diced
8 ounces (2 cans) tomato sauce
2/3 cup honey Barbeque sauce
½ cup brown sugar, packed
2 tablespoons chili powder
2 teaspoons ground mustard
1 teaspoon dried oregano
½-1 teaspoon dried cumin
½ teaspoon cayenne pepper (if desired)
½ teaspoon crushed red pepper flakes (if desired)
2 garlic cloves, minced
Instructions:
Using a pan or a large Dutch oven, brown the ground beef. Next, add the Italian sausage and brown as well. Finally, add the kielbasa and cook. Once all the meats have finished cooking, drain the grease. Replace the meat back in the Dutch oven or pan and add all the remaining ingredients. Bring everything to a boil.
Once everything is boiling, reduce the heat, cover and let it simmer on low heat for one to three hours. Stir it occasionally to keep things from sticking or burning. If you need to let it cook for a longer period of time, you can also make this dish in a slow cooker and let it cook on low heat for six to eight hours.
Once it's finished cooking, serve with a topping of sour cream and shredded cheese. Include the extra spices if you want to give the chili a little extra kick. Be mindful of this if you're taking this chili to a potluck — it's possible that not every guest will appreciate this level of heat.

Chicago Deep-Dish Pizza
Is there any food in the world more crowd-pleasing and universally appealing than pizza? And if you're going to serve your guests pizza, why not make it a delicious, homemade, deep-dish version? With this recipe for Chicago Deep-Dish Pizza, you can. You can use whatever toppings you like, but don't skip Premio's Sweet Italian sausage.
Yields: 8-10 servings
Dough Ingredients:
4 cups flour
3 tablespoons yellow cornmeal
1 ¾ teaspoons salt
2 ¾ teaspoons yeast
2 tablespoons olive oil
4 tablespoons melted butter
2 tablespoons vegetable oil
1 cup and 2 tablespoons warm water
Toppings:
1 ½ cups of Premio's Sweet Italian Sausage
3 cups San Marzano tomatoes, canned
½ cup Romano cheese, grated
½ cup Parmesan cheese, grated
Dried oregano, to taste
Garnishes:
Parmesan cheese, grated
Dried oregano
Red pepper flakes
Crust Instructions:
To make the pizza crust, combine the dough ingredients and knead them by hand. Alternatively, you can also use a mixer or a bread machine. If you do choose to use a mixer, it should take approximately seven minutes at a medium-low speed.
Once your dough is ready, place it in a lightly-oiled or greased bowl, cover it with a cloth and let it rise for about 60 minutes, or until it's sufficiently puffy.
Pizza Instructions:
Boil one quart of water and a potato in a small saucepan. Cook until the potato is tender, which should take about 15 minutes. Remove the pan from heat, drain the water and let the potato cool until you can comfortably handle it. Using a potato ricer or a grater, grate off enough of the potato to fill 1 1/3 cups, lightly packed. The rest of the potato can be discarded.
Adjust your oven racks so one is in the highest position possible and the other is in the lowest position. Preheat your oven to 200 degrees (F). Once it reaches this heat, maintain it for 10 minutes, then turn the heat off.
Mix flour, yeast and salt in the bowl of a food processor. While the motor is running, add the warm water and continue running the processor until the dough begins to form a ball. Add the potato and process for a few more seconds, until the mixture becomes smooth and sticky.
Transfer this dough to a greased or oiled bowl and cover with plastic wrap. Place the bowl in the warmed oven until the mixture becomes spongy and doubles in size. This process should take about half an hour.
Grease the bottoms of two cake pans with olive oil. Remove the dough from the oven and pat it into two rounds, which can then be placed into the cake pans. Cover these with plastic wrap and let them rest until the dough is no longer resisting being shaped.
Take your rimmed baking sheet or pizza stone and place it on the lowest rack, heating your oven to 500 degrees (F). Uncover your dough that's been resting in the cake pans and pull up the edges to form an inch-high lip. Re-cover the pans with plastic wrap and let them rest again until they've doubled in size. This should take roughly half an hour.
After this amount of time, uncover the dough and prick it with a fork. Dial down the oven's temperature to 425 degrees (F) and bake the dough on the preheated baking sheet or stone for 10 minutes. After this, layer the pizza with Mozzarella cheese, partially cooked sausage and tomatoes. Add oregano and pepper for seasoning, and top it off with grated Parmesan.
Continue baking the pizza for another 10 minutes once the toppings have been added, or until the cheese looks fully melted. Then move the pizza to the top oven rack and bake it for five to 10 minutes longer, or until the cheese begins to look spotted and golden-brown.
Remove it from the oven and let it cool before sliding the pizza out of the pan and onto a cutting board. Sprinkle a garnish of Parmesan cheese, oregano and red pepper flakes, cut into wedges and serve.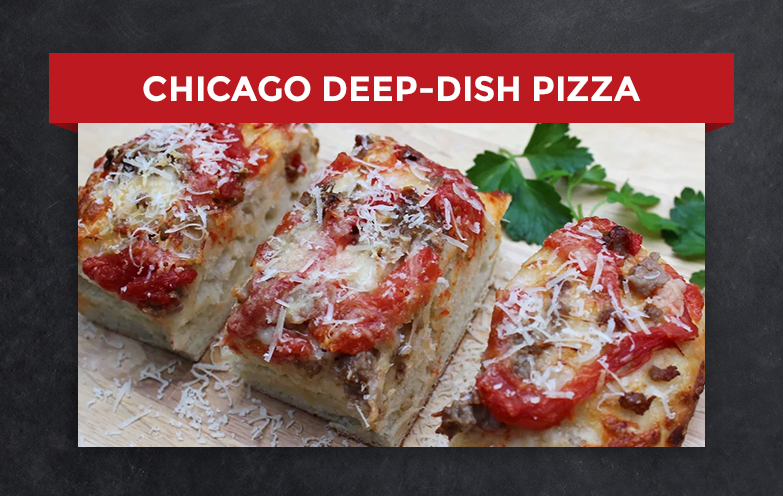 Find More Delicious Sausage Recipes and Sausage Flavors with Premio!
If you think these recipes sound tasty, we have plenty more to share with you. Browse all our recipes, or narrow down your search by categories such as soups, appetizers, pizzas and more.
If you're not sure where you can find our tasty Premio sausage in stores, don't worry. Our handy store locator tool will help you find the distributor closest to you.