Tips for the Best Sheet Pan Dinners
Sheet pan dinners are one of the best-kept secrets of the culinary world — they're easy, fast, fresh and most importantly, delicious. So what exactly are they? A sheet pan dinner is when every component of a meal is roasted together on a rimmed baking sheet. This cooking method allows you to create complex layers of flavors and textures in exchange for minimal prep work and clean up.
Although sheet pan dinners are designed to be speedy and simple, they can end up being time-consuming if you don't know your way around a cookie sheet. Luckily, we've put together a list of cookie sheet dinner tips and recipes to help you be as efficient as possible in the kitchen. Follow these guidelines to make your quick, easy sheet pan dinners true time-savers that burst with flavor.
5 Tips for Creating Sheet Pan Dinners
Check out our top five tips for making mouth-watering cookie sheet meals:
1. Use a Quality Pan
When it comes to whipping up sheet pan dinners, the pan plays a key role. As your cooking foundation, the pan you use needs to be big enough to fit all your ingredients comfortably and strong enough to stand up to intense oven heat. A half-sheet pan is the ideal size for making cookie sheet meals, while jellyroll pans are slightly smaller and typically flimsier.
Although "nonstick" can sound appealing, buy a heavy-duty uncoated aluminum sheet pan if you want your pan to last for years. A high-quality aluminum sheet pan can withstand even broiler-level heat and will stay flat its whole life. Remember to line your sheet pan with heavy-duty foil or parchment paper to make cleaning up a cinch.
2. Plan Your Pairings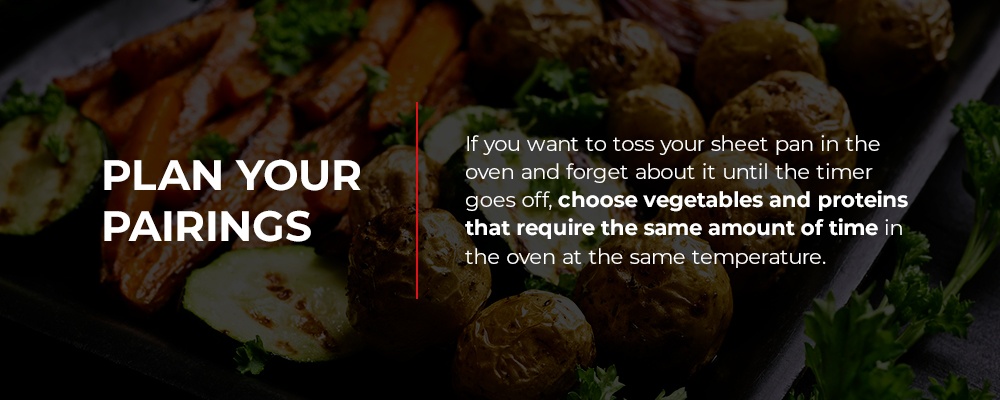 Because a sheet pan dinner involves cooking a variety of ingredients, you'll have to be a bit of a matchmaker between your proteins and veggies. Keep in mind that tougher veggies, like potatoes and root vegetables, will take much longer to cook than less dense vegetables, like tomatoes or green beans. If you want to toss your sheet pan in the oven and forget about it until the timer goes off, choose vegetables and proteins that require the same amount of time in the oven at the same temperature.
Although it's nice to make a perfect veggie-protein match, you don't have to. If you don't mind cooking your ingredients in stages, you can pop some of the sturdier vegetables in the oven first and add the softer veggies or lighter proteins like fish to the pan later. Go ahead and use whatever ingredients you want in your sheet pan dinner — just don't forget to give dense veggies a head start and keep an eye on the oven in case you need to remove softer foods from the pan before they burn.
3. Season and Prep
A single sheet pan can support lots of flavors, so get creative with your seasonings. Seasoning your ingredients separately before putting them on your sheet pan will allow you to incorporate a variety of tastes into your meal. Try marinating your protein or rubbing it with a tasty spice mixture while keeping your vegetables simpler with a bit of salt and pepper or a spice that complements your protein's flavoring.
If you're in a rush or don't feel like seasoning your dish components individually, toss everything together in the same spices to create one big hodgepodge of deliciousness. Regardless of which seasonings you choose, always coat your vegetables with oil to make sure they don't dry out. Coat the veggies with spices and oil to lock in their moisture as they develop an outer crisp from roasting.
4. Place Ingredients Properly
After seasoning your ingredients, it'll be time to get strategic about their placement on the pan. If you have some components that need to be rotated or flipped midway through cooking, make sure you group them apart from ingredients that shouldn't be disturbed. Depending on how much you plan to make, you might need to divide the recipe into two pans to prevent clutter.
Now is the time to also think about layering. To avoid unwelcome liquids from dampening the crunchy crust of a breaded protein, stack your more delicate ingredients on a wire rack. This method will prevent your protein's golden crisp from getting soggy. Don't forget to place ingredients like citrus slices on top of your other ingredients if the intent is for them to soak up the juices.
5. Spice It Up
Once you've mastered some easy sheet pan dinners, you can kick things up a notch. Take your cookie sheet dinners to the next level by branching out with your flavor combos and more advanced cooking techniques:
Blend it up: Try your hand at using some special seasoning blends like za'atar, jerk seasoning, garam masala or classic Italian seasoning.
Get zesty: Squeeze a bit of lime or lemon juice over your sheet pan to give your meal a refreshing flavor boost.
Add some crunch: Sprinkle some pecans, pine nuts, slivered almonds or another type of nut over your ingredients to add some texture.
Make it pop: If you're not afraid of spice, add some chile powder, fresh jalapenos or canned chipotles to your sheet pan.
Keep it fresh: Use some herbs like basil, cilantro, parsley or oregano to elevate the freshness of your dish.
Be a little saucy: Drizzle your ingredients with something like balsamic vinegar, herbed aioli or honey to make them even tastier.
5 Sheet Pan Dinner Recipes
Although it's fun to get creative in the kitchen with different sheet pan components, you don't have to guess when it comes to pairing ingredients — you can follow one of our favorite recipes! Next time you're planning a sheet pan dinner, try one of these tasty recipes:
Sausage, peppers and onions sheet pan dinner: If you want a meal bursting with flavor with as little work as possible, you need this sausage, peppers and onions sheet pan dinner recipe. In five simple steps, you could have a five-star dinner of tender sweet Italian sausage and perfectly caramelized veggies.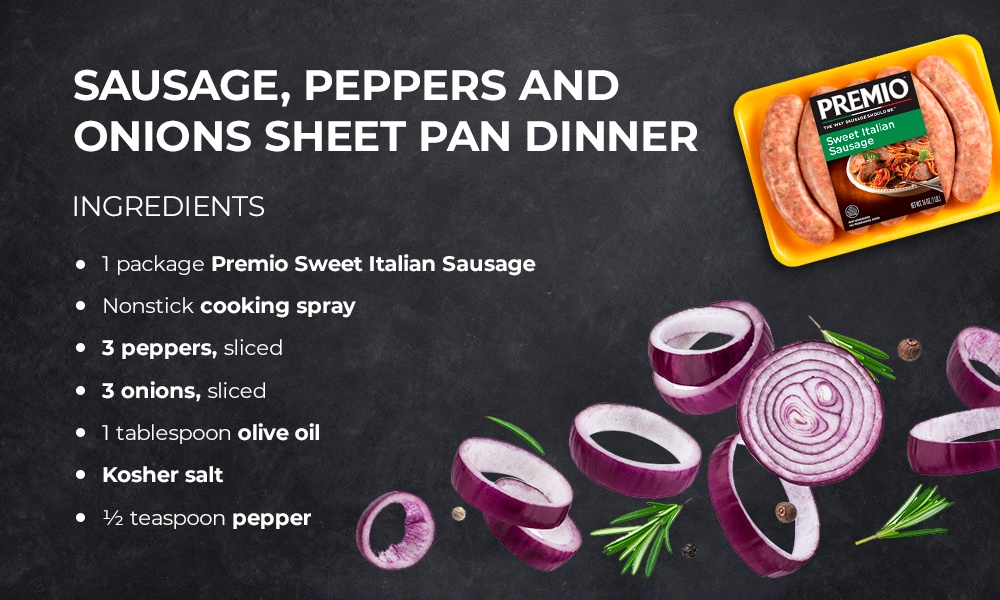 Find Premio in the Store Closest to You
Sheet pan recipes are all about letting the star ingredients shine. Make your sheet pan meal stand out by using Premio sausage as your main protein. With over 40 varieties, sausage from Premio Foods is always made without fillers and full of fresh flavors — the way sausage should be!
Get the best ingredients for your next sheet pan dinner by finding Premio at a store near you today.