7 Ways to Eat Smoked Sausage
Smoked sausage is a delicious and hearty protein that acts as a base for many great dishes, whether served with a delicious side dish or as the star of its own recipe. With some smoked sausage on hand, you have the start of an easy and family-friendly weeknight dinner, a fun game day dish or a unique addition to your recipe collection.
This versatile meat goes great with just about anything in your pantry or fridge, and knowing where to start can help you craft the perfect meal. We've compiled a list of tasty smoked sausage meal ideas for you to look back on whenever you need inspiration.
Smoked Sausage Recipes
Recipes featuring smoked sausage abound and are great for various occasions, from Saturday morning breakfast to a casual dinner with friends. Whatever the event, these smoked sausage dishes are sure to be mouthwatering:
1. Breakfast Frittata With Smoked Sausage
Frittata is easy and packed with colorful ingredients, and sausage is the hero of this brunch recipe. Here's everything you need to make a frittata with smoked sausage:
16 ounces of Premio sweet Italian sausage
Oil for cooking
One each of red and green bell peppers
1 cup diced white onions
10 lightly beaten eggs
¾ cup shredded pepper jack cheese
⅓ cup grated Parmesan cheese
Fresh basil
⅓ cup chopped sun-dried tomatoes
Black pepper, basil and grated Parmesan cheese for garnish
Preheat your oven to 350 degrees Fahrenheit. Smoke the sausage in the smoker to an internal temperature of at least 160 degrees Fahrenheit, remove and dice. Saute the onions and peppers in a skillet over medium heat and add the sausage.
Combine the remaining ingredients in a medium bowl and add them to the sausage, peppers and onion mixture. Transfer to a baking dish and bake for seven minutes or until the top of the frittata is golden brown. Garnish with black pepper, Parmesan and basil.
2. Kale and Potato Soup With Smoked Sausage
Nothing's more comforting in the colder months than a hearty sausage soup. This recipe calls for nutritious ingredients like kale and white potatoes to keep your family full for longer. To make this recipe, you'll need the following ingredients:
16 ounces of Premio Andouille Sausage
One chopped white onion
Two cloves minced garlic
Two diced carrots
Two chopped celery stalks
5 cups chopped kale
4 cups chicken broth
One 14.5-ounce can of diced tomatoes
Four potatoes, peeled and cubed
Italian seasoning to taste
Black pepper and salt to taste
Saute the onions in a large pot until tender. Smoke the sausage to an internal temperature of 160 degrees Fahrenheit. Add the sausage, carrots, celery, garlic, kale and Italian seasoning to the pot and cook until the vegetables are tender. Stir in the chicken broth, potatoes and diced tomatoes, then cook for 15 to 20 minutes.
3. Smoked Sausage Crawfish Boil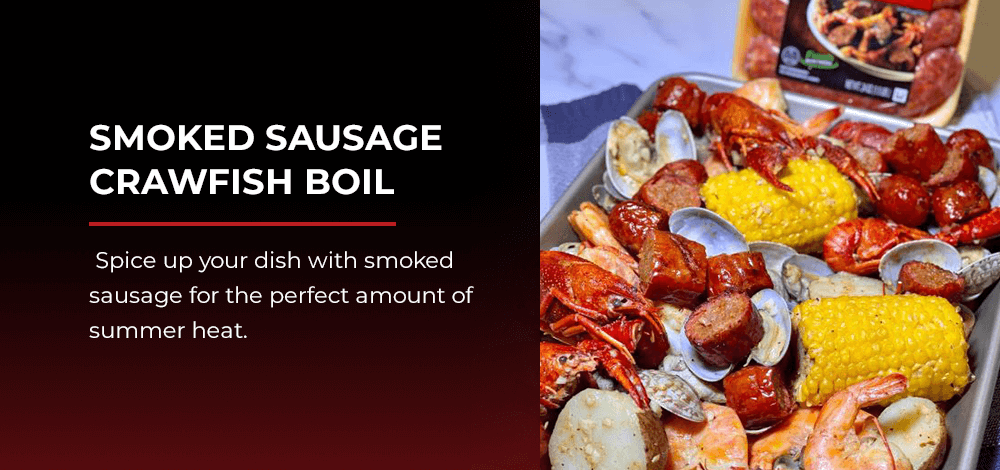 The summer is the perfect time for a crawfish boil with friends and family. Spice up your dish with smoked sausage for the perfect amount of summer heat. Here are the ingredients you'll need for this crowd-pleasing crawfish boil with hot Italian sausage:
12 ounces of Premio Hot Italian Sausage
½ pound crawfish
½ pound clams
½ pound shrimp
Two ears of corn, halved
8 cups water
2 tablespoons Cajun seasoning
1 tablespoon lemon pepper seasoning
One bulb of garlic
½ stick butter
Two cloves garlic
One sliced lemon
A handful of small red potatoes, halved
Bring a large pot of water to a boil. Add Cajun and lemon pepper seasoning and bring to a rolling boil. Smoke sausages on the smoker to an internal temperature of 160 degrees Fahrenheit. Add the head of garlic, lemon slices, corn and potatoes to boiling water, then cover and cook for 10 minutes. Incorporate the crawfish, shrimp and clams into the pot and cook covered for another three to four minutes.
In a separate pot, combine the two cloves of garlic and butter until melted and sizzling. Remove the large pot from the heat and let the ingredients soak for 10 minutes. Drain the water, add the food to a pan and drizzle with the garlic butter. Cut up the sausage, add to the pan and serve.
4. Smoked Sausage Tacos
Of all the ways to eat smoked sausage, putting it in a taco may be one of the easiest. These smoked sausage tacos are great for a last-minute dinner, game day or dinner with friends. You'll need the following ingredients:
16 ounces Premio Sweet Italian Sausage
1 tablespoon taco seasoning
Six to eight taco shells
1 cup of shredded lettuce
½ cup shredded cheese
½ cup diced tomatoes
¾ cup sour cream
Salsa and guacamole, optional
Fully smoke the sausage to 160 degrees Fahrenheit, then toss it in a skillet with the taco spices. Add meat to the taco shells and top with the rest of the ingredients as you like.
Smoked Sausage Meal Ideas
If you're cooking smoked sausage on the smoker as your meal's main course, you might be looking for some side dishes to go with it. With so many ways to make smoked sausage for any occasion, your options are nearly limitless.
Check out these smoked sausage meal ideas and get inspiration for the perfect pairing:
1. Southern Baked Beans
The sweet flavor of baked beans pairs perfectly with smoked sausage. Here's what you'll need:
Two 28-ounce cans of plain pork and beans
½ cup ketchup
½ cup barbecue sauce
2 tablespoons brown sugar
2 tablespoons yellow mustard
1 tablespoon Worcestershire sauce
1 teaspoon garlic powder
Black pepper to taste
Six slices of bacon
Preheat your oven to 350 degrees Fahrenheit. Combine the sauces, sugar and spices in a bowl. Drain the beans and add them to the sauce mixture until well combined. Transfer the beans to a shallow baking dish. Chop the raw bacon and sprinkle in the dish, then bake uncovered for about an hour until the bacon is crispy.
You can even cut up your smoked sausage and mix it into this dish once it's done baking for the ultimate pork and beans.
2. Potato Salad
Homemade potato salad is just what you need to mellow out a barbecue or picnic featuring smoked Premio Hot Italian Sausage. To whip up a batch, you'll need these ingredients:
2 pounds of chopped potatoes of your choice
¾ cup mayonnaise
1 tablespoon Dijon mustard
¼ cup dill pickle relish
1 tablespoon vinegar
1 teaspoon celery seeds
Four chopped hard-boiled eggs
Two diced celery stalks
½ cup diced white onion
Fresh dill, chopped
Salt, pepper and paprika to taste
Cover the potatoes with water in a large pot and bring the water to a boil. Add a pinch of salt and boil for about 10 minutes until just tender. Whisk together the mayonnaise, relish, celery seed, vinegar, mustard, salt and pepper in a medium bowl. Add the cooled potatoes to a large bowl and toss in the dressing. Stir in the celery, eggs and onion. Season to taste and serve.
3. Roasted Vegetables
Another favorite for a grill or barbecue, roasted vegetables are easy to prepare and can be made with just about any combination of vegetables. This recipe will have everyone going back for seconds. To make these roasted vegetables, get the following ingredients:
One diced red onion
Two sliced zucchini
One package of sliced baby portobello mushrooms
One each of yellow and orange bell peppers, diced
Two peeled and sliced carrots
Grated Parmesan cheese and salt to taste
Preheat the oven to 400 degrees Fahrenheit. Heat a skillet and add the vegetables. Saute in oil for five minutes, season and transfer to a baking dish. Roast the vegetables for about 15 minutes, until tender but not mushy. Remove from the oven and toss with Parmesan before serving.
For an all-in-one meal, slice up the smoked sausage and toss it with your roasted veggies. You can also add other vegetables as you like, like yams or potatoes.
Find Premio Sausage in a Store Near You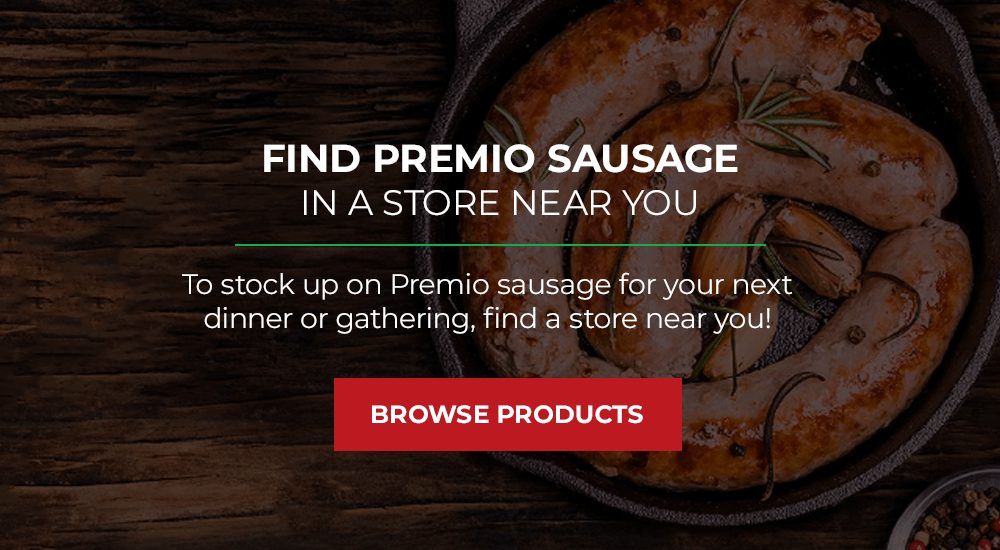 Knowing how to eat smoked sausage is only part of cooking up a great dish — you also need premium, delicious ingredients to make the perfect meal. Premio Foods has been producing fine Italian sausage with quality freshness and authentic flavors for over 40 years. We craft our products with butcher-quality cuts of meat and seasonings from around the world.
To stock up on Premio sausage for your next dinner or gathering, find a store near you!