5 Comfort Meals to Make This Fall
Fall is the perfect time of year to settle down and enjoy some comfort food dishes with your loved ones. Here at Premio Foods, we've gathered up a couple of recipes that will keep your family warm and cozy this season.
Fall Comfort Food Recipes
If you are looking for some recipe inspiration this fall, you'll want to check out five of our favorite Italian comfort food recipes.
1. Pumpkin-Stuffed Ravioli With Premio Sausage, Brown Butter Sauce and Pecans
As the temperatures begin to drop, treat your family to a hearty ravioli recipe with a fall twist. Our pumpkin-stuffed ravioli with Premio sausage, brown butter sauce and pecans will satisfy your family and warm you up on those chilly days.
This sweet, savory seasonal dish, complete with fall spices such as cinnamon, nutmeg, cloves and ginger, will quickly become a comfort food staple in your household.
2. Pumpkin-Ricotta Stuffed Shells With Crumbled Premio Sausage
Italian pasta dishes are a staple comfort food in many households. This fall, try our pumpkin-ricotta stuffed shells with crumbled Premio sausage recipe for a meal that is flavorful and filling. Each stuffed pasta shell is filled with sweet Italian sausage, pecorino cheese, garlic and spices and then baked in the oven.
Best of all, even though this is a comfort meal, you can feel good about indulging in it and serving it to your family because it has less calories and fat than traditional stuffed shell recipes.
3. Butternut Squash Risotto With Premio Sausage
Take advantage of one of the best vegetables of the season with our butternut squash risotto with Premio sausage recipe. You can serve this fall-inspired risotto dish as a side or main course when the weather starts getting cool.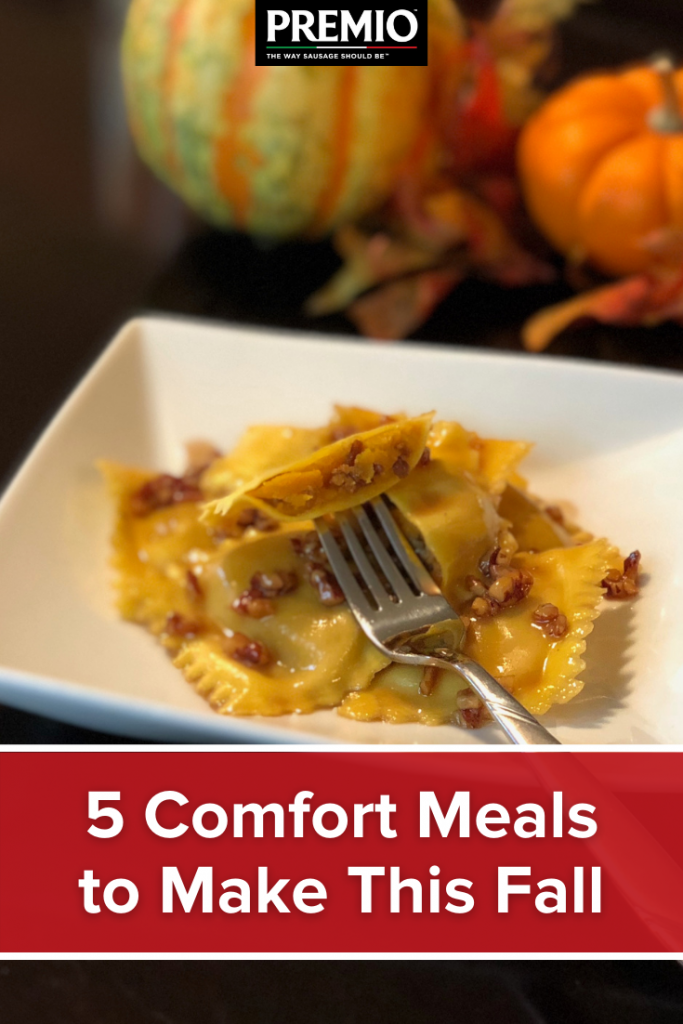 This comfort meal recipe features a mouth-watering combination of butternut squash, sweet Italian sausage and Vidalia onions. With rosemary and parmesan cheese for the finishing touch, your entire family will love this tempting risotto dish.
4. Sausage and Sweet Potato Combo
If you are looking for a fall comfort food recipe that is quick and easy to make, our sausage and sweet potato combo will not disappoint. Don't let the simple ingredients in this recipe fool you — this combo is savory and bursting with rich flavors.
Hearty sweet Italian chicken sausage, red apples and sweet potatoes create a filling base, while rosemary, sage and thyme add a warm, spicy touch.
5. Stuffed Mini Pumpkins
Nothing says fall comfort food like pumpkin! We guarantee that your family will find our stuffed mini pumpkins recipe to taste just as good as it looks. Each mini pumpkin is filled with a hearty, fall-inspired mixture.
With ingredients ranging from sweet Italian sausage to apple cider to walnuts, your family will be able to indulge in a comfort meal that celebrates the flavors of the season.
Enjoy Fall Comfort Food Recipes With the Help of Premio Sausage
Here at Premio Foods, we manufacture a variety of quality sausages, all of which feature the perfect balance of seasoning and spice. Whether you incorporate chicken, turkey or pork sausage into your comfort meals, your family will love the fresh, authentic Italian taste.
To find Premio products near you, you can use our store locator tool.