5 Quick and Easy Party Appetizer Recipes
You've got a crowd coming over for a party, for dinner or just to hang out. Enjoy each other's company with some of the best appetizers all your guests will enjoy. While you could serve store-bought goodies for your next get-together, putting in a bit of time to make easy appetizers for a crowd will make your party a hit, and we've got just the recipes everyone will come back for. Check out our five quick and easy party appetizer recipes to become everyone's favorite host.
5 Easy Appetizers for a Crowd
With Premio Sausage, you'll create unforgettable, effortless appetizers. Remember to cook sausage to 160 degrees Fahrenheit or chicken sausage to 165 degrees Fahrenheit, checking the temperature with a meat thermometer, and get ready to offer your guests a snack that'll have everyone talking. Comment below to let us know when you try these five quick and easy party appetizer recipes for your next get-together.
1. Creamy Sausage Dip
This super-easy appetizer only needs four ingredients, and one of those is chips to dip. Try this crowd-pleasing creamy sausage dip at your next party.
Cook one pound of Premio Sweet Italian Sausage Meat or Premio Hot Italian Sausage Meat according to package instructions, breaking it up into small pieces as it cooks.
Heat three eight-ounce packages of cream cheese in a slow cooker on high heat until soft.
Once the cream cheese reaches a soft, stirrable consistency, add in the cooked sausage and one can of Ro-Tel tomatoes and green chiles, undrained.
Mix everything thoroughly, top with sausage crumbles if you'd like and serve with tortilla chips of your choice.
Keep the dip in a slow cooker on a low setting to stay warm or dish it out in a bowl. You can serve about six or so people with this recipe, depending on how much everyone eats, but if you offer other party appetizers, this should be good for a bigger crowd.
2. Sausage-Stuffed Mushrooms
Sausage-stuffed mushrooms are one of the most popular and best appetizers, and for good reason. Follow these steps to make a delicious party appetizer that disappears off the plate.
Preheat the oven to 375 degrees Fahrenheit.
Wash and remove the stems from 24 medium-sized mushrooms.
Finely chop the mushroom stems and set the caps aside.
Saute one minced shallot with the chopped mushroom stems and two Premio Hot Italian Sausages with the casings removed.
Break up the sausage and cook the mixture until the sausage has fully cooked and liquid from the mushrooms has evaporated.
Transfer the cooked mixture to a bowl and combine with four ounces of crumbled blue cheese, three ounces of cream cheese, a teaspoon of brandy and half a teaspoon of thyme.
In the same pan you cooked the sausage mixture in, melt two tablespoons of butter.
Remove the melted butter from the heat and toss the mushroom caps in it to coat.
Place the mushroom caps on a baking sheet, arranging them stem-end up.
Fill the cavity of the mushrooms with about two teaspoons of sausage filling.
Bake for about 10 minutes or until the cheese is bubbly and the mushrooms are softened, but not falling apart.
If you don't have brandy, you can swap the liquid with a teaspoon of apple juice instead for an equally delicious result. With 24 stuffed mushrooms, you could feed about 12 guests if everyone only eats two, but these are so delicious that they may go quickly.
3. Bacon-Wrapped Premio Stuffing Bites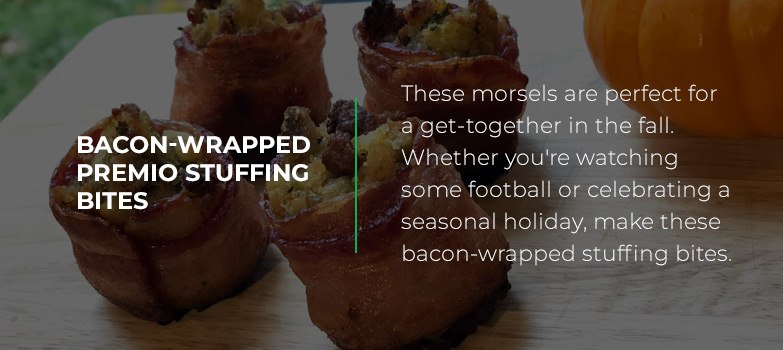 These morsels are perfect for a get-together in the fall. Whether you're watching some football or celebrating a seasonal holiday, make these bacon-wrapped stuffing bites.
Preheat the oven to 350 degrees Fahrenheit.
Remove the casings and cook a quarter of a pound of Premio Sweet Italian Sausage, according to package instructions.
Line a sheet pan with parchment paper and spread out half a pound of bread, cut into small cubes.
Toast the bread at 350 degrees until golden brown and crispy, then remove the bread and up the heat to 375 degrees.
Saute half a cup of chopped celery and one cup of finely diced yellow onion in five tablespoons of butter until softened.
Add one teaspoon each of minced sage and thyme, a quarter-cup of minced parsley, a quarter-teaspoon of grated nutmeg, salt and pepper to the veggies and take off the heat.
In a bowl, mix the cooked sausage, toasted bread and seasoned vegetables.
Add one egg, beaten, and three-quarters of a cup of chicken stock to the mixture.
Prepare a sheet pan with foil and cooking spray.
Cut nine strips of bacon in half widthwise and space them out on the baking sheet.
Shape the stuffing into golf ball sizes. Place one ball on the middle of a bacon strip half, wrap the ball with bacon and keep it in place using a toothpick.
Bake for about 20 minutes, remove from oven, pat with paper towels and serve warm.
You should get about 18 bites out of this recipe, so be sure to make more depending on how long your guest list is. Everyone will want at least a couple of these seasonal bites.
4. Premio Pinwheels
Want to offer your guests something delicious, yet unique? Serve up these Premio pinwheels for a savory treat.
Remove one pound of Premio Sweet Italian Sausage from the casings, saute and crumble in a pan with butter or oil, cooking to package instructions.
Drain excess fat and set the sausage aside to cool.
Combine the sausage with one eight-ounce package of cream cheese.
Open and lay out one package of crescent rolls, sealing any perforations in the dough with your fingers.
Spread the sausage and cream cheese mixture evenly across the crescent dough.
Roll the dough lengthwise, wrap in parchment paper to secure it and place it in the fridge for 20 minutes or until firm.
Preheat the oven to 375 degrees Fahrenheit as the roll is in the fridge.
Cut the roll into one-quarter-inch thick coins, lay them flat on a baking sheet and bake for 15 minutes or until golden brown.
These snacks look fun and taste great. They're also easy appetizers to prepare for a crowd because you can keep the roll in the fridge, cut and bake it right before guests arrive.
5. Sausage-Loaded Tater Tot Skewers
For something fun and delicious to eat, make some sausage-loaded tater tot skewers. This recipe is sure to be a crowd-pleaser, so grab a package of skewers and follow these steps:
Cook one bag of your favorite brand of tater tots, following the instructions on the package.
While the tater tots cook, remove one pound of Premio Hot Italian Sausage from the casing, crumble and saute according to package instructions, then set aside.
Once cooked, let the tater tots cool, then push four or five on each skewer.
Place the skewers on a covered sheet pan, and sprinkle with a cup of shredded cheddar cheese and the sausage bits.
Bake at 375 degrees Fahrenheit until the cheese melts, about 10 minutes.
Serve with a variety of dipping sauces.
If you'll all be sitting around watching a game or chatting, you can skip the skewers and serve the tater tots on a tray topped with the sausage and cheese for guests to dish out onto their plates. A skewer will make eating and serving a bit easier, though, so don't be afraid to take the extra step.
General Tips for Creating Appetizers
You've got some party appetizers in mind now, but what will elevate your party planning to the next level are a few tips for creating appetizers.
Have some homemade options: While stores offer super-easy appetizers to buy and set out, there's something special about taking a few extra steps and offering something homemade. Make at least two homemade party appetizers, depending on how many guests you have visiting.
Prepare in advance: You don't want to be stuck in the kitchen cooking when guests arrive. Choose easy appetizers that you can prepare components for beforehand. Save the final cooking, assembling and plating right before guests arrive so everything is fresh and warm.
Offer variety: Everyone has different tastes, so be sure to accommodate that in your appetizer spread. Keep dietary restrictions and allergies in mind, as well, offering alternatives to guests with food allergies or those who can't eat gluten, meat or other things. Label the safe options for those guests — that way everyone knows what's what.
Keep things small: Unless appetizers are all you're eating, you don't want everyone to be full before the main meal. Make small bites for guests to nibble on so they'll be hungry enough for the meal later in the evening.
Remember those tips when you make our appetizers and party recipes or create your own using Premio Sausage to make something your guests will love.
Find Premio Near You
Get ready for your next get-together with Premio. We have over 40 varieties of sausage for you to choose from to transform into some of the best appetizers you and your guests have ever had. Find Premio in a store near you to get a taste of our flavorful products that'll have your guests coming back for more.