Five Recipes for the Perfect Pizza Party
A classic pizza party is the ultimate crowd-pleaser. Something about lightly charred crust, bubbling melted cheese and fresh vegetables makes an unbeatable formula for a good time. And of course, there's the meat — often the sizzling signature heart of the pizza. Read on for five sausage pizza recipes for parties that you can easily make to wow your friends and family!
Premio Sausage, Pear and Brie Flatbread
Spicy. Tangy. Sweet. The sausage pear and brie flatbread combines each flavor in a subtle yet powerful way that will have everyone reaching for the next slice. This flatbread calls for half a package of Premio Sweet Italian Chicken Sausage, four flatbreads, eight ounces of brie cheese and a pear. You likely already have the additional ingredients in your kitchen: olive oil, balsamic vinegar, honey and rosemary. Follow our step-by-step instructions to serve this delicious meal at your next gathering.
Greek-Style Pizza With Sausage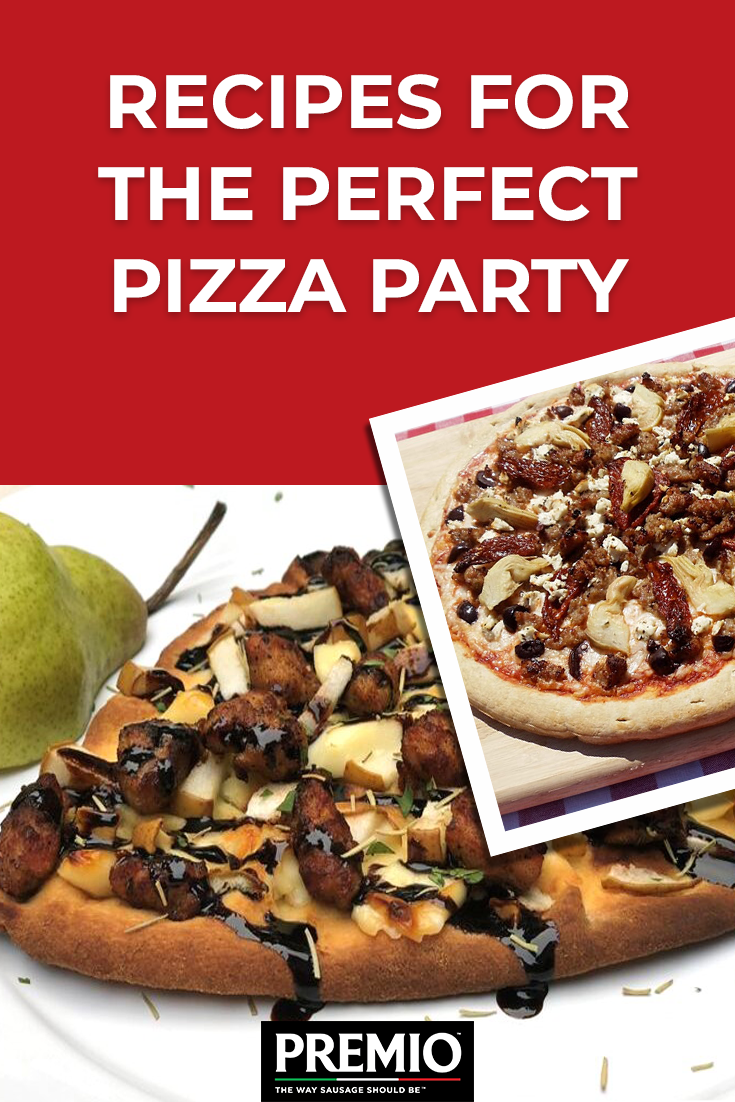 Greek food and sausage. An unlikely combination — and one you'll want to keep enjoying again and again. This pizza is filled with all the staples you've come to know and love of Greek food, from kalamata olives to sun-dried tomatoes. A package of Premio Sweet Italian Sausage gives the pizza a hearty, spicy flavor, accented by a generous sprinkling of crumbled feta cheese. This pie is so straightforward to make that it would be a great pre-dinner activity for friends and children.
Sausage Pizza With Heirloom Tomatoes, Basil and Gorgonzola
This summertime pizza will take your party to the next level. Chopped heirloom tomatoes and basil create a fresh-from-the-garden feel while the Premio Italian Sausage with Pepper, Onion & Mushroom gives the pizza a tangy kick. Gorgonzola cheese makes the perfect aromatic crumbled topping for this pie. Add some black pepper and kosher salt for a little classic flavor, and you're ready to impress your guests. Try the recipe and let us know how you fared in the comments!
Cajun Sausage and Shrimp Pizza
If you're looking to make a statement, this cajun sausage and shrimp pizza is for you. With eight ounces of shrimp, minced green peppers, two cloves of garlic and green onions, every inch of the pizza is packed with flavor. And, of course, thickly sliced cajun sausage makes this pizza into an unforgettable meal. Make this pizza by following our recipe, and you'll be ready to bring the heat at your upcoming party.
Premio Pizza Tornadoes
What is a pizza tornado, you may ask? Combine two classic favorites — pizza and kebabs — and you've landed on a delightful party snack. Grab some wooden skewers and slide on an assortment of mushrooms, bell peppers, cherry tomatoes, pizza dough balls and sliced Premio Hot Italian Sausage. Glaze with olive oil, sprinkle a generous amount of mozzarella and bake them for 15 minutes. Voila, it's sure to be a new favorite!
Looking for even more ideas? We've got you covered. Check out our list of sausage pizza recipes — and if you brainstorm a new delicious style, let us know in the comments! We love hearing your innovative ideas.