Spring (Sausage) Is in the Air
The days may still be brisk, but you can likely see signs of springtime emerging — flowers starting to bloom, birds singing and the days getting longer. It also probably means you're ready to start switching from the warm, hearty dishes of winter to the lighter and sweeter springtime offerings. Soon, fresh fruits and vegetables will abound and thoughts of strawberries, cherries, mango, pineapple and more are likely starting to dance around in your head.
Premio sausage pairs perfectly with your favorite spring fruit. From strawberry and sausage salads to pineapple and mango dip and more, here are five of our favorite deliciously fruity spring recipes.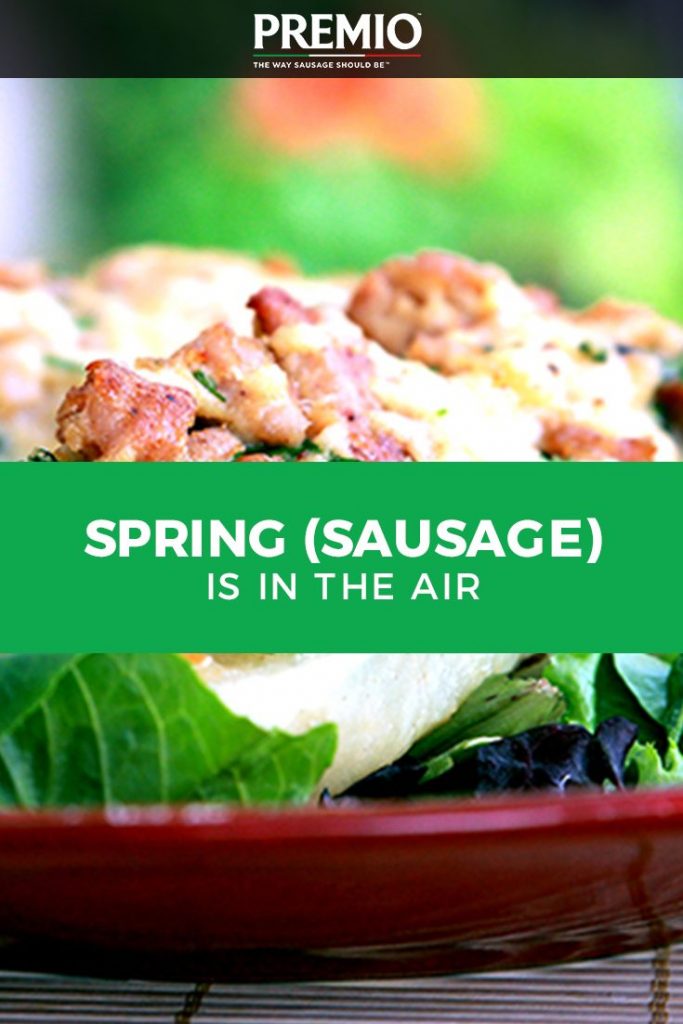 1. Premio Curry Me Home Fruit and Sausage Dip
What says spring better than the sweetness of a beautiful, yellow pineapple? With this dip that features Premio Sweet Italian Chicken Sausage, you'll get all the spring feels. The Premio Curry Me Home Fruit and Sausage Dip combines tangy Greek yogurt, cream cheese, apple and pineapple. It pairs perfectly with your choice of chips, crackers, veggies or fruit. Get ready to dip away!
2. Mango and Premio Chicken Sausage Glazed Salmon
Make your next salmon dish something to talk about. An irresistible mango nectar glaze and a generous scoop of pineapple, diced mango and sweet sausage gives this salmon dish a springtime sweetness that can't be beat. You can whip up this meal in under 30 minutes, too, so it's perfect for dinner on a busy weekday or for sitting outside and savoring when your schedule is a little less chaotic.
3. Sweet & Sassy Strawberry Sausage Kabobs
Kabobs are a fan favorite for kids and adults alike, and you can give them a delicious springtime flair with our Sweet and Sassy Strawberry Sausage Kabobs. Add red potatoes, red peppers, strawberries and Premio sausage to a skewer and toss it on the grill for a colorful take on this classic. Strawberry preserves provide an extra touch of sweetness that will have your crowd clamoring for seconds — or fourths.
4. Sausage & Strawberry Balsamic Pasta Salad
Salads are a quintessential springtime dish. The variety of fresh fruits and vegetables available make them utterly delicious, but they can quickly become boring if you stick with just the traditional lettuce combinations. Switch up your salad routine with our Sausage and Strawberry Balsamic Pasta Salad. It's still bursting with sweet strawberries and fresh spinach, but the pasta, walnuts, feta cheese and, of course, sausage give it a unique twist you won't be able to resist. You can also easily double or triple the recipe so you can share it at the office or with the neighborhood.
5. Strawberry Spinach Salad With Sweet Basil Sausage
Strawberries are a fantastic addition to a salad, so they give our Strawberry Spinach Salad With Sweet Basil Sausage a delicious sweetness that may just make this salad taste more like a dessert than an entree. Top it off with glazed pecans and a balsamic red wine dressing you can make yourself in just minutes.
Try your hand at these recipes and get ready to welcome spring with open arms. To find Premio sausage near you, use our store locator!