Seven Great Sausage Burger Recipes
The sun is out, the birds are singing and you spend your days dreaming of jumping into the pool. The only thing that could make your days more summery is a full plate of burgers, French fries and pasta salad. Have you been busy grilling yet this summer? If not, there's no better time to get started.
Not sure what to grill? That's where we come in. To help give you some grilling inspiration this summer, we're here to share our favorite sausage burger recipes. Cooking sausage patties is something that never gets old, simply because there are so many great ways to do it. Whether you're grilling just for yourself, your family or for a cookout with all your friends and family, we guarantee these recipes will have everyone coming back for seconds and pestering you for your recipe.
Ready? Let's talk about the best ways to cook sausage patties.
1. Sausage and Cheesy Salsa Burger
Looking for spices, exciting flavors and a burger that will make you sit up and take notice? Then you've got to try this sausage and cheesy salsa burger recipe. Before you know it, this is sure to become a classic at your summer cookouts and get-togethers. The best part? It's extremely easy to whip up.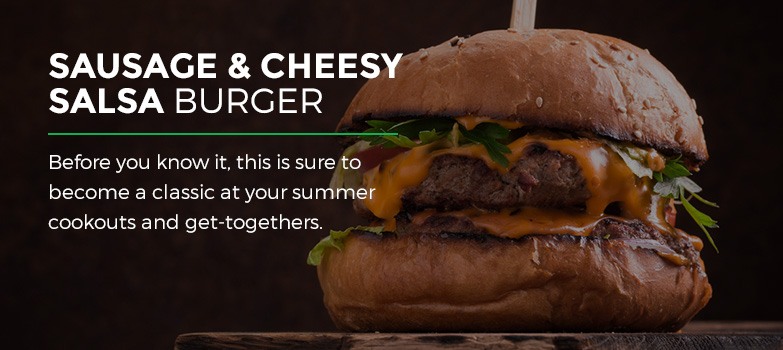 Ingredients
1 package sweet Italian sausage
1/2 cup pepper jack cheese, shredded
1/4 cup salsa, plus extra for topping
1/4 cup cilantro, chopped, plus extra for topping
1/2 tsp cumin
1/2 tsp paprika
1/2 tsp garlic powder
1/2 tsp onion powder
1/4 tsp chili powder
4 slices cheddar cheese
4 hamburger rolls
1 avocado, sliced
Salt and pepper
Instructions
Start by heating up the grill and removing the sausage from the packaging and the individual casings. Get out a large mixing bowl and combine the sausage, pepper jack cheese and spices. Use your hands to mix these ingredients together well into a fine paste. Once its well-mixed, shape the meat mixture into four evenly matched patties.
When the grill is ready to go, pop these four burgers on and grill them for about four to five minutes on both sides, allowing for slightly longer if you prefer a more well-done burger. When there's about a minute left to go, add a slice of cheddar cheese to the top of each patty and let it melt.
When you've finished grilling, slide the grilled burgers onto the hamburger rolls and top them with your preferred amount of salsa, cilantro and avocado. For the very best and most delicious experience, serve these hot and fresh off the grill. Don't forget to double the recipe if you're cooking for more than four people.
2. Sausage Burger With Peppers
Looking for a burger recipe that gives you that classic taste of grilled peppers right along with your sausage? We've got the recipe for you. These sausage burgers with peppers are quick, easy and definitely a crowd-pleaser waiting to happen. This recipe only serves four, so you may want to consider doubling it, depending on the number of guests attending your cookout.
Ingredients
1 ½ pounds pork sausage, loose
4 hamburger buns or kaiser rolls
2 tablespoons olive oil
3 bell peppers in colors of your choice, seeded and cut into strips
1 onion, sliced
2 tablespoons red wine vinegar or 2 tablespoons sherry
2 tablespoons honey
Salt
Pepper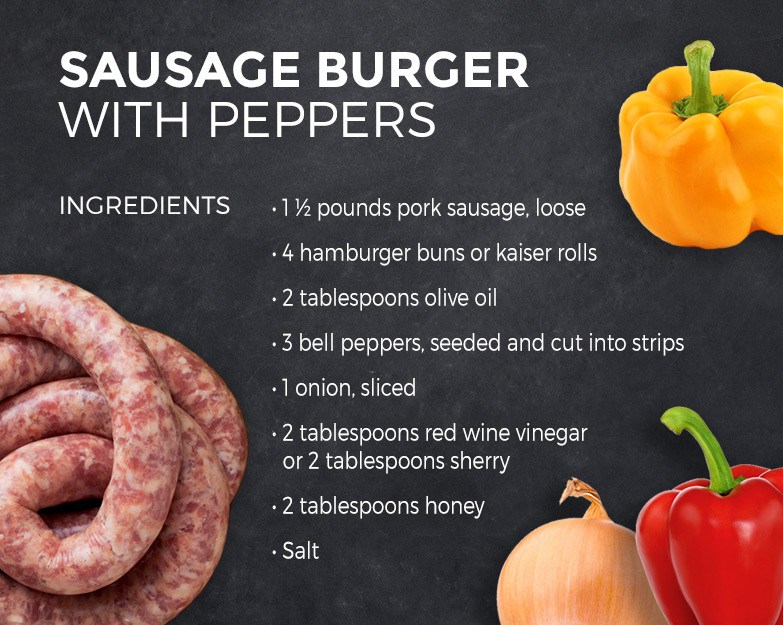 Instructions
Begin by prepping your grill. Either turn on the gas or get the charcoal ready and light it. You'll want the grill to reach a medium level of heat, so keep this in mind as you prepare it for cooking.
Form your sausage into neat patty shapes, about half an inch thick. A pound and a half of sausage should make four patties. Once you have these shapes, toss them on the grill and cook them for about five minutes on either side, or as long as it takes until they are done to your liking. Don't forget to flip them and grill both sides.
Moving inside to your stove, heat the olive oil in a skillet on the stove over medium-high heat. Swirl the pan around so the oil coats the bottom of the pan to prevent sticking. Throw the slices of peppers and onions in the pan to cook. Stir them regularly and let them soften and cook for about 10 minutes. Feel free to cook them longer if you like them softer, or less if you prefer a harder pepper. Add vinegar and honey into the pan and cook for another two minutes. Finally, season the whole mixture liberally with salt and pepper.
To serve, put the sausage patties on kaiser rolls and top them with your pepper-and-onion mix. For an extra smoky flavor, pop the rolls on the grill, flat side down. Grill them for a minute or two, until they're lightly toasted.
3. Italian Sausage Burgers With Garlic and Spinach
Can't get enough garlic? Looking for a little more garden healthiness in your summer cookouts? We get that. For your garden-and-garlic fix, try these Italian sausage burgers with garlic and spinach. This is one recipe with a unique twist you won't soon forget. Again, this recipe only makes four burgers, meaning you may want to think about doubling the ingredients if you plan on serving more people or if you want leftovers.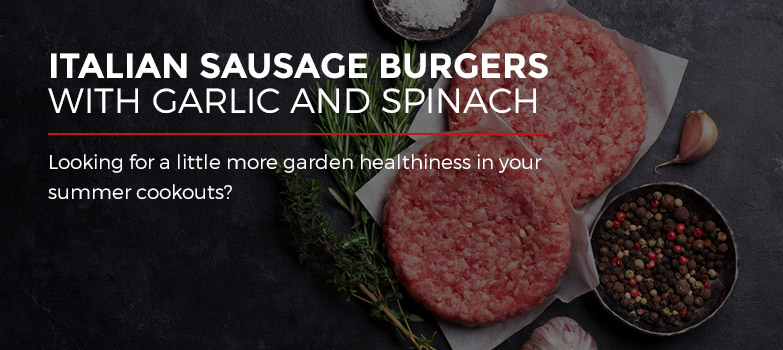 Ingredients
1 pound Italian sausage with the casings removed — choose your desired level of spiciness
10 ounces baby spinach
2 ¼ tablespoons olive oil
2 cloves garlic, minced
1 teaspoon anchovy paste
4 slices provolone cheese
¼ cup sundried tomato pesto
4 ciabatta rolls
Instructions
Fill a large skillet with about a quarter-inch of water and bring it to a boil. Empty the baby spinach into the boiling water and cook, stirring occasionally. After about one minute, the spinach should appear wilted. When it looks like this has happened, drain the spinach and press as much water as you can out of it. Wipe out the skillet and put it back on the stove.
Using the same skillet, heat two tablespoons of olive oil and bring it to a simmer. Dump in the garlic and anchovy paste and turn up the heat to high. Keep stirring and cooking this mixture until it begins to smell fragrant. This process should take about one minute. Pour the cooked spinach into this mixture, add salt and stir it all together for about 10 seconds before removing the pan from heat.
Light your grill and get it ready for cooking with medium heat. Get your hands lightly moistened before forming the sausage into four patties, about three-quarters of an inch thick apiece. Once you've finished shaping them, brush them gently with the remaining olive oil and place them on the grill. The grilling should take about 10 minutes, or as long as it takes until both sides of the sausage are crusty and brown. Don't forget to flip them halfway through the grilling process. Once they've finished cooking, top each patty with a slice of cheese and wait a minute longer for the cheese to melt.
Once you've removed the sausage from the heat, it's time to build the perfect burger. Brush the rolls with the pesto mixture, add a burger with melted cheese, top with spinach and place the second half of the roll on top. For a little extra pizzazz, grill the flat sides of the rolls for just a minute, or until they're lightly browned. Feel free to skip this step if you prefer your rolls soft, however.
4. Spicy Sausage Burgers
If spice is your thing, you've come to the right place. Make sure to have a glass of water or your favorite lemonade on hand when you eat these spicy sausage burgers, though, because you'll need some help cooling down afterward. This recipe makes six servings, so there's sure to be enough to go around.
Ingredients
10 ounces ground beef
½ pound ground beef, sirloin
¾ pound hot Italian sausage, with the casings removed
Cooking spray
Salt
Pepper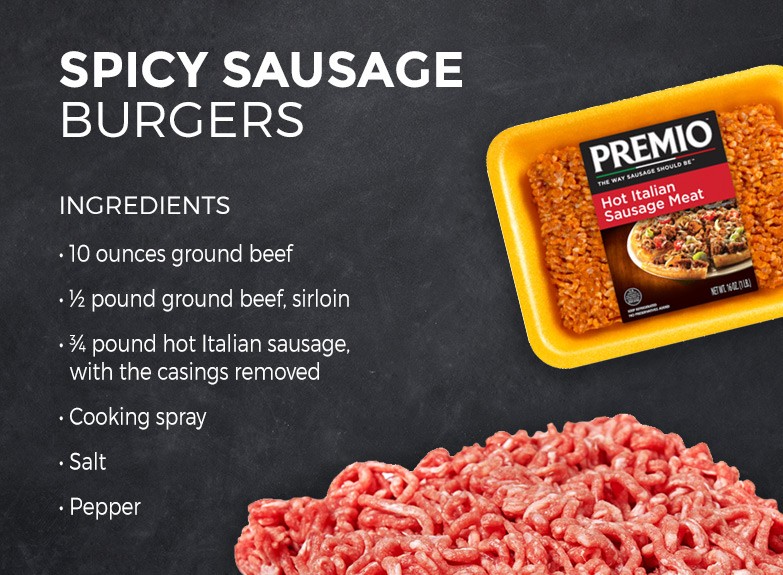 Instructions
Throw both kinds of ground beef in a mixing bowl along with the sausage. Sprinkle the entire mixture with salt and pepper and use your hands to mix the different meats together. Once it's well mixed, pat the meat into six identical patty shapes. If you aren't planning to start grilling right away, tuck these patties into the fridge to keep them cool.
Prep your grill as you normally would, making sure to grease the racks with cooking spray so your burgers don't stick or burn.
When the grill is ready, pop the patties onto the racks and start grilling. For a rarer cook, grill them for about five minutes. For a more well-done cook, add four to six minutes to the time. Don't forget to flip the burgers halfway through grilling them to ensure both sides are browned, and the meat gets cooked thoroughly. Use a meat thermometer and check that the internal temperature of the meat reaches 155 degrees Fahrenheit to make sure the meat is cooked enough to be safe to eat.
5. Sausage and Chili Burger
There are those who think all the foods on their plate should stay separate, never touching one another even under the most extreme circumstances. When it comes to sausage and chili, however, we have to disagree. Once you've tasted this delicious sausage and chili burger, we think you'll feel the same way. Try it and see.
Ingredients
2 packages of hot Italian sausage meat
1/4 cup of breadcrumbs
4 slices mozzarella cheese
4 brioche buns, sliced in half
1/2 chopped yellow onion
1/2 cup prepared chili, pre-warmed
Salt, pepper and olive oil
Instructions
Before you begin cooking sausage, you'll want to track down your favorite source of chili. Maybe a local grocery store makes a recipe that you can't resist, or maybe there's a family recipe you enjoy making yourself. Whatever it is, buy or whip up a nice batch of this and set it aside. You'll use this later as a topping for your burgers.
While your grill preheats, combine the sausage meat and breadcrumbs together in a bowl until they're well mixed. Pat this mixture into four even patties and coat both sides with salt and pepper. Keep the patties compact and thick, instead of wider and thinner.
Pop the patties on the grill and let them cook for about six minutes on either side. Feel free to leave them on the grill longer if you prefer them more well-done. While they're cooking, swirl some olive oil in the grill pan and saute the chopped onions until they're tender, seasoning them with salt and pepper as you go. Just before you remove the burgers from the grill, top them each with a slice of cheese and let it melt.
Coat the middle ends of the halved burger buns with olive oil and toast them on the grill for a minute or two. Then, remove everything from the grill and start building your burgers. Put the cheesy burgers on the buns and top them with onions as well as a heaping helping of the warmed chili.
6. Mushroom, Pepper and Onion Sausage Burgers
Mushrooms tend to be one of those divisive foods where people either love them or hate them. For those of you who love mushrooms, what could be better than a juicy sausage burger with mushrooms in the summer? If that sounds perfect to you, you won't want to miss this delicious mushroom, pepper and onion sausage burger. For your next cookout, try this recipe.
Ingredients
1 pound hot Italian sausage
1 pound ground sirloin
1 tablespoon olive oil
½ pound cremini mushrooms, sliced
1 onion, sliced
2 cubanelle peppers, sliced
1 tablespoon grill seasoning
2 cloves garlic, grated
1 handful parsley, chopped
8 slices provolone cheese
4 kaiser rolls
Salt and pepper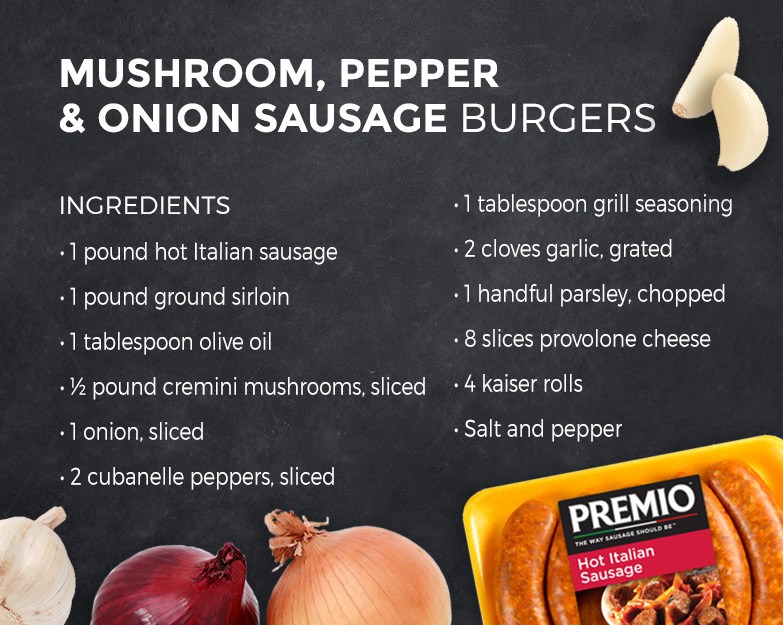 Instructions
Pour one tablespoon of olive oil into a skillet set over medium heat on the stove. Swirl the oil around to make sure the insides of the pan are well-coated to prevent any sticking or burning. Throw the sliced onions, peppers and mushrooms into the pan and sauté them well until they are tender, which should take about seven or eight minutes. Season them with salt and pepper according to your preference and set aside.
In a mixing bowl, combine the sausage and sirloin along with the grill seasoning and parsley. Mix well to distribute the spices throughout the meat. Shape the meat into four evenly sized patties. Ideally, these patties will be a little thicker at the edges and thinner in the middle for a nice even cook.
While you can cook these patties inside on the stove in a pan, we recommend taking them out to the grill if the weather is fine and a barbecue is on the agenda for the day. Pop them onto the grill until they're fully cooked for a delicious and smoky bit of extra flavor. Slide them onto your kaiser rolls and top them with your pepper, onion and mushroom mix, a slice of provolone cheese and your favorite combination of condiments.
7. Sausage and BBQ Burger With Smoked Gouda
Sausage? Bacon? Cheese? All three of those items are absolutely delicious in their own right and are worth showing up for. But what happens when you try to put these three magical ingredients together? The result is something that's somehow even better. Don't believe us? Try this sausage and BBQ bacon burger with smoked Gouda recipe and see what you think. This recipe serves four, making it the perfect choice for a small gathering, although it can easily be doubled for a larger crowd.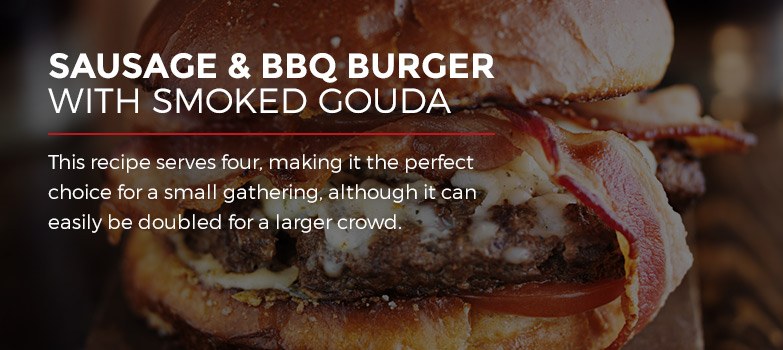 Ingredients
2 packages of hot Italian sausage meat
1 tablespoon olive oil
1 yellow onion, sliced
1/4 cup hot sauce
1/4 cup beef broth, low sodium
4 brioche rolls
8 slices of bacon
1 1/2 cup smoked Gouda cheese, shredded
Salt and pepper
For the BBQ sauce
3/4 cup ketchup
1/4 cup brown sugar
1/2 cup apple cider vinegar
1 1/2 tsp paprika
1 tsp ground mustard
1 tsp cumin
Salt and pepper
Instructions
Get started by setting your grill to preheat. While the grill is getting ready, combine the ingredients for the BBQ sauce together in a saucepan and cook them on medium heat for about five minutes, stirring every so often. Remove this pan from the heat and set it aside.
Cook the bacon in a grill pan just as you ordinarily would, until it gets crispy. Drain the fat, transfer the cooked bacon to a paper-towel-lined plate and return the pan to the grill. Using the same pan, heat a small amount of olive oil to prevent sticking and grill up the sliced onions for about five minutes, or until they start to become soft and translucent. Season them with salt, pepper, hot sauce and beef broth. Stir the entire mixture together for about a minute before removing it from heat and setting it aside.
Open the sausage meat and shape it into four even patties, seasoning these burgers on both sides with salt and pepper. Grill the patties for about three to four minutes on both sides, or until they're as done as you prefer. Right before the burgers are finished, top them each with the smoked Gouda cheese, letting it melt for a moment before you remove the burgers from the grill.
Coat the buns with olive oil and pop them on the grill for a minute or so, to let them get a little bit of a smoky flavor as well before removing them. Now, it's time to build your burgers. Add one burger to each bun, top them all with onions and two strips of bacon apiece and enjoy.
Shop Premio Sausage for All Your Summer Cookout Needs
Getting ready for a summer season of barbecues, cookouts and picnics? There are a lot of things you'll need, from ketchup and mustard to hamburger buns and French fries. One of the most crucial items you'll need to remember, however, is sausage. And if you're shopping for sausage to make one of these delicious recipes, we hope you'll consider buying Premio sausage products.
Premio sausage comes in a wide variety of delicious flavors, so no matter what your recipe calls for, we think you'll be able to find it here. We offer Italian sausage in a range of spiciness levels, Italian specialty sausages, chicken sausage, breakfast sausages and more. Browse our full selection of sausages and decide which looks tastiest to you.
Because we know convenience is important to you during this busy summer season, we offer our sausage products in many different stores near you. To find the Premio distributor closest to you, use our handy store locator and get busy shopping.
Selling sausage isn't the only thing we do, however. We know that during grilling season, it's easy to quickly grow tired of grilling the same old things day after day. Instead of cycling through the same handful of tired recipes, why not check out our collection of crowd-pleasing summer grilling recipes? Whether you're in the mood for kebabs, burgers, tacos or more, we've got you covered. Break out one of these recipes at your next summer get-together and get ready for everyone to start asking you for the recipe.