6 Lifechanging Tips for a Successful Picnic
Little else is as refreshing as spending quality time with your family outside. Picnics are great for creating family memories — eating delicious homemade food, watching the kids laugh while playing picnic games and enjoying the beautiful scenery. To learn how to have the perfect picnic, read these picnic tips and tricks to wow your family with a memorable experience.
1. Choose the Best Time
Before anything, check the weather. The last thing you want is to set up a perfect picnic, only for it to start raining 30 minutes after you sit down. Besides that, there is no universal best time for a picnic. It mostly depends on you and your schedule.
Keep in mind, though, that the weather tends to be hotter at around 3 p.m. If you don't mind the extra degrees during the summer, don't let that stop you from a midday picnic! Or, if you're trying to schedule around the warmer hours in fall or winter, use this hotter time of day as a guide.
2. Pick the Perfect Spot
When daydreaming of the perfect picnic, what do you imagine? Is it in a clearing surrounded by wildflowers, on pristine white sand at a private beach or next to a dreamy forest treeline? Whatever it may be, consider these key determinants when picking the perfect spot to set up your picnic.
Scenery: No matter where you call home, there is a guaranteed spot with the perfect scenery for a memorable picnic. Take a drive around and explore your town. Is there a lake, mountain range or park clearing you can go to? Wherever you choose, make sure there is a flat, comfortable spot to lay your blanket in an area that isn't too damp.
Shade: Choose a spot with the perfect amount of shade, like under a lush tree, uniquely beautiful during the height of autumn. Or, if you're feeling crafty, create shade by hanging colorful umbrellas from overhanging tree branches to transform the picnic spot.
Space: The little ones will want to run around and play, so choose a spot with plenty of space for fun activities.
Finding the perfect spot is only the start of creating a successful picnic. What you do with that location and the other setup involved will completely transform the area to bring your dream picnic to life.
3. Pack the Right Blanket
Whether you choose a traditional checkered-print blanket or opt for a personalized style is entirely up to you. The perfect picnic blanket has the following characteristics.
Machine-washable: Odds are, your blanket is going to get a little dirty. Choose a machine-washable blanket so you don't fret if someone spills their drink or food, or if the kids bring some of their messy fun onto the blanket.
Cushiony: Sometimes, sitting on the ground can get uncomfortable. Pack a cushiony blanket or bring some pillows for an extra layer of padding to make your picnic a little cozier.
Waterproof: Have you ever sat on a blanket and immediately felt moisture seep through the fabric? It's not the best feeling in the world, but luckily, it's easily avoidable. Consider lining the bottom of the blanket with a shower curtain for a dry and comfortable picnic if you can't find a waterproof option.
It's best to pack an extra blanket or two just in case you find there's not enough room to fit the whole family or if there's an unfortunate mishap. Also, consider artistically layering the blankets for an aesthetically pleasing appearance.
4. Opt for Home-Cooked Recipes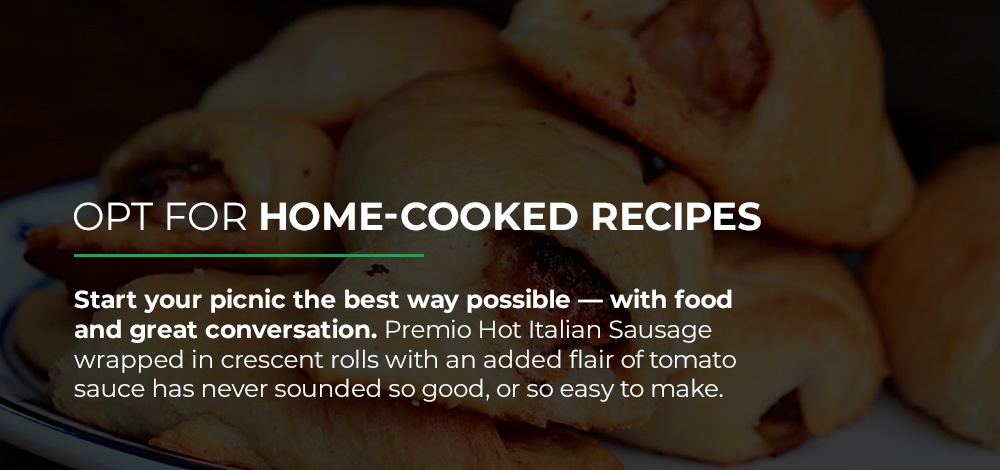 A delicious home-cooked recipe, arguably the best part, brings your picnic to the next level. Consider these tasty picnic-friendly recipes for guests of any age to enjoy.
Choosing to go the home-cooked route adds a personalized, heartwarming touch that store-bought meals can't replicate. Your guests will appreciate the extra effort!
5. Bring the Right Accessories
For the best experience, bring the appropriate accessories. The last thing you want to happen during your picnic is to sit down and realize you forgot to bring the plates or utensils. For peace of mind, use this checklist of what you need for a picnic:
Cutting board
A surface to serve and eat food on
Eco-friendly or reusable serveware
An extra set of utensils
Flowers
Napkins
Hand wipes
Picnic basket or tote
Cooler for cold items
Bottle opener
Once the picnic fun is over, make the cleanup process a breeze by bringing a trash bag or two, and another for any recyclable items. Also, bring a to-go container for any leftover food you want to save as an easy lunch the next day.
6. Plan Fun Activities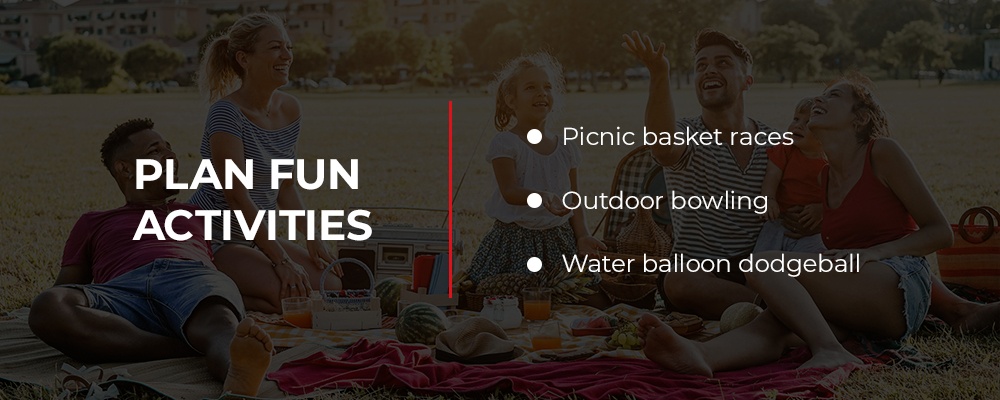 Eating is only half the fun. Afterward, enjoy the scenery and time with your loved ones by taking part in fun family activities. Consider adding these games to your picnic itinerary.
Picnic basket races: Make cleaning up fun by turning it into a game. You'll need a few sets of picnic baskets, blankets, utensils and a fair starting point. On the count of three, each player puts everything back into the basket, and the first person who finishes wins.
Outdoor bowling: Repurpose any leftover bottles with a game of outdoor bowling. Odds are, you're already familiar with the game, but all you'll need is a handful of recycled bottles and a ball to roll and knock them over.
Water balloon dodgeball: To transform the classic game of dodgeball into warm-weather fun, pack a waterproof tote or container with prefilled water balloons. Separate guests into teams, like older kids versus younger kids or parents versus children, and partake in the ultimate water balloon fight. As a reward for the winning team, they get dibs on dessert, while the losing team gets to pick up the leftover water balloons.
Get the whole family involved in the picnic planning process. These are only a few of the classic family games you can play, so get creative and find something everyone will enjoy.
Rely on Premio Foods to Elevate Your Picnic Recipes
At Premio Foods, we make our traditional Italian favorites with family in mind. We value those special family moments, and by offering our customers the best ingredients to serve heartwarming meals, we hope you can create a memorable picnic to cherish forever. To try any of our recipes or create ones of your own, find Premio Sausage in a store near you.
Did you use any of this advice? Leave a comment and share your favorite part, as well as any of your tips and tricks on how to have a picnic!