Tips to Prepare Food in Advance for Parties
Food is a major component of any party, but it also takes a lot of time to cook several dishes for all of those guests. Make-ahead meals for entertaining can streamline the process by letting you tackle most of the food prep in the days leading up to the big event. With our simple party prep tips and a few delicious recipes in your toolbelt, you'll be well on your way to stress-free hosting, no matter what type of party you throw.
Plan Your Party Menu
Planning your menu well in advance keeps you organized and gives you the chance to figure out what you can do ahead of time. When you prepare food in advance for parties, easy dishes are the best options. Choose recipes that are quick to make with minimal ingredients. Fewer ingredients mean less measuring and prepping, so you can get your food done faster. Avoid food with multiple steps or complicated preparation methods to save time.

Another part of keeping the menu simple is choosing a few key dishes to serve instead of going overboard with tons of food. Of course, you don't want your guests to go hungry, but you also don't want to prep 20 different recipes and end up with a fridge full of leftovers afterwards. Instead, limit the number of items you make. The fewer different dishes you have to make, the less time it takes to complete the preparation.
It's also a good idea to stick with dishes you know well. If you've made something multiple times, you are better able to determine which steps you can complete before the party. You also know how it should look at every step, so you feel more confident in the results.
Consider the amount of prep and cooking time that goes into each dish. Opt for recipes with short cooking times and minimal prep to make the best use of your time. Write out every component of your party menu, including side dishes, appetizers and desserts. Pull out the corresponding recipes and analyze the different steps to decide how much you can complete early.
Practice the Dishes
If you decide to try something new for your party, give the recipe a test run several days before the event. This test run lets you work out the kinks in the recipe. It also gives you an idea of how much you can prepare ahead of time. By testing a recipe ahead of time, you'll feel more confident when you make the dish for the party.

Go Grocery Shopping
Plan your party grocery shopping trip several days before the big event. This early shopping trip ensures you'll pick up all of the items you need. After you finalize your party menu, write a list of every ingredient you need. Check your cupboards to verify you have the staples on hand that go into your recipes. If you assume you have plenty of flour only to find out it's almost gone, you'll have to make a last-minute trip to the store on party day. It's always best to ensure you have everything you need in the proper amounts beforehand.
Organize Your Ingredients
When you get home with all of those groceries, take the time to organize them to save time later when you start cooking. Group together the ingredients for each recipe. You can also group the ingredients based on when you'll use them. For example, if you're handling some prep the day before, place those ingredients together. Put ingredients you'll use on party day in another area. By using this simple prep step, you'll spend less time digging through your pantry and refrigerator when it's time to start cooking.
Make Room for Prepped Food
Prepping as much as possible saves you time, but you need room for all of that food. Cold foods nee
d to stay cold until serving, so you don't make your guests sick. Clean out your refrigerator and freezer to make space for the food until the party. Set up an area on your kitchen countertop or a dining room table for the nonperishable snacks you make. Having that space cleared and ready to go makes it easier to tackle your pre-party food prep.
Write a To-Do List
Create a list of specific tasks you need to do for each dish and when you plan to do them. This list becomes your timeline for the party to help keep your prep on track. Break your list down by day. For example, two days before, you might trim and season all of your meat. The day before, you might make salads, cook the meat, make desserts, cut up veggies and make dips. Write down the different parts of prep for each of those items in the order you plan to do them. That way, you can simply go down the list and complete each item in order. You won't have to waste time wondering what to do next.
Make and Freeze Items
Making items in advance and freezing them is a simple way to save time on your party cooking to-do list. Freezing helps preserve the items, so they taste great on party day. This doesn't have to be done weeks in advance, either. Instead, make sauces, breads, pie crusts and other items that freeze well a few days before the party. Store them in the freezer until the night before. Then move the items to the refrigerator to thaw safely.
When freezing party food, keep these tips in mind:
Freeze foods quickly for best results. If foods freeze slowly, they tend to form large ice crystals, which can change the texture of the food as it thaws.
Package food in small, thin containers to help them freeze faster.
Chill food in the refrigerator first to lower the temperature before placing them in the freezer.
Ensure the freezer temperature is below 0 degrees Fahrenheit to keep items at a safe temperature.
Place foods in airtight containers to keep them in good shape.
Label the containers, so you can easily find the party food when you're ready.
Prep Ingredients
Many ingredients can be prepped ahead of time even if you plan to cook the food on the day of the party. Preparing the things that go into your recipes often takes up a majority of your time. The specific ingredients you can prep ahead of time depend largely on what you're making.
Consider these ingredient prep tasks:
Wash, peel and cut veggies for veggie trays and recipes. Chopping veggies can take a lot longer than you think, so always do it ahead of time if possible.
Cut up fresh fruit for salads or fruit trays.
Mix the dry ingredients for recipes, so you can pour them into the bowl when you actually make the recipe.
Measure ingredients for recipes and put them in individual containers.

Partially Prepare Recipes
Some dishes can't be made completely ahead of time, but you can complete the recipe to a certain point. You might make the sauce for your signature dish ahead of time and cook the rest of the meal just before the party. If you're making a rice dish, cook the rice the day before, so you can quickly assemble it the next day. You might cook the meat that will go into a pasta sauce or a casserole, so it's ready to go. You can often assemble the casserole, stopping just before you bake it.
Review the various cooking and assembly steps in each recipe. Complete the recipes as far as possible ahead of time, finishing it before the party starts. That jump start can save you lots of time on party day, so you can stress less and enjoy spending time with your guests as they arrive.
Prepare Serving Platters
Get out all of the serving platters and bowls you plan to use at the party. Grab serving utensils for each item, as well. This saves you time because you can easily transfer the food when you're done cooking or reheating it. You can also make sure you have enough serving items for all of the food.
Some items can go in the serving dishes ahead of time. For example, you can place dips into the corresponding serving bowls as soon as you're done making them. Cover the bowls with plastic and place them in the refrigerator until you're ready to serve them.
Rehearse the Party Drinks
With all the focus on small bites and party food, it can be easy to forget about drinks and how you'll serve them to guests. Before the party, make sure to stock up on ice, and remind any drink-bringing guests to remember their contributions. Put your corkscrew and shaker in a spot you'll remember the night before so that you'll be able to re-fill and open drinks all night — or day — long!
During the party, all you'll have to do is restock wine, beer and other beverages because the initial supply will be taken care of. As a last tip, make sure you have some non-alcoholic options for those who prefer water, seltzer or other alcohol-free drinks.
Plan to Reheat
Some of your make-ahead party food may need to be reheated just before your guests arrive. If you have multiple dishes to reheat, consider the timing and the methods you'll use to warm up the food. You need to give the food plenty of time to heat fully, but you also want the food to stay hot until your guests eat. The temperature is important for flavor and safety. If hot foods cool too much, bacteria can start growing quickly, increasing the risk of food poisoning.
You can heat foods on the stovetop, microwave or oven. Another option is to put the cooked food in a slow cooker to heat or to keep at a safe temperature. Use several mini slow cookers for small amounts of hot food, such as hot cheese dips.
Clean as You Go
A huge part of preparing food for a party is cleaning up your messes. You'll use several different mixing bowls, measuring cups and utensils as you whip up your signature party food dishes. Instead of letting all of those dishes pile up, wash them as you go. This method lets you keep your work area clean, so you have more workable space. You can also use fewer items because you can reuse the same bowls, utensils and measuring devices for every dish you make.
Make-Ahead Appetizers
Having a few appetizers ready to go ensures your guests have something to munch on as soon as they arrive. Some appetizers work with your make-ahead food plan. Many of the options are served cold, but you can also prep hot appetizers and reheat them before guests arrive.
Check out these simple, make-ahead appetizer options:
Premio Pinwheels: Start with a package of crescent rolls laid out in a rectangle as the base. After crumbling and sauteeing Premio Sweet Italian Sausage or Premio Sweet Italian Chicken Sausage in a pan over medium-high heat, allow the sausage to cool, then mix it with softened cream cheese in a bowl. Spread the cream cheese mixture on the crescent dough, roll them, and cut them into 1/4 inch slices. Chill the slices until you're ready to cook them, about 15 minutes before you serve them.
Salsa: Serve up homemade salsa with your favorite brand of tortilla chips. You can make a variety of salsa types, including pico de gallo, mango salsa, avocado salsa and corn and black bean salsa.
Meatballs: Make up a batch of chicken sausage meatballs by removing Premio Hot and Spicy Chicken Sausages from their casings and adding them to a bread crumb mixture with egg, bread crumbs, parmesan cheese, milk and onion. Bake the meatballs for 20 minutes or until meatballs are cooked through to a minimum of 160° F. Add them to sauce before the party, and reheat them in a slow cooker for easy serving.
Kickin' Buffalo Chicken Dip: Add a little kick to your celebration by preparing this spicy dip ahead a time and heating it up in the oven right before your guests arrive. Cut and cook up some Premio Sweet Italian Chicken Sausage and mix it with cream cheese, blue cheese dressing and hot wing sauce in a bowl. Then add chopped bell peppers, garlic and onions. Put your mixture into a glass pie dish and refrigerate until its party time. Then bake the dip till it's hot and bubbly.
For another fun party appetizer idea that takes little prep time and looks and smells delicious, try glazed apple chicken sausage bites. You can whip up a batch of these sausage bites in just 15 minutes! Use Premio Sweet Italian Sausages for a product that's already chock-full of flavor. Premio Sweet Italian Chicken Sausages will add just the right amount of sweetness to the glazed apple flavorings in these bites.
First, make the brown sugar glaze by adding 1/2 tablespoon of cornstarch and 1 cup of chicken stock in a pan. Simmer for about 5 minutes.
Next, add 1 tablespoon of brown sugar, 3 tablespoons of chopped dill and 1 14-ounce package of sausages. The sausages should be cut up into 1/2-inch pieces before the glaze is added. And that's it! Serve sausage bites on a plate with some toothpicks and skewers on the side so that guests can help themselves. Read more about tips to thicken a sauce with cornstarch here.
Make-Ahead Main Dishes
Main dishes usually take the most time and effort, but you can handle much of the prep work if you choose your main dishes wisely. Some meats are best cooked right before you serve them, while others reheat well if you cook them in advance.
Try one of these make-ahead main course ideas that are sure to leave your guests and their taste buds feeling satisfied: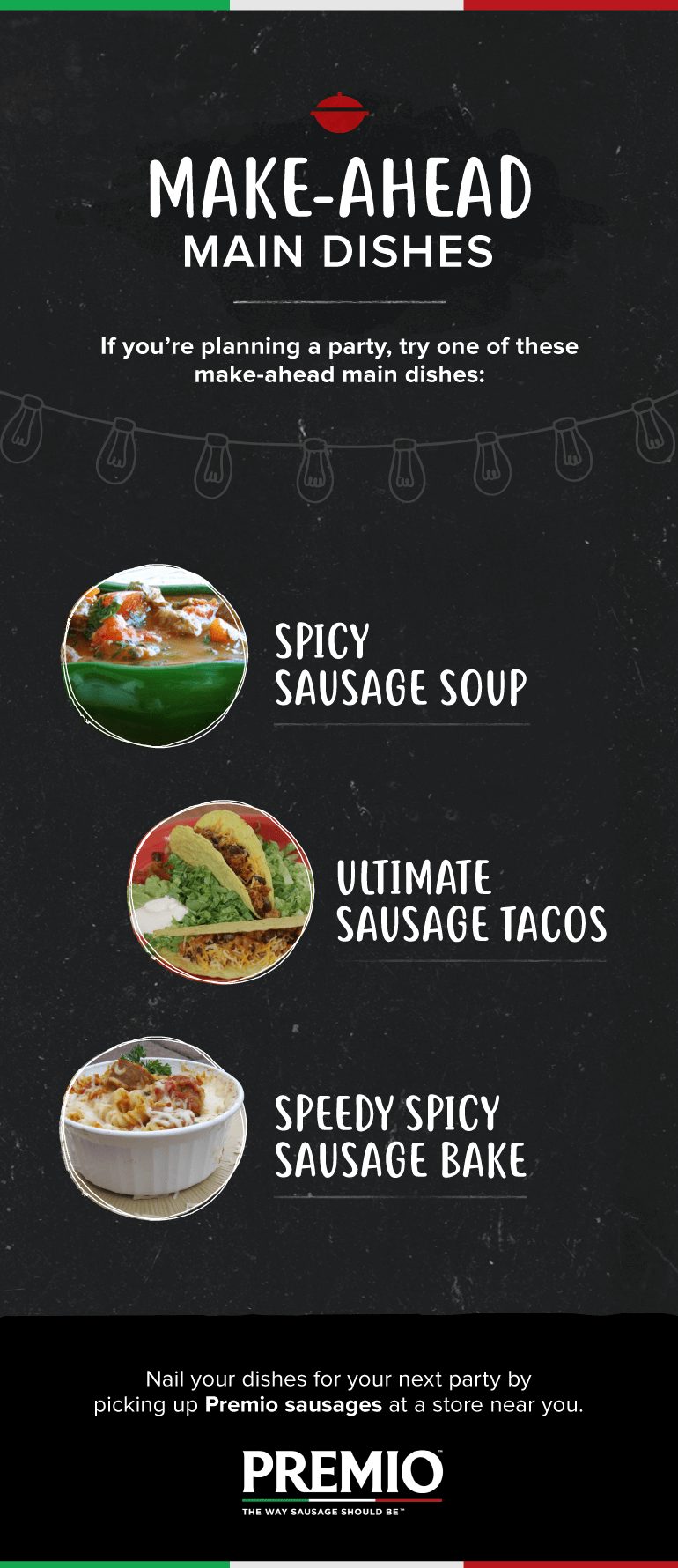 Spicy Sausage Soup: This simple yet delicious recipe features Premio Hot Italian Sausage links. Cook up your sausage first with garlic and olive oil. Then stir in canned tomatoes with their juice, tomato soup, chicken broth and spinach. Soups make a great party food because most hold up well in the refrigerator or freezer until party day. At least an hour before you serve your guests, keep your sausage soup at a simmer and add hot sauce and seasonings. Even if you leave it simmering alone for a few hours, the soup becomes even more flavorful.
Ultimate Sausage Tacos:Set up a taco bar for an easy main dish option. Cook the taco meat ahead of time by removing casings from Premio Hot Italian Sausages and browning them over medium-high heat. Then add black beans, water and taco seasoning to finish them off. Cut up all of the vegetables you plan to set out on the bar, such as lettuce, green onions, jalapeno peppers and black olives. Put the taco meat in a slow cooker or food warmer to bring it up to temperature on party day.
Speedy Spicy Sausage Bake: Create a delicious pasta bake recipe that incorporates Premio Hot Italian Sausage. This simple meal calls for about one pound of Rotelle Pasta, onions, green peppers, your favorite tomato sauce and a package of shredded mozzarella cheese. Assemble it beforehand and wait to cook it on party day.
When it comes to pasta dishes, you can rest assured that pasta will remain fresh when you cook it in advance of a party. Cook your noodle dishes hours ahead of time, and with a storage bag and some water and olive oil, you'll be all set! In fact, you can cook your noodles up to 48 hours before serving time and still get that fresh, just-cooked taste!
For this reason — and because there's always at least one pasta dish at every party — Rotelle pasta, tagliatelle, spaghetti, macaroni, lasagna and other types of noodles make the best party dishes.
Once you've finished cooking your pasta, take it out of the pot and drizzle 2 tablespoons of olive oil onto your noodles. Make sure all noodles are fully coated with the oil by stirring. Then, after about 15 minutes of cooling time, seal them in a large Ziploc® bag and store in the refrigerator. Olive oil is an excellent way to provide a barrier to the air so that noodles hold their moisture and remain fresh.
Once it's time to serve your pasta dish, bring salted water to a boil on the stove in a pasta pot. Pour the pasta from the bag into the salted water mixture and shock the noodles for about 30 seconds. Next, strain the noodles and continue cooking them as if you just brought them out of the pot — be careful not to overcook them at this point! Now, most of the oil should be removed, and your pasta should be ready to serve at the proper temperature. Enjoy!
Make-Ahead Desserts
You can't have a party without some sweet treats for your guests. Most desserts are suitable for prepping ahead of time, so you have a good selection of options. Desserts may need to be refrigerated until serving, depending on the ingredients.

Here are some easy dessert ideas that you can make ahead of time:
Homemade ice cream sandwiches: Spread softened ice cream between two chocolate chip cookies. Add sprinkles, chocolate chips or candy pieces along the ice cream edges. Wrap the individual cookie sandwiches in plastic, and store them in the refrigerator.
Brownies: Bake a pan of your favorite brownies the day before the party for an easy dessert. Add caramel swirls, nuts, chocolate chips, candy pieces or chocolate chip cookie dough to the batter to make the brownies special.
Candy bar: Make dessert easy by filling lots of jars and containers with different types of candy. Set out small bags, and let your guests scoop up the candy they want. You can pour the candy into the containers ahead of time and set the jars on a table, so the dessert is ready to go.
Cupcakes: Frosted cupcakes are perfect for parties because you don't have to cut or serve the dessert. Guests can grab cupcakes easily for ready-to-go desserts. Bake the cupcakes yourself, or place an order at your favorite bakery to save even more time.
Muffins: While usually reserved as a morning sweet, muffins are an easy and delicious dessert no matter what time of day. Apple Spice Sausage Muffins are a simple recipe which blends savory Premio sausage with sweet spice cake for a unique take on dessert. This muffin recipe can be prepared a couple of days beforehand to save you some time.
When prepping any of your recipes which call for sausage, be sure to use one of the 40 varieties of sausage available from Premio Foods — including our delicious sweet and spicy Italian Chicken Sausage. Each of our delectable Italian sausages is made using only the finest ingredients, giving you a high-quality ingredient perfect for any recipe. One bite and your guests will taste the difference. Plus, these delicious meats are easy to cook, making them a simple solution when you've got a lot of meal prep ahead of you.
How do you food prep for parties? Nail your main dish for your next party by picking up Premio sausages at a store near you.

6 responses to "Tips to Prepare Food in Advance for Parties"