Best Avocado Recipes
Whether you prefer your avocados smashed, spread, sliced or diced, avocado lovers can all agree on one thing — it goes with everything. From plain toast and simple guacamole to elaborate salads and sandwiches, nearly any meal can be improved by adding avocado.
If you can't get enough of this superfood and are looking for more ways to cook with avocado, you're in luck! We've got six avocado recipes and some bonus tips for handling avocados so you can confidently come up with your own avocado concoctions. Keep reading to learn how to use avocados in recipes to finally fill that avocado-shaped hole in your heart.
6 Avocado Recipes From Premio
Instead of aimlessly tossing avocado into recipes, check out these six sure-fire ways to use avocado:
1. Sausage Avocado Toast
Tired of plain old avocado toast but still craving an avocado fix? Mix it up a little with this sausage avocado toast recipe. Using hearty slices of pumpernickel bread and adding sausage for a protein boost sets this avocado toast apart from the competition. Squeeze on some fresh lime for an extra burst of flavor and viola! The perfect avocado toast.
2. Premio Avocado Sausage Garlic Bread
This Italian twist on the avocado toast craze takes things up a notch by using crusty Italian bread and adding sweet Italian sausage. The addition of mozzarella cheese, sun-dried tomatoes, pine nuts and fresh herbs make this toast taste like it was flown in first-class from Italy itself. Finished with a balsamic drizzle, this sausage avocado toast recipe could not be more delizioso!
3. Grilled Sausage Avocado Caprese Crostini
In the world of fine dining, everything feels fancier when it's a tiny portion size. Shrink your avocado toast to achieve this classy Caprese variation of the fan favorite. With fresh mozzarella cheese, petite cherry tomatoes, a bold balsamic glaze and a basil garnish, this grilled sausage avocado Caprese crostini makes the perfect poppable party appetizer or a delightful afternoon snack.
4. Avocado, Sausage, Tomato and Mango Salsa
Salsa meets guacamole in this avocado-powered dip. Mixing creamy avocado into this mango salsa smooths out its texture while adding a milder flavor to complement the fruity components of the dish. Sweet chicken sausage balances the sweet ingredients with some savory undertones, and a squirt of fresh lime juice brightens up the tangy flavors in this avocado, sausage, tomato and mango salsa recipe.
5. Premio Sausage BLT on an Avocado Bun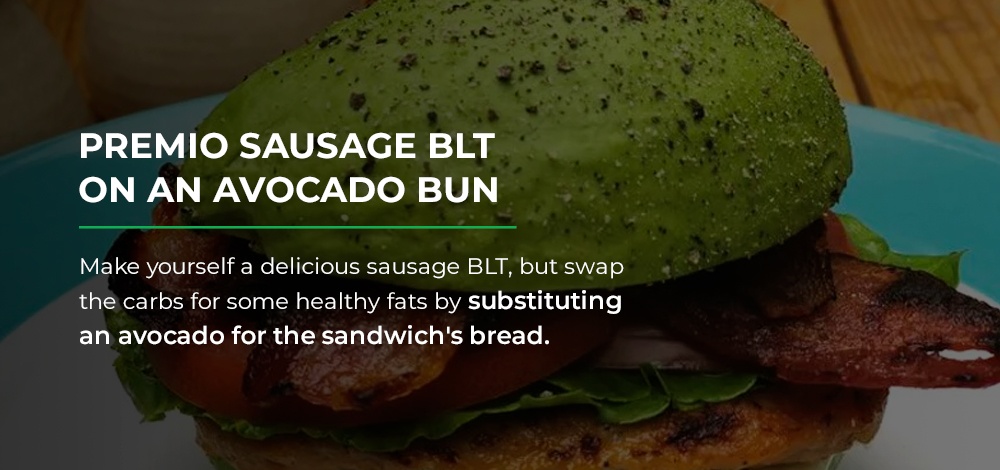 Make yourself a delicious sausage BLT, but swap the carbs for some healthy fats by substituting an avocado for the sandwich's bread. Along with all the main players — bacon, lettuce and tomato — this Premio sausage BLT recipe includes chicken sausage griller patties to give the sandwich a fuller flavor without overpowering the classic taste of a BLT. A light avocado bun brings a welcome freshness and creamy consistency to the dish, making it the perfect sandwich.
6. Sausage-Stuffed Avocado Boats
True avocado fans will love the way avocado halves anchor this dish. With avocados as the vessel for fresh Mediterranean ingredients, every bite of a sausage-stuffed avocado boat is packed with green avocado goodness, marinated artichokes, zesty sun-dried tomatoes and tangy feta cheese. Follow this recipe to ready your avocado boats and set sail toward a flavor-filled land.
Main Ways to Prepare an Avocado
The way you cut your avocado will depend on how you plan to use it in your recipe. Here are the two main ways to properly prepare an avocado:
1. Mashed Avocado
If your avocado is destined to be spread across toast or pureed into a dressing, you'll need to cut it in half and scoop out the inside of the halves. Use a sharp knife to slice into the avocado until you reach the pit, then twist the two halves to separate them. Remove the pit with a large spoon before scooping out however much avocado you plan on using.
Once have your avocado halves, you can mash them with a fork, toss them in a blender or beat them with a hand mixer according to what your recipe calls for. In addition to all these options, keep in mind that there's nothing wrong with simply grilling the two halves and eating them as-is.
2. Sliced or Cubed Avocado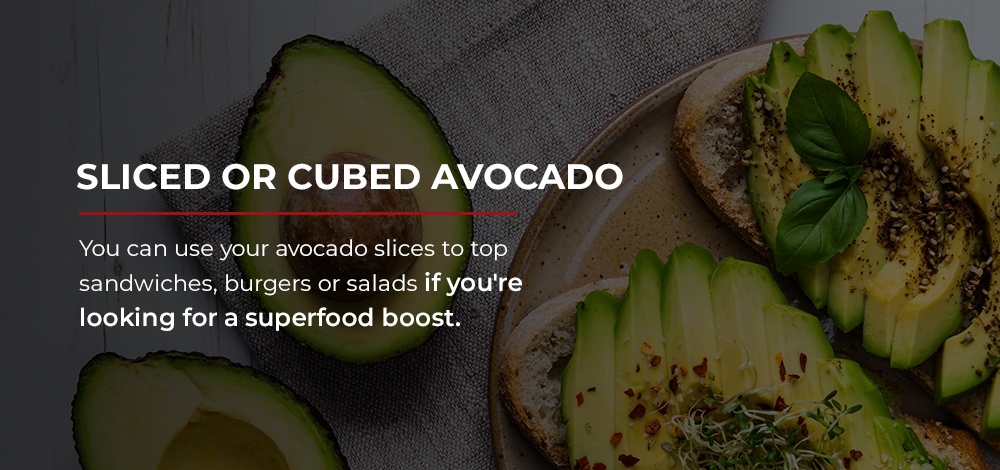 Cutting your avocado into slices or cubes is just as easy as mashing it. Simply halve and pit the avocado as previously described, then use your knife to score the avocado into whatever shape of slices you'd like before removing it from the skin. Carefully scoop the pre-cut avocado flesh out with a spoon, and you'll have perfectly shaped avocado slices or cubes.
You can use your avocado slices to top sandwiches, burgers or salads if you're looking for a superfood boost. If you opted for cubes, toss them into a fresh salsa or lightly pan fry them to make a delicious, bite-sized snack.
Tips for Using Recipes With Avocado
For all the advantages avocados have to offer, they're not always the easiest food to work with. Cooking with an avocado that's over- or under-ripe is enough to ruin a dish, so knowing how to pick and preserve an avocado is crucial for culinary success. To give you a helping hand in the kitchen, we've put together our best advice for avocado purchasing and storing.
1. How to Pick an Avocado
Avocados have a short window of ripeness, so picking the perfectly ripe avocado can be a challenge for even the most dedicated fan. When shopping for an avocado, pick it up to test for ripeness — a ripe avocado should feel a bit spongy. Mushy avocados have already gone bad, but firm avocados can still be delicious if you're willing to give them more time to ripen.
2. How to Preserve an Avocado
Unfortunately, the beauty of avocados is fleeting, and they are quick to turn brown. Although some oxidization is harmless, it's not very appealing to sit down to a bowl of brown guacamole. To help your avocado maintain its lovely green hue for as long as possible, check out these simple tips:
Protect sliced avocados from the air: Keeping the pit in an already cut avocado will help to shield it from the air and minimize browning.
Coat cut avocados in olive oil: Applying a thin layer of olive oil to the exposed flesh of an avocado will give it a barrier against oxidization.
Submerge the avocado: If you plan to use the avocado within a day, put it in a container filled with water.
Store the avocado with an onion: Because onions possess natural preservative properties, placing half an onion in an airtight container with your avocado will keep it fresh longer.
Keep uncut avocados in the fridge: To delay the ripening of avocados you don't plan on using soon, store them in your refrigerator.
Find Premio in a Store Near You
If one of these six recipes spoke to your avocado-loving soul, you're going to need some Premio Foods ingredients. The freshness of Premio sausage pairs beautifully with avocado in any form, so feel free to experiment with creating a new avocado and Premio recipe of your own.
Find the store with Premio products closest to you to get started on your next avocado adventure.