Best Family Game Night Recipes
What family game night would be complete without some scrumptious snacks? From old standbys to more modern takes, half the fun of a family game night is feasting on the food. That's because nothing beats the thrill of grazing on a late-night snack buffet while besting your family in board games. Sure, your family members may say they came for the games, but we all know they stick around for the tasty game night appetizers.
Because food is so central to the evening, it can be intimidating to pick out your family game night recipes. You want to provide snacks that are the perfect combination of delicious, exciting, kid-friendly, light, indulgent and minimally messy. If choosing the right game night grub feels more challenging than navigating a chessboard, keep reading for some game-winning recipe inspiration.
6 Recipes That Are Perfect for Family Game Night
Don't settle for second best this game night. Elevate your snack game with these six wild-card worthy game night recipes:
1. Italian Sausage Flatbread Pizza
What food says family game night better than pizza? When you're gathered around the games, it's easy for everyone to reach for a slice and it keeps the table free from the clutter of extra serving dishes or utensils. As the ultimate crowd pleaser, pizza is sure to be a hit with every member of the family.
Take the traditional cheese pie up a notch by making a flatbread pizza. Lighter than a regular pizza crust, flatbread will leave players satisfied but not so full that they can't focus on their game — making it the perfect game night appetizer. In addition to being less dense than a traditional crust, flatbread serves as a quick and easy crust for this tasty pizza so you can get back to the games faster.
This Italian sausage flatbread pizza recipe calls for a unique twist on pizza by grilling the crust and crumbling a hint of blue cheese on top to add a greater depth of flavor to each bite. Playing off of the charred flatbread, the smokiness of the sausage is sure to have your family coming back for slice after slice.
2. Sausage Loaded Tater Tot Skewers
When it comes to pleasing kids, one food will never let you down — tater tots. The tiny, bite-sized fried potato snack was made for satisfying small stomachs and spreading smiles. We upped the fun factor even more by putting tater tots on sticks to make these sausage loaded tater tot skewers.
This recipe is easy as can be, involves no grilling and calls for just three ingredients you likely have on hand. With as kid-friendly and delicious as these spuds are, your family might decide that snacking on the tater tot skewers was even more fun than playing the games.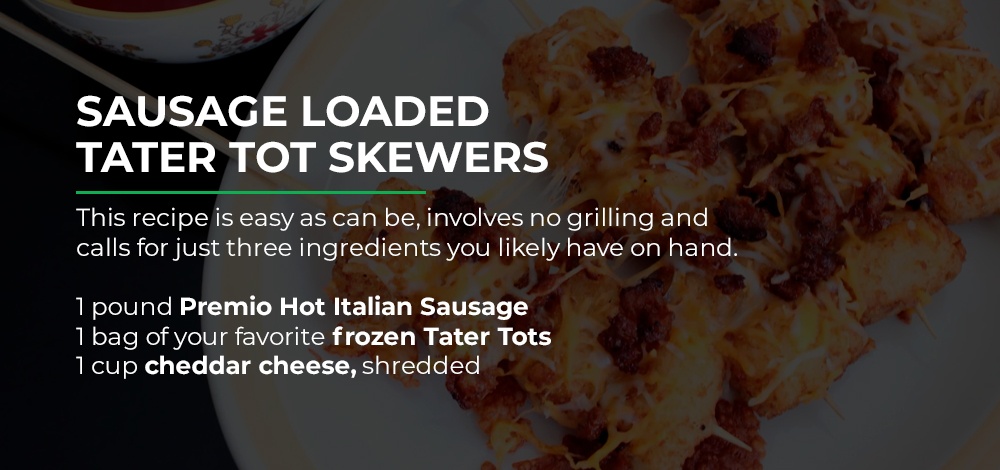 3. Super Sausage Nachos
As shareable as chips but bursting with far more flavor, nachos are the ultimate game night snack. They are easily adaptable to suit your family members' taste buds. A traditional nacho recipe can be changed to incorporate your favorite brand of chips or type of cheese. And the customizing doesn't stop there. You are in complete command of your nacho adventure — from simply melting cheese over the top to adding an endless amount of toppings.
If you really want to go for the gold next game night, whip up a batch of these super sausage nachos. Loaded up with everything from sausage and beans to salsa and guacamole, these nachos will certainly spice up your game night.
4. Bacon-Wrapped Sausage Coins With Pineapple Sauce
Although the go-to game night dishes have their time and place, sometimes you need to deviate from the classics. If your family is full of game night veterans looking for a new snack adventure, this recipe for bacon-wrapped sausage coins with pineapple dipping sauce is perfect for you. This appetizer stars savory sausage wrapped in salty bacon that is perfectly balanced with the sweet pineapple sauce to bring the full spectrum of flavor to your game night.
Don't be fooled by the fancy name, these sausage coins are easy to make and require no culinary school experience. And the dipping sauce couldn't be easier — simply put the ingredients in a blender and push the power button. Who knows, after trying this fresh take on game night food, your family may never go back to their usuals.
5. 7-Layer Sausage Dip
Of all the game night dips, 7-layer dip reigns supreme. The variety of tastes and textures all in one dish is unmatched. From its bold Tex-Mex seasonings to its simplicity in only needing chips to be complete, 7-layer dip can tie together a game night spread.
Although 7-layer dip is hands-down a superior dip option, it's never necessarily been perfected — until now. This 7-layer sausage dip takes 7-layer dip to a new level by adding the previously missing element of umami. Umami is a savory flavor that can be hard to define but is typically described as "meaty." Layering your dip with a small amount of sausage gives it enough umami flavor to bring out the tastes of the other fresh ingredients and really make the dish stand out.
6. Sausage Rolls
This one is sure to make some gamers glad. These sausage rolls are bursting with flavor with sausage-stuffed crescent roll dough and cheese. This dish is minimally seasoned with garlic and onions and allows the full flavor of the sweet Italian sausage to shine through.
By anchoring the sausage in warm, puffy dough and smothering it in Swiss cheese, this recipe channels comfort food to the max. Every member of your family will be delighted by this poppable appetizer overflowing with cheesy goodness.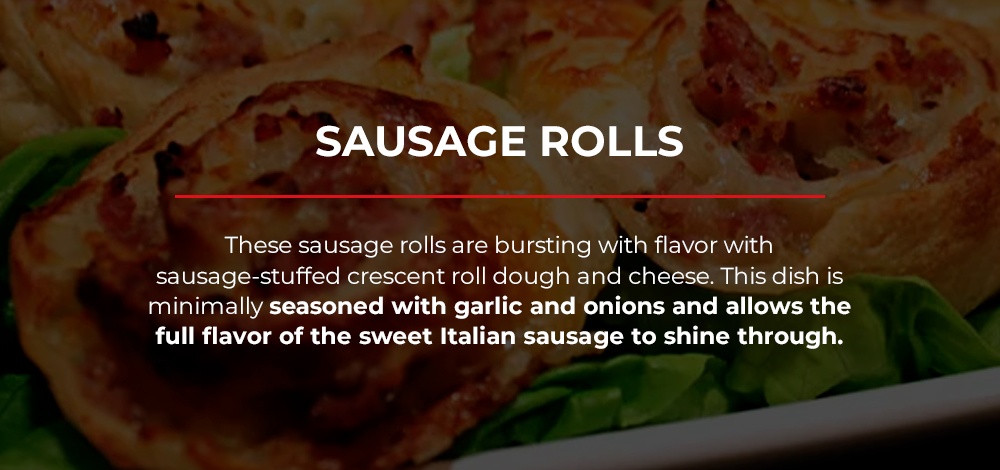 Find Premio at a Store Near You
There's only one rule when it comes to game night ingredients — get the best. Premio Foods offers over 40 varieties of sausages that will fit perfectly with any family game night recipe. In our pork- and chicken-based sausages, we prioritize fresh and authentic Italian ingredients while keeping them free of fillers.
Next time your family gathers around the table for game night, you could score big with a slam dunk appetizer before the first roll of the dice. If you want to secure the win, you can get your game night ingredients from Premio Foods. Use this handy product locator to find the Premio products near you today.