The Best Summer Produce
Fresh produce is great for sprucing up any dish with bright colors and strong flavors. It can be added to just about any entrée and also make for tasty side dishes and appetizers — especially if it's combined with Premio sausage.
Before you get started shopping for the best summer produce, however, it's important to know what's in season.
Summer Fruits and Vegetables
From carrots and peaches to berries and summer squash, there's no shortage of produce to pick from. Here are just some of the colorful vegetables and fruits that are in season during the summer months:
Arugula
Basil
Beets
Blackberries
Blueberries
Cabbage
Carrots
Cherries
Corn
Cucumbers
Eggplant
Fava beans
Garlic
Green beans
Kale
Lettuce
Melons
Mushrooms
Onions
Oregano
Parsley
Peaches
Peas
Peppers
Potatoes
Radishes
Raspberries
Rhubarb
Scallions
Spinach
Summer squash
Strawberries
Thyme
Tomatoes
Zucchini
These fruits and veggies are fresh, accessible and versatile for any dish, including delicious and quick sausage recipes!
Summer Salad Recipes
Nothing says "summer" quite like a colorful salad. With the variety of fresh fruits and vegetables available during this time of year, your salad is bound to taste as good as it looks. Combine fresh produce like cucumbers, arugula, cherries, strawberries, tomatoes or spinach with delicious Italian sausage to create one of these perfect summer salads: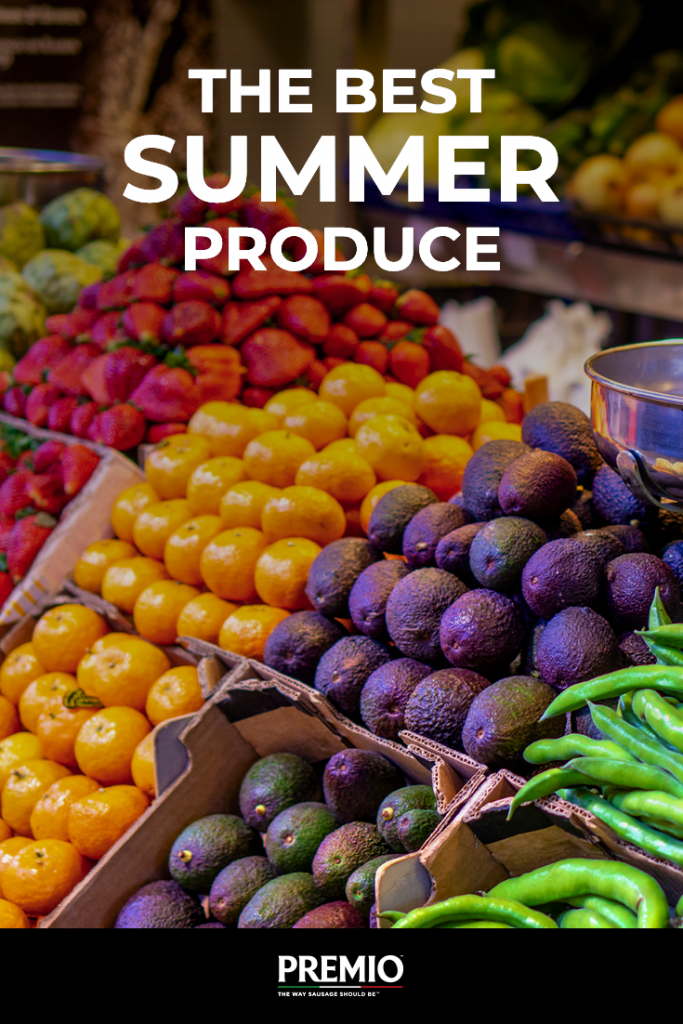 Summer Grilling Sausage Recipes
There's no better time to fire up the grill than during the summer. Use your summer greens to spruce up your grilled sausage dishes to give them that extra hint of summer flavor. With so many delicious produce options like eggplant, onions and peppers, your grilled dish is sure to impress.
Give one of our Premio grilled sausage recipes a go this summer:
Make Quick Sausage Recipes With Premio Foods Italian Sausage
At Premio Foods, we have been making fine Italian sausages for over 40 years. With over 40 sausage varieties to choose from, we're the place to go for quality and variety.
Use our store locator to find Premio sausage near you!