Cooking Hacks for Parents
Efficiency in the kitchen is key for a busy parent. Any cooking techniques that can save time, energy or money are invaluable for turning a hectic weeknight into a peaceful family dinner. A good kitchen hack can make your meals easier to prepare, healthier and more appealing to picky eaters.
Luckily, you'll find a collection of cooking tips and tricks to make your time in the kitchen go smoothly, helping you produce a kid-friendly meal. If you feel like you're constantly busy with cooking, these kitchen hacks can help you streamline your time in the kitchen and avoid any dinnertime frustrations.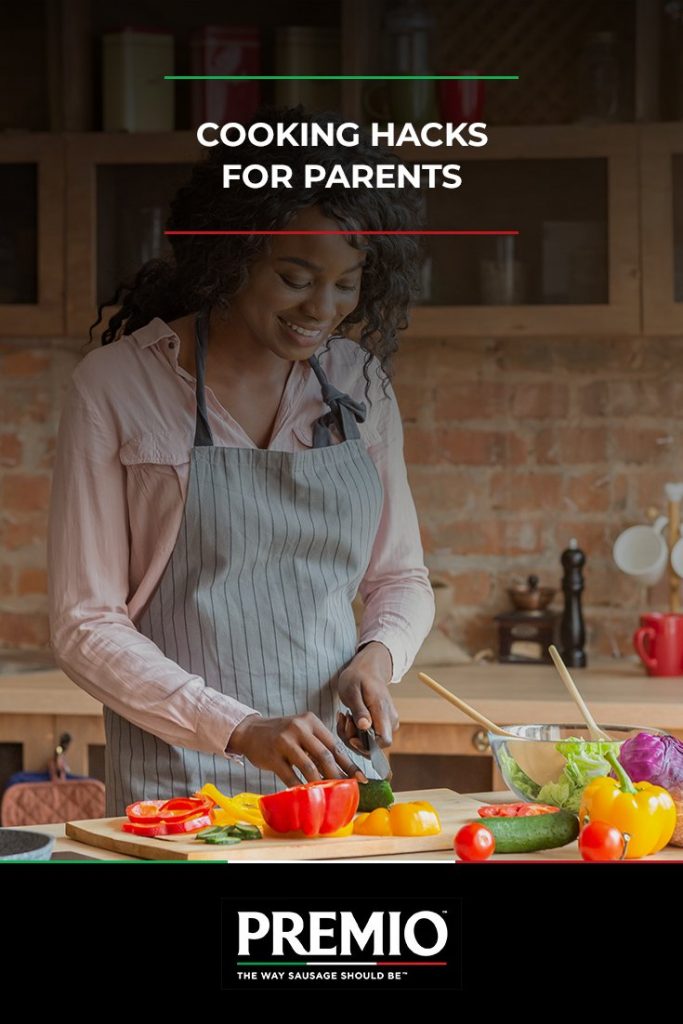 10 Kitchen Hacks for Parents
Check out these top 10 cooking hacks for parents to make weeknight dinners easy, healthy and yummy:
1. Purchase Prepped Ingredients
Using prepared foods that are recipe-ready can save you tons of time on a busy weekday. Keep in mind that prepared foods aren't necessarily prepared meals — they're simply prepped ingredients, such as pre-grated cheeses, seasoned or marinated meats and cut or spiralized vegetables. You can then quickly transform these ingredients into a fully cooked meal. Taking this prep time out of the equation can make cooking dinner fly by.
Stocking up on these prepped and easy-to-use ingredients can greatly reduce your time in the kitchen overall. Once you find a prepped ingredient your family loves, such as cauliflower rice, zucchini noodles or seasoned sausage, make sure you always have it on hand. These versatile foods can be used to make anything from fried rice or cauliflower rice arancini to zucchini noodle pad Thai or spaghetti Bolognese.
2. Get Familiar With Your Slow Cooker
Tossing some ingredients in your slow cooker in the morning can give you a warm, delicious and nutritious meal to come home to. While you handle your daily activities, your faithful slow cooker will be preparing your dinner so you don't have to think about cooking later. Cleanup is also easy with a slow cooker because you are only dirtying one pot.
Along with being easy and convenient, slow cooker dinners are scrumptious. Simmering the ingredients all day allows their flavors to seamlessly blend together and any meats to become melt-in-your-mouth tender. You can turn just about any soup, chili or stew recipe into a slow cooker recipe by putting the ingredients in the slow cooker and setting it to simmer on low heat throughout the day.
Looking for quicker dinner solutions? An Instant Pot or pressure cooker gets you the same tender, flavorful results in a fraction of the time.
3. Make More Sheet Pan Meals
If you like the idea of minimal cleanup after a hearty meal, sheet pan recipes may become your new go-to weeknight dinner. Using a sheet pan is convenient because you can roast all of your ingredients at once and cleanup is a breeze. As long as you remember to line your baking sheet with aluminum foil or parchment paper, all you have to do is dispose of the foil or paper after enjoying your delicious oven-fresh meal.
Sheet pan dinners are convenient and delicious because they allow you to caramelize your ingredients to give them an irresistible taste your family is sure to enjoy. With the wide range of sheet pan dinner recipes available, you can create all sorts of dinners from a classic sausage, peppers and onions meal to a spicy Cajun one-pan dish.
4. Designate a Spice Drawer
Spices are crucial to flavorful cooking. If you want your meals to pop with flavor, you need to have a spice drawer that allows you to easily find all of the spices you regularly use. Being able to quickly grab the spices you use most often will make your time in the kitchen infinitely easier. You can create an aesthetic spice rack by painting the sides of empty baby food jars with chalkboard paint, labeling them and filling them with spices.
5. Freeze Your Food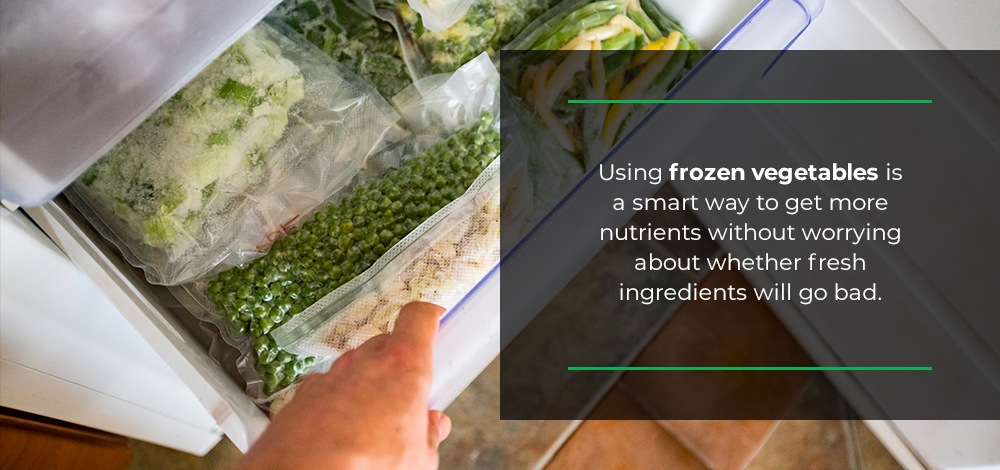 Using frozen ingredients is a smart way to get more nutrients in your diet without worrying about whether fresh ingredients will go bad. Specifically, frozen veggies make the perfect addition to any meal that needs some extra vitamins, minerals or protein. You can quickly defrost these ingredients by submerging them in or running them under cool water. Then you'll be ready to add them to whatever recipe you choose!
In addition to freezing your ingredients, consider freezing your leftovers. If you have extras after dinner, putting them in the freezer will ensure you have a ready-to-go meal for a night you don't have time to cook. By reheating a pre-made meal from the freezer, you can have dinner on the table in minutes.
6. Make Kid-Friendly Kebabs
Kids love to eat anything on a stick. Whether your kid likes or dislikes a food, it will appear more appetizing if you place it on a stick. For this reason, kebabs are the perfect meal for a picky eater. If you're struggling to get your little one to eat their veggies or get enough protein, try skewering meat and vegetables.
Kebab recipes can include anything from chicken or sausage to cheese, veggies or even fruit. Kebabs are also incredibly easy to make. All you have to do is place your ingredients of choice on the skewer, then set the kebabs on the grill until cooked through. Once the kebabs start to get beautiful char marks, you can remove them from the heat and enjoy their fire-grilled flavor.
7. Whip up Breakfast for Dinner
Shake things up a little and make cooking less complicated by serving breakfast at night. Because most breakfast foods are quick and easy to prepare, making breakfast for dinner is a great way to cut down on cook time without sacrificing taste. Kids love pancakes and sausage links any time of the day, so go ahead and bust out a delicious breakfast recipe this evening.
8. Meal Plan for the Week
Sitting down to meal plan for the week ahead can save you both time and money. Essentially, meal planning involves making a list of recipes for the week and outlining the ingredients you'll need from the grocery store. Putting everything you need on paper can ensure you get what you need for the week while keeping you from overspending.
Planning your meals for the week can also help you be more organized in the kitchen. Choosing quick recipes for days you know you will be busy and building in a leftovers day or two will help you maximize your time and minimize food waste.
9. Line Your Cabinets With Corkboard
Lining the insides of your kitchen cabinets with corkboard is an excellent strategy for getting organized and cutting down on clutter. Instead of overcrowding your fridge with magnets and stray scraps of paper, you can hang your recipes for the week on the corkboard so you can quickly consult them before heading to the store. You can also post things like schedules and takeout menus for easy reference.
10. Put Your Lazy Susan to Work
Make your life easier by using Lazy Susans around your kitchen. Placing a Lazy Susan in your fridge or cabinet at eye level can allow you to easily see and grab all of your condiments, salad dressings, seasonings or spices. You can also put a Lazy Susan under your sink to keep all of your cleaning supplies organized and easy to reach for simple cleanup after your quick and easy meal.
Use Premio Recipes and Ingredients for Your Cooking Hacks
Whether you're most excited to whip up a sheet pan dinner, throw some kebabs on the grill or meal plan for the week, Premio has the perfect cooking hack recipe for you. Put these kitchen hacks to the test by searching Premio recipes for a meal that's suitable for the slow cooker, a sheet pan, skewers or breakfast for dinner. Our recipes are straightforward and easy to follow so you can save time in the kitchen and make a meal the whole family will enjoy.
Premio recipes are also delicious because they include fresh Premio ingredients. Premio products use fresh, quality cuts of meat and no fillers so even the pickiest eater in your family will love the taste.
Use our online store locator to find Premio in the store nearest you today and get cooking!