Sizzling Summer Skewers
The warm season is finally here, so dust off your grill because you have plenty of wonderful skewered foods to make!
Why focus so much attention on recipes that involve skewers? In a nutshell, skewers make it simpler to prepare grilled items. Plus, they help you grill your favorite easy sausage recipes faster because your pieces of meat and produce are smaller, so they cook faster.
Tips for Using Skewers
Before diving into our favorite grilled sausage recipes, consider the following tips to using skewers to grill your favorite foods:
Soak wooden skewers for around half an hour in warm water before using them. That way, they will be less likely to burn on the grill.
Always use proper safety mitts and gloves to handle wooden or metal skewers. They can get very hot.
Consider removing skewered food instead of giving the skewers to your picnic guests. Some people have difficulty cutting or biting items off skewers.
Reuse your bamboo skewers if they didn't get too charred. However, you may want to scrub them first to remove residue.
Invest in heavy-duty skewers to ensure they can stand up to the best Italian sausage recipes you love to make.
Now that you know some best practices for skewers, it is time to try some fun new dishes.
Go for the Spice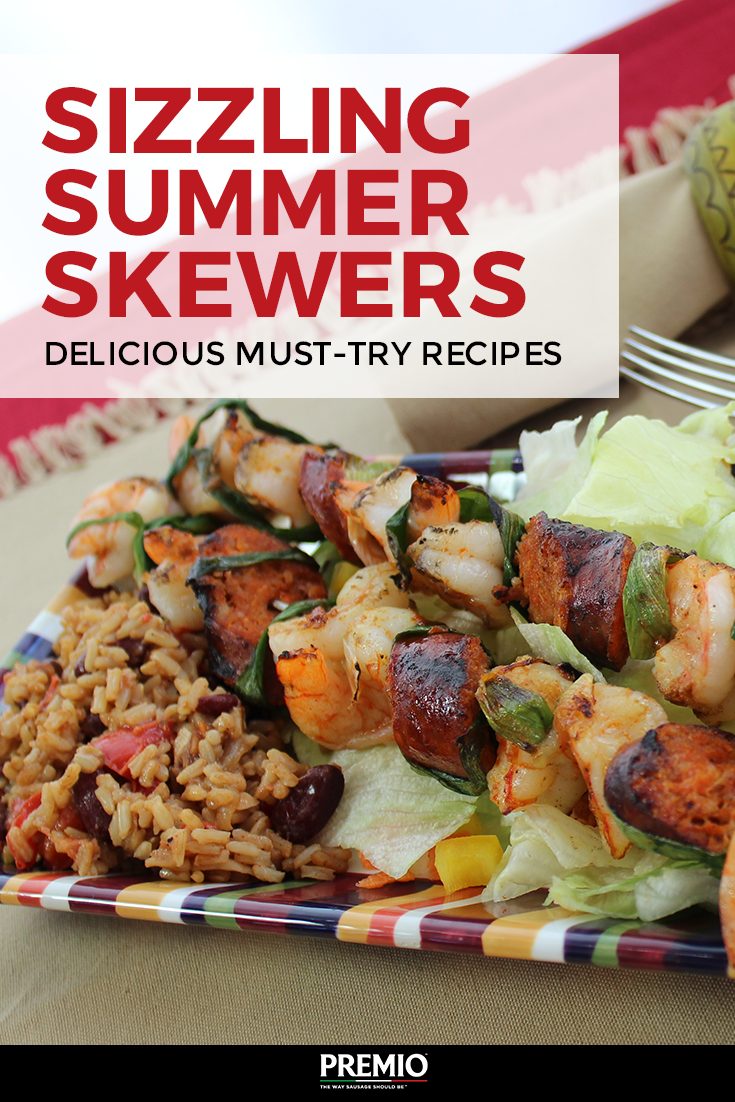 It's easy to get in a grilling rut where you always make the same items. Rev up your grilling game by adopting a mindset of trying interesting seasonings and flavor combinations.
For example, Grilled Ginger Spiced Kebabs playfully mix Asian seasonings that complement the sausage meat, shrimp and vegetables. Really love the way ginger can switch up a plate? You may want to add some freshly grated ginger root into the ginger-based marinade for a boost of intensity.
Give Carb Lovers and Low-Carb Eaters a Choice
Some of your guests may love a good carb. Others might be careful about how many carbohydrates they eat in a day. A good grilling recipe can accommodate both their needs without a problem.
The Sausage Sandwich on a Stick features a skewer chock-full of two kinds of sausage, onions and bell peppers. It also calls for large chunks of Italian bread you can grill on the skewer alongside the meat and veggies. However, you can easily prepare specialty skewers without any bread at all. Presto! You are the keto grilling king or queen!
Remember to Add Fruity Flavors
Grilling is never limited to only savory ingredients. Plenty of fruits such as pineapples are perfectly suited for skewering and grilling.
The Sweet and Sassy Strawberry Kebabs recipe shows just how versatile grilled fruits can be. In this treat, strawberries are grilled alongside mouthwatering sausage and potatoes. The result? A total package with the meal and dessert wrapped into one.
Another skewer possibility that leans in the direction of slightly sweet is Sassy Premio Grilled Sausage and Shrimp Skewers. Although fruit is not directly grilled, the dipping sauce falls in a sweeter direction that pairs beautifully with more robust, bold flavorings.
Bring on the Skewering!
Skewers provide you with the opportunity to grill like never before. Pick up some today to master the art of using skewers to create crowd-pleasing favorites.