Stuffing 7 Ways
Few things evoke nostalgia and comfort like a holiday meal. Your table is set with dishes and overflowing with food — chatter and laughter echo from the living room. The scent of buttery potatoes, fresh bread and savory meat beckons your guests to the table where they eagerly wait for the signal to dig in.
For many families, stuffing is a must-have companion for holiday meals. Its traditional preparation dates back to the lavish banquet food of first-century Rome. Today, stuffing takes many forms. Whether it's cooked in a turkey, served as a casserole or baked in a muffin tin, you can enjoy stuffing with the hearty flavors you crave.
Customize your stuffing to your preferences this holiday season with these seven stuffing recipes.
1. Savory Stuffing
Looking for a hearty recipe that blends classic stuffing with irresistible new flavors? Consider a savory option! This savory stuffing recipe earns its title from the mix of cornbread, sausage and pine nut elements it pairs with a traditional stuffing base. Enjoy the standard cranberry, celery and vegetable ingredients with the satisfying richness the sausage and cornbread adds.
As the dish bakes in the oven, the dense bread soaks up the salty and sweet stuffing notes and chicken broth to lock in flavor. With so many tasty ingredients, this stuffing is a filling standalone dish for your holiday meal.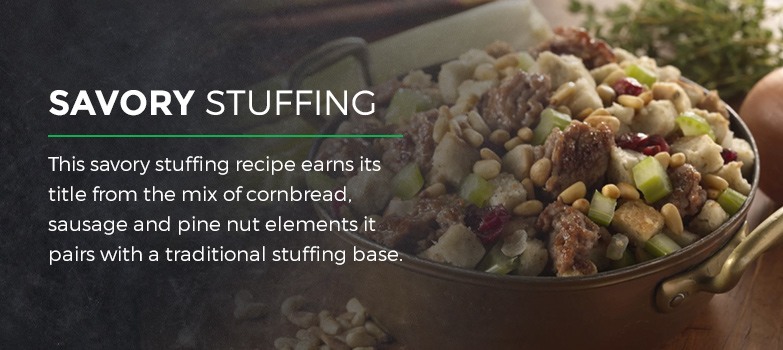 2. Premio Bacon-Wrapped Sausage Stuffing Bites
When it comes to holiday food, you can never go wrong adding a little bacon to your dishes. That's why these bacon-wrapped sausage stuffing bites are sure to be a hit among all ages. This recipe calls for traditional stuffing ingredients and savory sausage that you mix and shape into bite-sized balls. After wrapping the stuffing in pieces of bacon and securing them with a toothpick, simply bake for 20-25 minutes and serve.
These stuffing bites are delicious, quick and versatile. Serve them as appetizers while the rest of your meal is cooking, or add them to the table as a side. Their small size is perfect for kids or guests who are craving stuffing but want to save room for dessert.
3. Premio Sausage Stuffing Cups
This sausage stuffing cup recipe is exactly what it sounds like — individualized sausage stuffing cooked in muffin tins. Start with traditional stuffing ingredients, add a hearty flavor with Italian sausage and drop your stuffing into greased tins for ultimate baking and serving ease.
After baking for 25-30 minutes, pop the stuffing cups out of the tin and put them on a plate. They are best served warm. Your guests could break up the cups to eat with turkey and mashed potatoes or enjoy the stuffing flavors on their own. If your guests don't devour them all, refrigerate the leftover stuffing cups in a covered container. You'll have tasty leftovers that you can easily pack for lunch! This recipe is quick, easy and kid-friendly, making it a great choice for any holiday gathering.
4. Grandma's Sausage Stuffing
There's something about spending the holidays at grandma's house that makes everything taste better. If you're looking to channel that same homeyness and comfort in your holiday meal, try this recipe for Grandma's sausage stuffing. This simple and quick stuffing recipe saves time without sacrificing an ounce of flavor. All you need to make this dish are five ingredients: sausage, onions, celery, stuffing mix and chicken broth.
Combine the ingredients, place the mixture in a casserole dish and bake until your stuffing has a golden crust. It's really that simple. The short ingredient list creates less preparation hassle for you and allows each stuffing flavor to shine. This thick, savory stuffing will remind your kids and guests of a filling meal at grandma's with a fraction of the preparation time.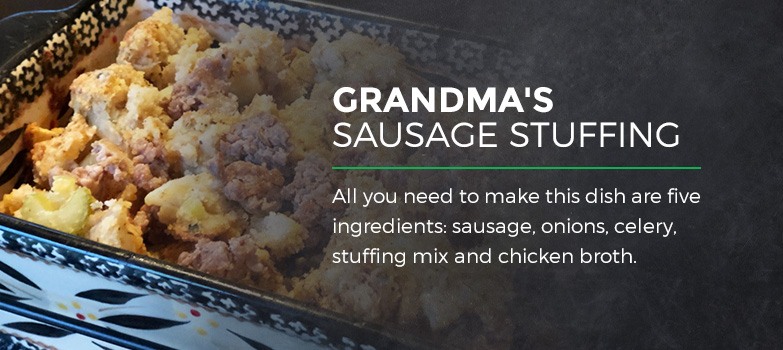 5. Cornbread Stuffing Muffins With Sausage
Cornbread is sweet, and stuffing is savory — and when they are combined together, they make a delightful dish. Try these cornbread stuffing muffins with sausage for a delightful combination of two holiday classics. The muffins incorporate ingredients from a traditional stuffing recipe into a cornbread box mix for an all-around hearty and satisfying flavor. Bake according to the cornbread mix package, and these muffins are ready to be devoured!
One benefit of this dish is that you won't need to dirty another casserole pan and add to the mountain of bakeware that needs cleaning after your meal. Just wipe down your cupcake tin and store it away when finished. In addition to cleaning ease, these individually wrapped muffins make great snacks or packed lunch sides. For a versatile and flavorful stuffing fix, add these cornbread stuffing muffins to your holiday menu!
6. Spicy Sausage Stuffing
Get a little creative with your stuffing recipe when you try spicy sausage stuffing. There are several ingredients that set this recipe apart, including spicy Italian sausage, English muffins, sun-dried tomatoes and corn. The additional vegetables add a healthy twist and tasty flavor to the mix, and the spicy sausage adds flavorful heat.
The English muffins help retain all of the vegetable and chicken stock taste — and they are ideal for breakfast the next day if you have any leftovers. This spicy stuffing makes a great addition to your holiday turkey and will please your guests who crave a little kick in their food.
7. Thanksgiving Turkey With Sweet Potato Sausage Stuffing
For a unique stuffing recipe that's sure to amaze your guests, try using this sweet potato sausage stuffing in your holiday turkey. Mashed sweet potatoes are a holiday staple, which makes this recipe a modern take on iconic traditions.
Start with a traditional stuffing base and add sausage to make a sweet and savory blend. Whether you're already making mashed sweet potatoes and you save a scoop for the stuffing or you reserve the potatoes for this dish alone, you won't have to go out of your way to find this ingredient around the holidays.
The end result of this dish is an absolute feast of flavors and foods. Tangy sausage, potatoes, hearty bread and vegetable notes complement your turkey for a meal your guests won't soon forget.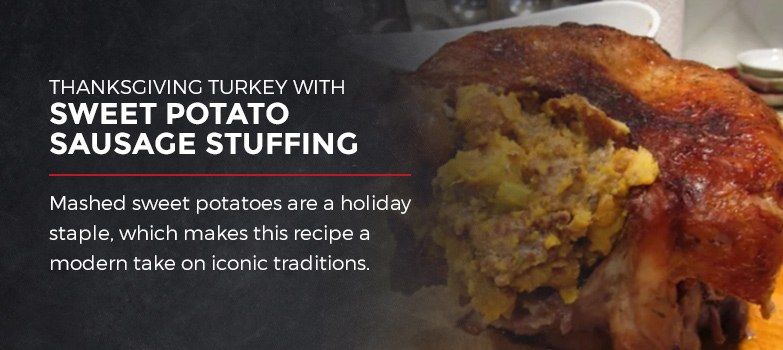 Start Your Stuffing With the Finest Ingredients
Quality stuffing begins with finding the best ingredients. For sausage that shines in your stuffing and beyond, choose Premio Foods. With over 40 varieties of sausage and more than 40 years of experience, we're dedicated to providing the options and quality you desire for your family.
To experience outstanding taste and ingredients, find Premio sausage in a store near you!