Summer Lunch Ideas for Kids
If you're used to handing your child lunch money as they head off to school, coming up with summer lunch ideas for kids can be challenging. But kids' lunches can be just as fun to make as they are to eat if you have the right recipes. Although the old standbys of grilled cheese and pizza can start to feel stale, putting a twist on kid-friendly classics can result in lunches that kids and parents alike can get excited about.
This article will give you plenty of ways to whip up tasty recipes that will have your kids begging to be your sous chef all summer long. Read on to discover creative summer lunch ideas for kids that are perfect for all ages, from little tykes to those old enough to help out in the kitchen.
6 Lunch Ideas for Kids During Summer
Summer is a great time to get kids hooked on cooking with fresh ingredients and healthy foods. But busy parents don't always have the time to search for simple recipes or coordinate lunch schedules. We've made that job more manageable by compiling a list of our favorite delicious, nutritious and kid-friendly summer lunches.
Here are six recipes for easy summer lunches that kids will love.
1. Bacon-Sausage Mac and Cheese
Mac and cheese is classic comfort food that's simple to prepare and popular with kids. The only downside to traditional mac and cheese is that it lacks protein, which is essential for growing kids. But have no fear — this bacon-sausage mac and cheese recipe combines bacon with slices of sweet Italian chicken sausage to sneak double the protein into your kid's summer diet.
As long as you can boil pasta, melt cheese and heat meat, this recipe will be a breeze. Stir together the sauce while the pasta and meats cook, then combine the ingredients with the cheese sauce to make a mac and cheesy masterpiece. Stick to the traditional elbow noodles or use noodles in fun shapes to inspire some extra smiles.
2. Sausage and Pepperoni Pizzadillas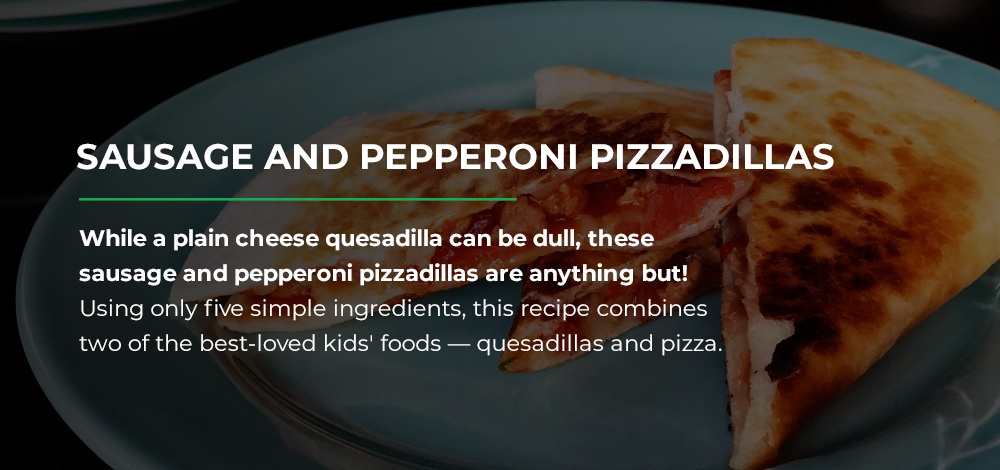 While a plain cheese quesadilla can be dull, these sausage and pepperoni pizzadillas are anything but! Using only five simple ingredients, this recipe combines two of the best-loved kids' foods — quesadillas and pizza. Deliciously cheesy, filled with meat and easy to make, pizzadillas are sure to become an instant hit with both kids and parents.
Prepare quesadillas as usual and add in some pizza sauce, spicy chicken sausage and pepperoni before folding and slicing the tortilla to create these delightful little pockets of pizza. For those who like more pizza toppings, these pizzadillas are versatile and easily customizable, allowing for endless fillings like black olives, green peppers or even pineapple.
3. Sausage Pinwheels
What screams summer more than pinwheels? Whether of the edible variety or not, pinwheels are a summer staple. These sausage pinwheels are both fun to look at and to eat, while requiring less than 30 minutes in the kitchen from start to finish.
Puff pastry sheets make these pinwheels too easy — lay the pastry sheets out flat, coat them with pasta sauce, sprinkle on some sweet Italian sausage and cheese, roll them up and pop them in the oven. After about 15 minutes of cooking, you'll have fresh, steaming sausage pinwheels to serve up. Your kids will love the idea of miniature pizza roll-ups, and you'll love the effortless preparation.
4. PRE-MI-ONI Pizza
Can you name a more kid-friendly food than pizza? Pizza is a favorite meal and easy to make — a win-win! But even good old plain cheese pizza can start to taste bland after having it repeatedly throughout the summer months. If you want to avoid being on a first-name basis with your local pizza parlor, you'll have to come up with a new go-to lunch plan.
This PRE-MI-ONI pizza solves this problem by providing a fresh take on the classic that will make pizza feel like a whole new dish. The easy homemade crust provides the perfect blank canvas for the chicken sausage, balsamic vinegar and feta cheese to capture all the flavors of the Mediterranean. So skip the delivery process and make pizza something to celebrate again by serving up this one-of-a-kind PRE-MI-ONI pizza.
5. Italian Soft Tacos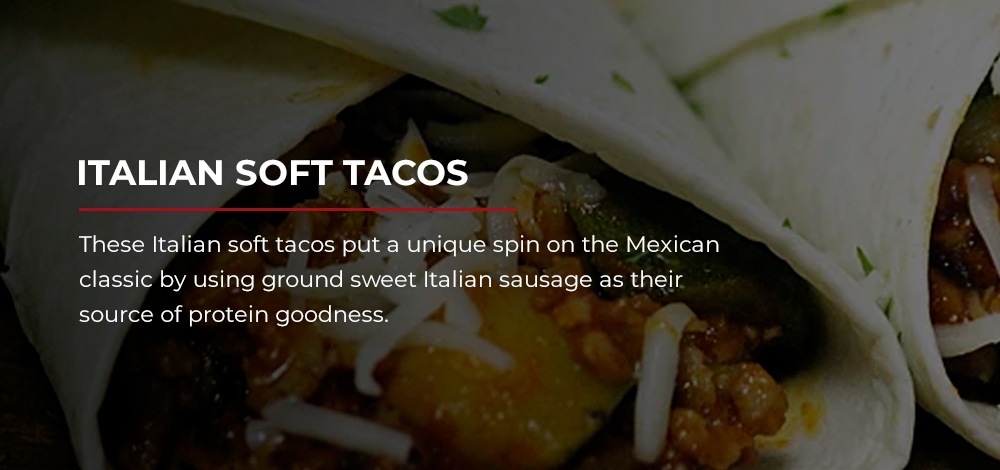 It doesn't have to be Taco Tuesday for you to throw a fiesta. These Italian soft tacos put a unique spin on the Mexican classic by using ground sweet Italian sausage as their source of protein goodness. This unexpected cultural crossover is a creative way to fuse two different cuisines and surprise your kids' taste buds by stuffing Italian seasonings inside soft taco shells.
Making these tacos is a breeze — prepare the sausage and vegetables in separate skillets, then combine them to finish cooking. After cooking the meat-and-veggie mixture, wrap it in soft tortillas and top it with your favorite cheese and garnishes to finish it off. Whip up these tacos to give your kids a nutritious lunch bursting with flavor.
6. Premio Grilled Cheese
Of all the easy kid lunches for summer, grilled cheese has to be the most iconic. A hallmark of the perfect grilled cheese sandwich is its gooey, melty cheese that stretches from piece to piece after you cut the sandwich in half. This Premio grilled cheese takes things up a notch by using soft ciabatta rolls, some veggies and sweet Italian sausage.
To make this fancy grilled cheese, all you have to do is grill the sausage and place the cheese, spinach and tomato on the bread before heating the sandwich. For an extra kick, mix up the tangy side sauce of mayonnaise, mustard and Worcestershire sauce to dip the grilled cheese into. After tasting this jazzed-up version of the sandwich, you'll never go back to plain grilled cheese again!
Find Premio Ingredients at a Store Near You
Get all the Premio ingredients you need for these easy summer lunch ideas for kids by finding your nearest Premio location. Premio ingredients make preparing summer lunches simple by providing top-quality meats you can add to any traditional recipe to make it a new hit. Keep your cooking stress-free this summer by using ingredients and straightforward recipes you know your kids will love.
Purchase your Premio products today to get sausage without any fillers — the way sausage should be!