Best On-the-Go Premio Breakfasts
Are you constantly missing breakfast because you're frantically running out the door each morning? Thanks to on-the-go breakfast recipes, your hectic schedule doesn't mean you have to skip the most important meal of the day. Whether you're trying not to be late for work or herding kids to the bus stop, a grab-and-go breakfast is your perfect solution for busy mornings.
If you're looking for dependable and delicious grab-and-go breakfast ideas for work, we've got the recipes for you. Keep reading to discover good on-the-go breakfast ideas that are convenient to make and a breeze to eat.
8 of Our Favorite On-the-Go Breakfasts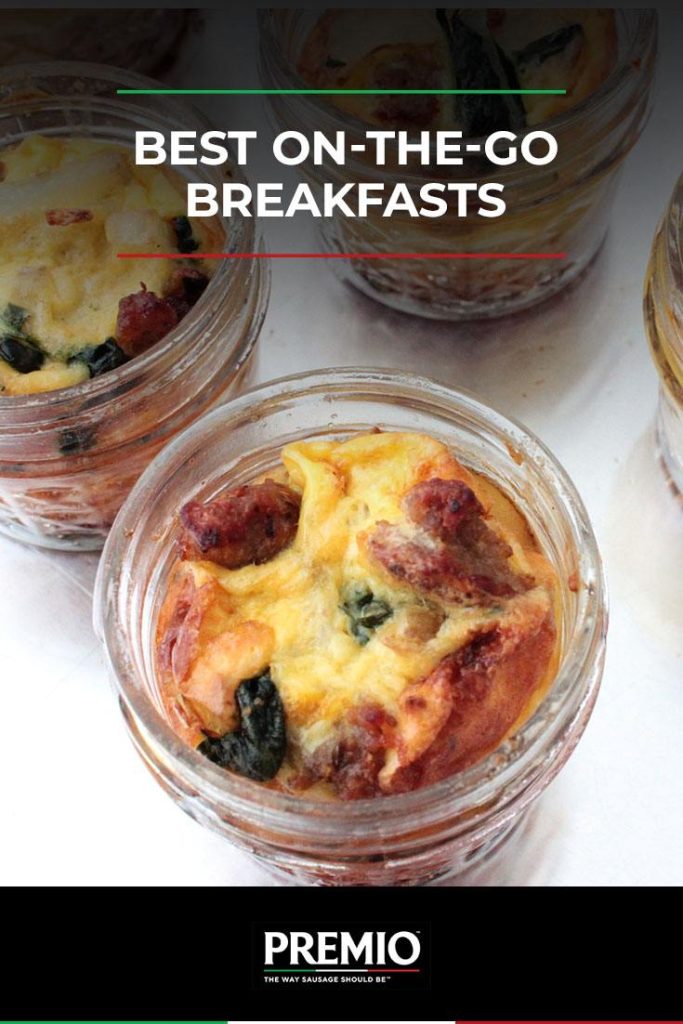 If you're looking for some busy morning solutions, check out these top grab-and-go breakfast ideas.
1. Mini Frittatas in a Jar
What if you could squeeze all the mouthwatering flavors of a frittata into one tiny, portable jar? Now you can! With this recipe for mini frittatas in a jar, you can quickly whip up a batch of delicious frittatas that are fit for the road. After making this recipe, all you'll have to do is grab a jar and a fork on your way out the door each morning.
Despite their size, these mini frittatas pack enough protein to keep you full all day long. With savory ingredients like eggs, potatoes, Premio Sweet Italian Sausage and plenty of cheese, these mini frittatas will satisfy your stomach and taste buds.
2. Cornbread Stuffing Muffins With Sausage
If you can't get enough of the cornbread stuffing at Thanksgiving each year, you'll gobble up these savory cornbread stuffing and sausage muffins. These muffins offer a perfect balance of sweet and savory that will make you eager to wake up each morning. Filled with tasty ingredients like Premio Mild Italian Sausage, cranberries and diced celery for texture, these breakfast muffins are a feast in and of themselves.
As easy as these muffins are to snack on, they're also a cinch to make. Prepare the cornbread muffin mix according to the box's instructions, stir in the other ingredients, spoon the batter into muffin tins and pop them in the oven. After about 20 minutes, you'll have beautiful, golden brown cornbread muffins that are ready to take on the road.
3. Pancake Muffins
Want to make pancakes more portable? Turn them into muffins! This recipe for pancake muffins transforms everyone's favorite breakfast food into a handheld snack. These bite-sized pancake-flavored delights will help you start your morning with a smile.
You'll still get your protein for the day with these pancake muffins by folding chopped pieces of your favorite Premio sausage variation into the batter. Adding some sausage to your pancake mix also enhances its flavor. Instead of an overly sweet carb-loaded muffin, you'll get to enjoy a delicious sweet and salty combo.
4. Premio Brunch Cups
Fit all the flavors of your favorite brunch spread into a cup with this recipe for Premio brunch cups. Constructed on a crescent roll crust, these brunch cups feature a fluffy egg mixture that makes the final product taste like a cross between a quiche and a souffle. Round out the flavors with the addition of cheese and Premio sausage.
You get to choose your adventure each time you make Premio brunch cups. Either stick with classic Premio Breakfast Sausage links or use Premio Sweet Italian Sausage to create a sweeter brunch treat. Regardless of which flavor you pick, you'll look forward to having one of these cups each morning.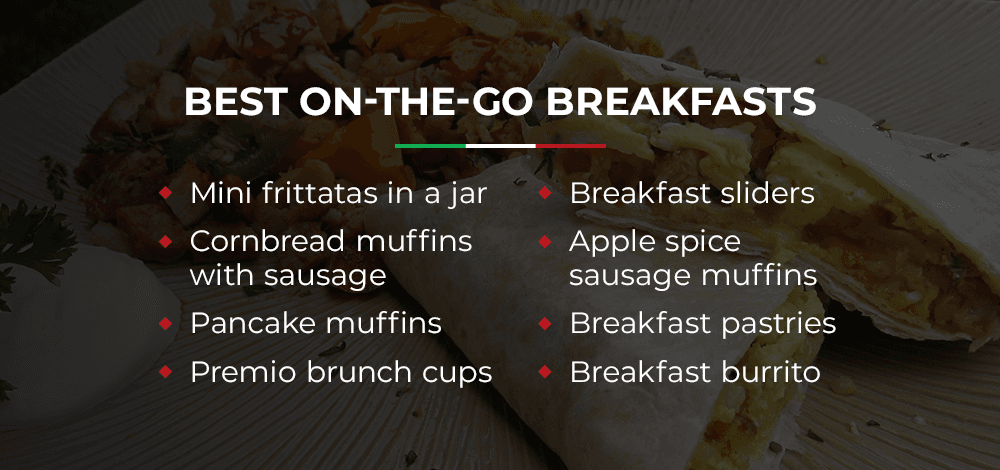 5. Breakfast Sliders
Sandwiches are one of the ultimate on-the-go foods, and sliders are the ultimate on-the-go sandwich. Making a batch of breakfast sliders for the week will save you copious amounts of time and stress in the morning. This recipe for breakfast sliders will quickly become your go-to time-saving meal because it's quick, tasty and convenient to eat on the run.
These sliders have all the makings of a great breakfast sandwich — an egg, Premio Sweet Italian Sausage, bacon slices and even some shredded potato. This recipe's touch of brilliance is to swap the usual sandwich bread for pancakes to create a slightly sweet and salty breakfast masterpiece.
6. Apple Spice Sausage Muffins
If you're a fan of sweet and savory combinations, you can't miss these apple spice sausage muffins. The recipe is quite simple — just your favorite type of Premio Sausage and a box of spice cake mix — but the result is stunning. All you have to do is add the ingredients to make the mix a batter, stir in the sausage and bake to get a surprisingly delightful, handheld breakfast treat.
7. Breakfast Pastries
Put a healthy spin on traditional breakfast pastries by adding a bit of protein to the mix. This recipe for breakfast pastries combines classic pie crust and savory ingredients to make a pocket-sized pot pie. Consisting of layers of buttery, flaky pastry loaded with slices of bacon, Premio Sweet Italian Sausage and Cheddar cheese, these breakfast pastries deliver the best of both worlds.
Making these breakfast pastries starts with the simple process of rolling out the pie crusts and cutting them into pastry-shaped rectangles. Top one of the pie crusts with the fillings, place the other on top and press it close. Then, bake the pastries to golden perfection. As the finishing touch, drizzle maple syrup over your masterpiece to add a hint of sweetness.
8. Breakfast Burrito
The breakfast burrito may be the quintessential on-the-go breakfast item. It's easy to make, handheld, portable, filling and delicious. This breakfast burrito recipe is delightful because it uses flavor-packed ingredients like Premio Hot Italian Sausage, fresh cilantro, bell peppers, green chiles and Cheddar cheese. Eggs and potatoes elevate the burrito's textures.
To make this mouthwatering breakfast burrito, begin by heating the filling ingredients in a skillet, then place the skillet in the oven until the eggs set. As the filling is cooking, warm some tortillas in a skillet. Finally, spoon the filling into the tortillas and fold them up. Wrap your burritos in aluminum foil to keep them warm and encourage the flavors to meld together more.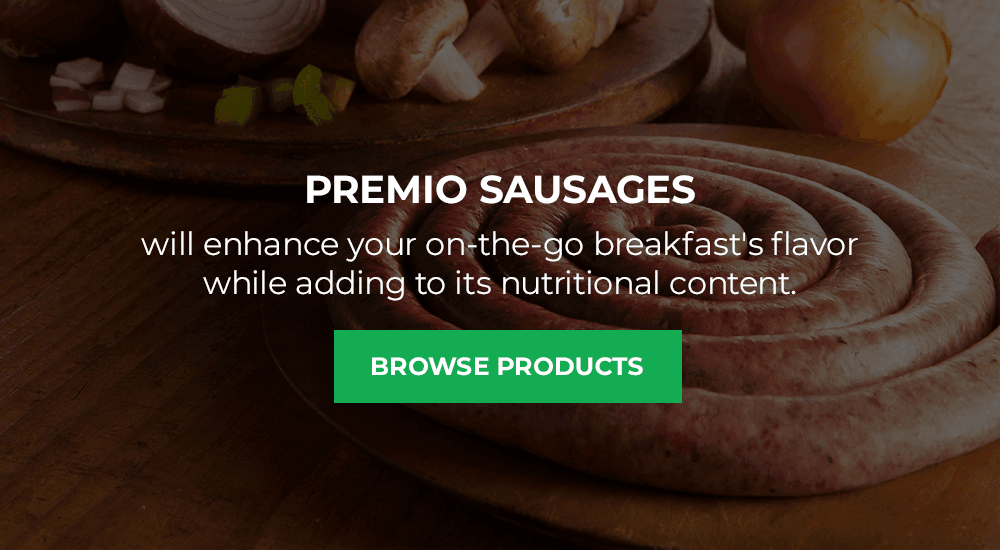 Purchase Premio Sausage for Your On-the-Go Breakfasts
If you're ready to prepare some grab-and-go breakfast items for the week, you'll need to gather your ingredients. Start by purchasing Premio products that will enhance your breakfast's flavor while adding to its nutritional content. At Premio, we make all our products with high-quality meats, fresh ingredients and no fillers — the way sausage should be!
Take the first step toward making your morning easier by locating the Premio nearest you today.