How to Build Your Own Bruschetta Bar
If you plan to entertain people at your home, it's important to have a beautiful and delicious spread of snacks to offer your guests. Not only to do these set the mood and provide a little bit of a distraction from the otherwise potentially awkward first few minutes of any get-together, but also they send a great message to your guests. They say, "I care about you, and I want to show you that by sharing this yummy dish with you."
Hosting an event in the near future? It's time to start thinking about things like decorations, icebreakers and of course, appetizers. Are you looking to move beyond cheese and crackers or a simple veggie tray into the world of more elegant appetizers? Why not try a bruschetta bar?
You might think bruschetta sounds too complicated or too fancy, but don't worry! A bruschetta bar is easy to put together, and with a little practice and research, anyone can learn to do it. That's why we've pulled together this guide to help you build your very own bruschetta bar to wow the guests at your next gathering. Who knows? You might like it so much you'll find yourself making it again and again just for your own household.
What Is Bruschetta?
Bruschetta is a classic and timeless Italian appetizer. There are a lot of different variations on this delicious dish, but the basic definition of bruschetta is that it includes toasted bread with some sort of topping. An extremely simple bruschetta might be flavored with garlic cloves and lightly drizzled with olive oil. Bruschetta can also be much more elaborate, however, and feature any number of different toppings.

Because this dish is Italian in origin, you'll notice that many of the ingredients typically used are classically Mediterranean and evoke an Italian or even a Greek taste. A few of the common ingredients you might see topping bruschetta include:
Garlic
Pesto
Caramelized onions
Soft cheeses, such as feta, brie or goat
Hummus
Tapenade
Chopped basil
Jam
Sliced or chopped tomatoes
Olives
Roasted peppers
Sliced fruit, including apples, figs or pears
Artichoke hearts
Cooked sausage, sliced or crumbled
Pepperoni, salami or prosciutto
Balsamic vinegar or olive oil
Remember, there is no right or wrong way to top bruschetta. Feel free to mix & match and experiment with toppings until you find a combination you think is delicious. Research different recipes or throw the rule book entirely out the window and mix ingredients together that you think would blend well.
How to Serve Bruschetta
If you're planning on serving bruschetta at your next get-together or party, you'll want to choose one of two different ways to do it.
1. The Pre-Prepared Bruschetta Method
The first method is to prepare a recipe ahead of time. This can be any recipe you like, but you'll spend some time in the kitchen before any of your guests arrive to prepare it. Before the party starts, you'll want to lay the appetizers out so your guests can easily grab them and munch while they mingle with one another.
2. The DIY Bruschetta Method
The second method allows for a little more interactivity on the part of the guests. With this method, you'll head to the store and purchase a variety of ingredients for topping. Maybe you'll buy some tomatoes, cheese, peppers, olives, sausage or anything else you think sounds good. You might refer to our list of common toppings and pick out the ones that sound good to you.
Then, your job is to simply prepare these ingredients and lay them all out without assembling them. You'll display the toasted bread and all the ingredients — washed and prepped, of course — and when the guests arrive, they can have the fun of making their own bruschetta by assembling the ingredients that sound good to them.

Steps for How to Build a Bruschetta Bar
Interested in trying the build your own Italian bruschetta bar? Let's go over the main steps.
1. Make a Grocery List of Bruschetta Ingredients
Like any other endeavor involving appetizers, you'll want to start by putting together a grocery list. Write down all the different ingredients you'll need to buy and all the toppings you want to include. Use our list for reference or browse recipe books for more bruschetta bar ideas of your own. Whatever you think would taste yummy in your bruschetta, add it to the list.
2. Head to the Store
Hop in the car and drive down to your local grocery store or farmer's market with your list in hand. For the best results, buy your produce as close to the day of your get-together as possible, so it'll still be fresh and delicious. If you buy it too far in advance, there's a chance it may begin to go bad before you even eat it.
3. Prep Your Bruschetta Bar Ingredients
In the few hours before your event, it's time to do things like toast your bread, wash and cut your fruit and veggies, and measure out things like olive oil and pesto. Basil will need to be chopped, olives should be halved and sausage should be cooked. Whatever ingredients you've purchased and whatever must be done to get them ready for eating, now is the time to tackle those things.
4. Think About Bruschetta Presentation With a Bruschetta Board
When it comes to a simple yet traditional appetizer like bruschetta, the presentation is half the fun. Gather your ingredients together in a beautiful spread of small bowl and containers, along with little dipping spoons and forks for each one. Set out things like jam and olive oil in small quantities, and have a stack of appetizer plates ready to go for when your guests arrive.
For the most picture-perfect display, try arranging all the bruschetta ingredients on a wooden cutting board. If this isn't an option, a large tray is another good option. If none of these are available, artfully arrange your ingredients directly on the table or counter. You might even write up some attractive labels and prop them up next to each ingredient, so every guest knows what's inside each bowl.
5. Serve Your Guests Your Bruschetta Bar
Once the guests have arrived, explain the bruschetta bar concept to them and watch their eyes light up as they set to work designing their own personal bruschetta. Keep a watchful eye on the different bowls of ingredients and be ready to jump in with a refill if anything appears to be getting dangerously low.
When to Serve Bruschetta
Bruschetta is a delicious treat no matter the season or the occasion. You can make it as part of a dinner menu for yourself or your family. You can have it as an afternoon snack. Any time you might head to the kitchen to grab a bite to eat, bruschetta provides an excellent choice.
In particular, however, it makes a perfect appetizer for small gatherings. Think of baby showers, bridal showers and engagement parties. Consider it for weddings, graduation parties and parties when you watch the big game. If you're having a group of friends over, no matter the reason, it's a terrific time to serve some bruschetta.

Bar or Pre-Made: Which Way Should You Serve Bruschetta?
Should you opt for the do-it-yourself bar or the prepare-ahead-of-time method? Both are excellent choices, but at the end of the day, it depends on how you prefer to host. To help you make your decision, let's look at a few advantages of each style.
Just a few of the benefits of this type of build your own bruschetta bar include:
Personalization: Some of us are picky eaters while others will eat almost anything, but we all have preferences when it comes to our food. The disadvantage of a prepared bruschetta is that you may be unwittingly including ingredients your guests don't love to eat. A personalized bruschetta, on the other hand, allows guests to pack their bread with all the toppings they love while skipping the ones they don't.
Mingling: There is always a risk the first few moments of any party will be a bit awkward. Guests stand around and make small talk, all while trying to break the ice a little bit. By providing an activity of sorts during these first few minutes, you help break the ice and ease the tension a little bit. Instead of talking about the weather, guests can comment on the bruschetta and chat more naturally and easily as they construct their own appetizers.
As great as the DIY approach can be, however, there's also the pre-done method. A few of the reasons to give this a try include:
Peace of Mind: When you set up a make your own bruschetta bar ahead of time, you don't have to worry about it during the party. You don't have to hover around to replace any ingredients as they're running low. During the event itself, you can just sit back and relax because you already did all the work ahead of time.
Creativity: It's fun to try new recipes. It's a delight to spot a recipe in a book or online and think, "That sounds amazing! I bet I could do that." From there, it's fun to tinker with the ingredients and proportions until you get exactly what you want. By making your own bruschetta ahead of time, you get to flex your creative muscles and craft a special treat to share with all your friends and family.
Of course, you don't have to choose one or the other. You can actually do both. Offer your guests both pre-made bruschetta and a bar, and they enjoy both approaches.
4 Sample Bruschetta Bar Recipes
Decided to make some bruschetta ahead of time to complement the bruschetta bar for your next event? Then you'll need a few recipes to get you started and in the spirit of things. Experiment with these recipes, and before you know it, you'll be right at home preparing this dish.
1. Just a Peachy & Poppin' Premio Bruschetta
You will need:
Chorizo Sausage, 5 links
1 French baguette, cut into 10-12 slices
¼ cup extra-virgin olive oil
1½ cups of sliced peaches
Peach juice
Cilantro, 3 tablespoons
1 red onion, chopped
Mexican spice blend, 1 tablespoon
Garlic and herbs, 3 ounces
Soft cheese of your choice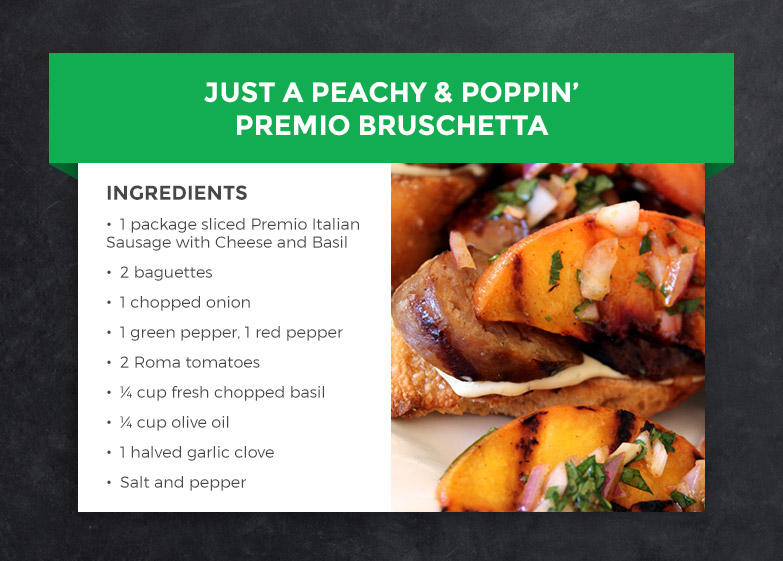 Instructions
To make these Peachy and Poppin' Premio Bruschetta appetizers, start by turning the grill up to medium heat. Using a brush, paint both sides of your baguette slices with olive oil and grill the slices for about a minute. Grill both sides until they are golden-brown with grill marks.
Put the peach slices on the grill for about two minutes on each side, or until they've turned golden-brown with grill marks. Remove them and chop them up into small pieces for your topping. Then grill your sausage with the grill covered for about 15-20 minutes, or until they're nicely browned and cooked through. Remove them from the heat and chop them into pieces about a quarter-inch thick.
In a pan on the stove, bring peach juice to a boil. Reduce the heat and allow to simmer until it has reduced to 1/3.
In a mixing bowl, combine peaches, cilantro, onions, garlic and herbs, Mexican spice blend and ¼ cup of olive oil. Top your bread slices with soft cheese, sausage slices and your homemade peach salsa. For a finishing touch, drizzle your peach syrup over every slice.
2. Premio Sweet Basil Bruschetta
You will need:
8 ounces Sweet Basil Italian Sausage
1 baguette, sliced
4 tomatoes, chopped
3 cloves of garlic, crushed
1 tablespoon balsamic vinegar
1 cup gorgonzola cheese, crumbled
Instructions
From start to finish, preparing this Premio Sweet Basil Bruschetta should take under 30 minutes. Start by preheating the oven to 450 degrees (F). While this heats, cut your baguette into even slices about a quarter-inch thick and place them on a baking sheet. Bake them for 5-7 minutes, or until they begin to turn a nice golden brown. Set them aside to cool.
Crumble your sausage into a pan and cook it until it's done. Drain it and set it aside.
In a mixing bowl, combine your tomatoes, garlic and balsamic vinegar. Mix these ingredients together well before spooning the mixture out onto your toasted baguette slices. Add the crumbled sausage and cheese on top and enjoy.
3. Premio Chorizo Bruschetta
You will need:
1 pound Premio Chorizo sausage
1 French baguette, diagonally sliced
¼ cup chopped onion
½ cup chopped cherry tomatoes
Swiss cheese slices
1 teaspoon garlic powder
½ teaspoon black pepper
Olive oil
Salt
Instructions
This Premio Chorizo Bruschetta serves a party of about 10, or half that many if everyone wants seconds. To get started, remove your Chorizo from its casings and grind it. Mix this together with garlic powder, salt and pepper, and set it aside.
Place your baguette slices on a cookie sheet and top them with a spoonful of your Chorizo mix, as well as a dash of chopped onions and tomatoes. Pour just a drizzle of olive oil over top and add a pinch of salt before topping each slice with Swiss cheese. Pop the sheet of baguette slices in the oven and bake them for about five minutes at 350 degrees (F), or until the cheese gets nice and gooey. These can be served either hot out of the oven or after they've cooled down a bit.
4. Premio Cheese and Basil Bruschetta
You will need:
1 package sliced Premio Italian Sausage with Cheese and Basil
2 baguettes
1 chopped onion
1 green pepper, 1 red pepper, both chopped
2 Roma tomatoes
¼ cup fresh chopped basil
¼ cup olive oil
1 halved garlic clove
Salt and pepper

Instructions
To make this Premio Cheese and Basil Bruschetta, begin by cooking your sausage in a large sauté pan over medium heat. Wait until the sausage is nicely browned and then set aside.
In a large bowl, mix together your sausage with the chopped peppers, onions, tomatoes and basil. Sprinkle with salt, pepper and olive oil, mix well and set aside.
Slice your baguettes into 10 or 15 slices, rub each side of every slice with garlic and then toast. Once they've been sufficiently toasted, top each slice with your sausage mixture and serve and enjoy.
Shop Premio Sausage for All Your Bruschetta Needs Today
Whether you've decided to opt for the personalized bruschetta bar or you're going all out and preparing recipes ahead of time, don't forget to stock up on sausage ahead of time for your toppings. For all your sausage bruschetta needs, head to your nearest Premio distributor and find your favorite flavor. From spicy Italian to Mexican chorizo and everything in between, we've got every flavor you could desire.
Still not sure what recipe you want to prepare for your get-together? Browse more great recipes featuring Premio's delicious sausage and see what catches your eye.