Foods That Can Boost Your Immune System
In today's world, it's more helpful than ever to improve your body's ability to fight germs. Following proper hygiene helps, but you can do one better by adding foods to your diet that boost your immune system.
Immune system-boosting foods contain specific vitamins, minerals and phytonutrients that help your body work at peak efficiency. As a bonus, many of these plant-based superfoods are low in calories and packed with flavor. When you pair immune system booster foods with nourishing protein and herbs, like those found in Premio sausage, you have a complete, hearty meal that gives your body the nutrition necessary to battle bacteria and viruses.
Table of Contents
5 Foods That Can Boost Your Immune System
Looking for some of the best foods that can boost your immune system? The following five powerhouses have an impressive array of health benefits.
1. Garlic
It's fitting to think about germs as microscopic vampires because you can fight them with the weapon vampires fear — garlic. Garlic contains allicin, a potent phytonutrient with healing properties. It can help you combat high cholesterol, control your blood sugar and minimize muscle soreness.
You can incorporate garlic into tons of recipes, like this toasted garlic-butter ravioli with Premio sausage and spinach. To make this dish, gather the following ingredients:
1 package of Premio Sweet Italian Sausage
18 ounces of cheese ravioli
2 tablespoons of unsalted butter
3 tablespoons of extra virgin olive oil
2 minced garlic cloves
1/2 teaspoons of crushed red pepper
1 teaspoon of salt
1/2 teaspoon of pepper
5 ounces of fresh baby spinach
1/2 cup of grated Parmesan
1/4 cup of parsley
Bring a full skillet of water to a boil on the stove. Cook the ravioli according to the directions until it reaches al dente perfection. When the pasta finishes cooking, add it to a lined baking sheet, set it aside and empty the water from the pan you used to cook.
Add sausage to the pan and cook it to a golden brown. Always cook pork sausage to a minimum internal temperature of 160° F using a meat thermometer. Break the links into small chunks as they cook, and set them aside once browned.
Without rinsing the pot, saute your butter, oil and garlic for one minute before adding the salt, pepper and red pepper. Add the ravioli in gradually, then add the spinach and sausage. Finish with a sprinkle of Parmesan and divide the meal into four servings for your guests or family.
2. Broccoli
Broccoli and other cruciferous vegetables contain sulforaphane, a sulfur-rich compound with impressive health benefits. The B-vitamins in this veggie help to keep your blood vessels pliable, and the fiber aids digestion. Get your kids to eat their greens with this Premio sausage and broccoli rabe sheet pan dinner. You will need the following ingredients:
4 Premio Sweet Italian Sausage links with the casings removed
1 fennel bulb, halved and sliced
1 bunch of broccoli rabe, trimmed at the rough ends
1/2 teaspoon of red pepper flakes
1/2 teaspoon of ground sage
3 tablespoons of olive oil
Salt to taste
Preheat the oven to 425° F. Toss the fennel with the olive oil and salt and place it on one side of the baking sheet, letting it roast for approximately 20 minutes. Then, remove the casings from the sausage and spread it evenly across the middle of the sheet. Always cook pork sausage to a minimum internal temperature of 160° F using a meat thermometer.
Blend the remaining ingredients and place them on the empty side of the pan. Bake for approximately 15 minutes until the vegetables have a nice char and the meat is cooked thoroughly. This recipe makes approximately two servings.
3. Citrus Fruits
You've probably heard that citrus fruits are high in vitamin C, an essential substance that supports immune function. Citrus fruits are some of the best sources of this vital nutrient. Plus, they add a tangy zest to many meals, not just fruit salads and desserts.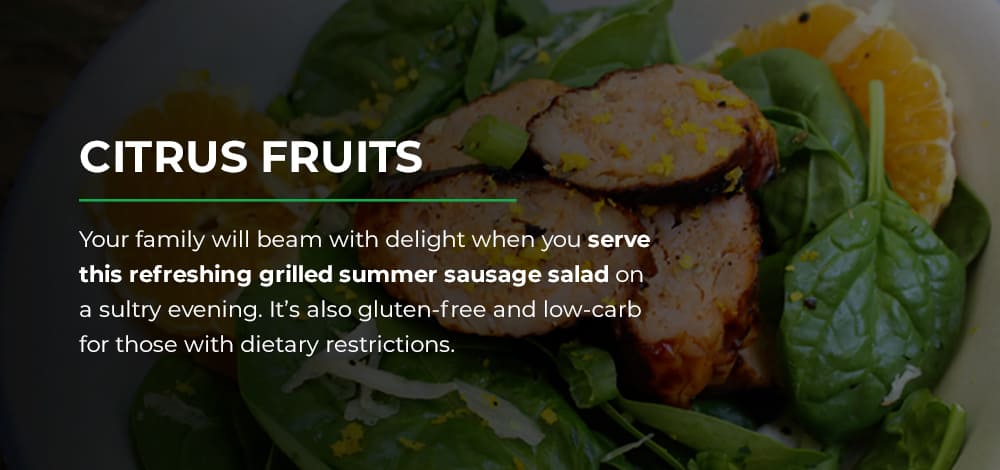 Your family will beam with delight when you serve this refreshing grilled summer sausage salad on a sultry evening. It's also gluten-free and low-carb for those with dietary restrictions. You'll need to gather the following ingredients:
1 package of Premio Sweet Italian Chicken Sausage
1 cup of shaved fennel
1 8-ounce bag of baby spinach
1/4 cup of scallions
1 large navel orange
1/4 cup of extra virgin olive oil
2 tablespoons of rice vinegar
1/4 teaspoon of salt
1/4 teaspoon of pepper
1 tablespoon of orange zest
Wash and dry all your veggies. Chop your scallions into 1/8-inch rounds and shave your fennel, placing it in a bowl of cold water to keep it crisp while you attend to the rest. Grill your chicken sausage for approximately 25 to 30 minutes or until thoroughly cooked. Always use a meat thermometer to see that you've cooked chicken sausage to a minimum internal temperature of 165° F.
While the sausage heats, whisk together the oil, vinegar, salt, pepper and orange zest to make a dressing. Arrange your meal onto plates and serve to up to four people.
4. Spinach
Do you want to be strong to the finish like Popeye? You better eat your spinach! This dark, leafy green is a powerhouse of B-vitamins, and offers iron for healthy blood, potassium to lower your blood pressure and magnesium to keep your neurological system in tip-top shape. It also comes packed with carotenoids and other vitamins to keep you healthy.
For a quick and easy dinner that you can make in less than 30 minutes, try this Premio chicken sausage with spinach and white beans meal. Ready the following ingredients:
1 package of Premio Italian Chicken Sausage With Cheese and Garlic 
1 tablespoon of olive oil
2 small onions cut into wedges
3 cloves of garlic, thinly sliced
1/2 cup of dry white wine
1 cup of low-sodium chicken broth
1 19-ounce can of white beans, drained and rinsed
1 bunch of baby spinach, roughly chopped
1/2 teaspoon of kosher salt
1/4 teaspoon of pepper
1 cup of grated Parmesan cheese
Add the oil to a large saucepan over medium heat. Cook the sausage until browned and cooked through for approximately 15 minutes, then let it rest five minutes before cutting. Always use a meat thermometer to check that you've cooked chicken sausage to a minimum internal temperature of 165° F.
Add the onions to the pan and cook until soft, then add the garlic and stir for one more minute. Place the remaining ingredients in the pan and bring it to a boil for about three minutes, or until the spinach wilts. Sprinkle with Parmesan cheese and serve to up to four people.
5. Sweet Potatoes

What has even more vitamin C than an orange? If you guessed a sweet potato, you guessed correctly. One medium sweet potato has a full day's recommended daily intake of this nutrient. Make dinner nutritious with this sausage and sweet potato combo that's full of filling protein and fiber. Get the following ingredients ready on your countertop:
2 14-ounce packages of Premio Sweet Italian Chicken Sausage
3 medium red apples
3 sweet potatoes
1 1/2 yellow onions
3 teaspoons of dried rosemary
1 1/2 teaspoons of dried sage
1 teaspoon of dried thyme
Olive oil as needed
Salt and pepper to taste
Slice your apples and onions thinly and cut the potato into chunks. Preheat your oven to 350° F and drizzle olive oil in the pan to prevent sticking. Place the apples, onions and sweet potatoes in the pan, then layer the sausage on top and drizzle with more oil. Always cook chicken sausage to a minimum internal temperature of 165° F and verify using a meat thermometer.
Let this mixture roast for approximately 30 to 35 minutes, then add the other ingredients when you turn the sausage. Allow this to cook for another 25 to 30 minutes before serving. The suggested serving size for this dish is about eight to 10 servings.
Find Premio in a Store Near You
You can help boost your immune system with these five superfoods and incorporate quality Premio sausage. At Premio, we never use fillers, and our products use 60% less fat than USDA data for pork sausage.
With only the freshest ingredients, our sausage brings the perfect amount of protein to balance out the array of immunity-boosting nutrients you'll consume from these meals. To find Premio sausage in a store near you, use our store locator tool and check out our full array of products today.