5 Easy After-School Recipes
School's back in session, which means the return of prepping after-school meals. So, what's on the menu? If you're at a loss for what to make this week, don't worry. We've got plenty of great, quick sausage recipes that'll satisfy your hunger and your kids.
Check out five of our favorite easy after-school recipes below:
The Out-Of-Bounds Burrito
Keep your kids full and focused on their homework with The Out-Of-Bounds Burrito.
Ingredients include:
Add a touch of mint, cilantro and lime to spice up this tasty after-school meal for you and your kids. You can also include a dollop of sour cream or chipotle sauce.
Premio Fresh Sausage Pasta Salad
Greenify your pasta dishes with our Premio Fresh Sausage Pasta Salad recipe. This after-school meal features bite-sized pieces of sausage, as well as vegetables, like tomatoes. Plus, it's a meal your kids can enjoy with or without dressing.
Ingredients include:
This quick sausage recipe offers six to eight servings, so you can save your leftovers for later in the week.
Backyard Grilled Sausage Sandwich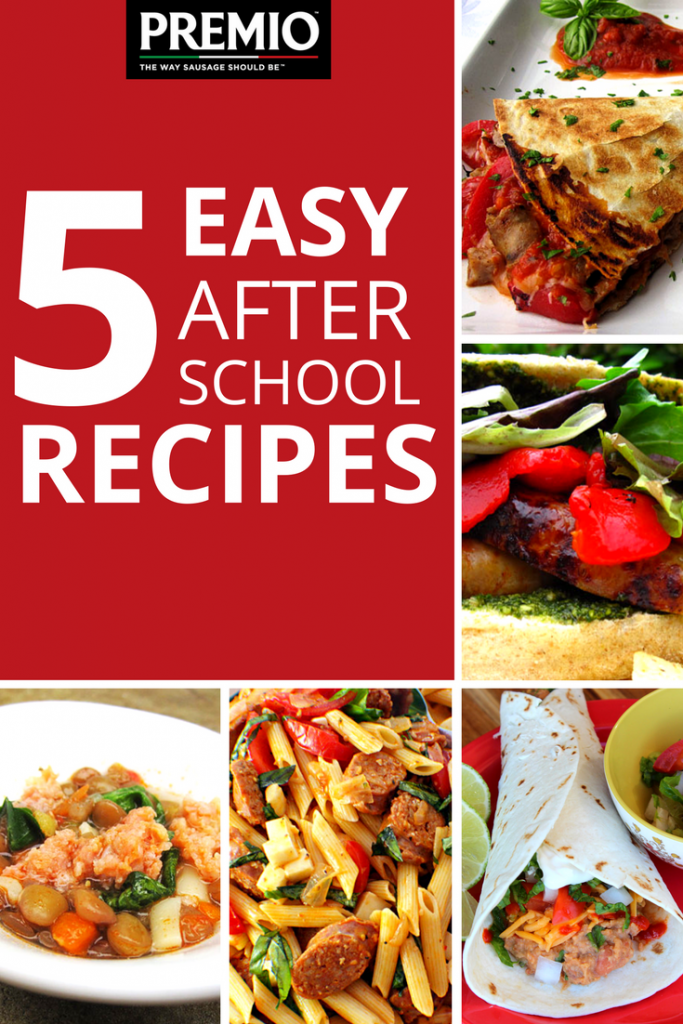 What's more classic than a sausage sandwich? If you ask our family — not much. Give your kids our filling, Backyard Grilled Sausage Sandwich after they bound off the school bus to energize them for that big, bad batch of homework.
Ingredients include:
Feel free to substitute pesto sauce for another condiment you or your kids may like or add additional toppings, such as a slice of onion.
Italian Quesadillas
Do your kids love a meatball sub? Leave them smiling with our Italian Quesadillas, which offer veggies and meat in a delicious tortilla. You'll have them giving two-thumbs up.
Ingredients include:
What's great about this quick sausage recipe is its two for one. Make one quesadilla and slice it in half to give your kids a portion that's filling, or offer them a whole one if they're a bottomless pit.
Lentil Stew
Back to school also means the return of catching colds. Our Lentil Stew provides a soothing soup to ease sore throats, open stuffy noses and help your child feel a little better while they're down.
Ingredients include:
This soup is also perfect for warming your kids up on winter days.
Prepare Quick Sausage Recipes With Premio
Family is a part of our business at Premio. That's why we're passionate about finding quick sausage recipes for you and your family to use. It's also why we offer printable sausage coupons for you — because who doesn't love to save in the checkout line?
Tell us how your after-school recipe turned out below!