How to Make Sausage for Pizza Toppings
Everyone loves a pizza night, but if your family's getting tired of having plain old cheese pizza each week, it may be time to switch things up. Incorporating more exciting toppings like sausage is the perfect way to spice up pizza night and keep your family coming back for slice after slice. Sprinkling some sausage on top of your pizza will also up its protein content — a nice bonus!
To help you become a gourmet pizza guru, this article will tell you how to make sausage for pizza toppings and what kind of sausage to use for pizza. We'll also share some of our favorite sausage-topped pizza recipes. Keep reading to learn how to make restaurant-quality pizza by using sausage as your staple topping.
Along with being a delicious way to top pizza, sausage is versatile. A sausage pizza topping can take the form of slices, crumbles or ground meat. How you cook the sausage depends on how you intend to use it as a topping. This section will go over how to prepare each style of sausage topping.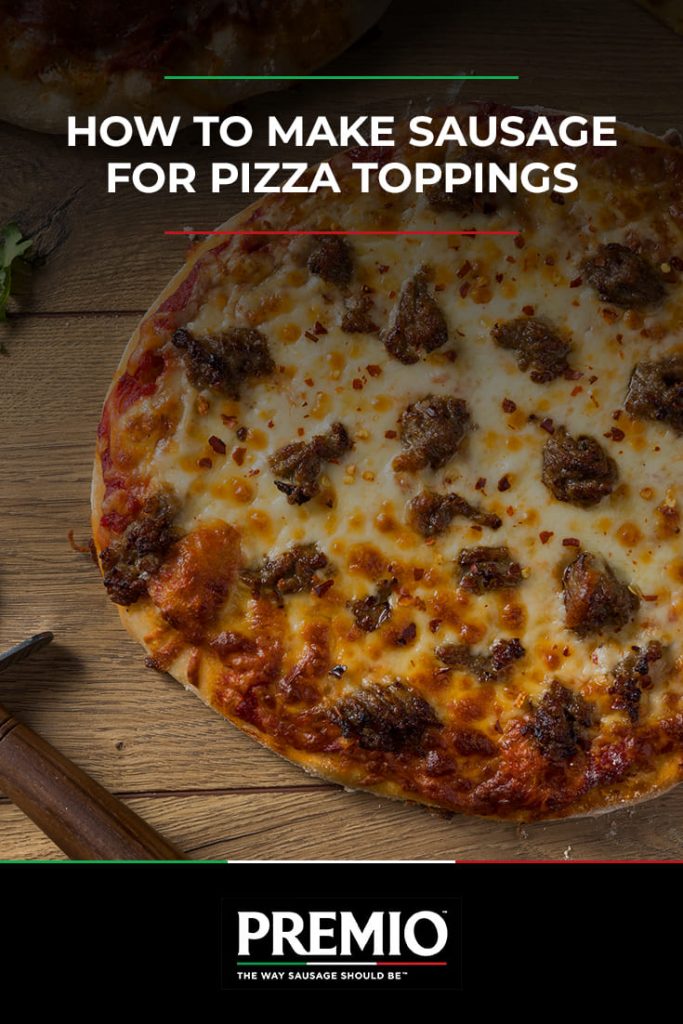 How to Cook Sausage to Use It as a Pizza Topping
Whether you choose to use sausage slices, crumbles or ground meat, always use a meat thermometer to make sure your sausage is cooked thoroughly before serving it to your family. Pork sausage should have a minimum internal temperature of 160 degrees Fahrenheit, while chicken sausage should reach a minimum of 165 degrees Fahrenheit.
Slices
It doesn't get much more straightforward than using sausage slices as a pizza topping — simply cook the sausage link, then slice it! However, you can choose from various ways to cook the sausage link before slicing it. You'll also want a few pro tips to make sure you get the most flavorful result possible.
Most importantly, do not pierce the sausage link's skin before cooking. Cutting the casing allows the sausage's juices to escape, making the meat less flavorful and succulent. Also, make sure you gradually cook the meat so it doesn't end up dark on the outside while still raw in the center. Cooking sausage too high and too fast can also cause the casing to split and disintegrate.
Now that you know the basics of cooking sausage links, here are the top three cooking methods. No matter which method you choose, always cook pork sausage to a minimum internal temperature of 160° F using a meat thermometer or chicken sausage to a minimum internal temperature of 165° F.
Stovetop: Heat a pan to medium temperature and fill the skillet with 6 tablespoons of water before putting the sausage links in. Cover the skillet and cook for about 10-12 minutes, turning the links often. Then, uncover the skillet and continue cooking as the water evaporates (5-7 minutes), turning the sausage frequently until it is browned and cooked through (160°F).
Broiling: Place links on broiler rack at least 7-9 inches below heating element and broil until golden brown (about 13-15 minutes each side). Serve and enjoy!
Grill: Heat your grill up, lay the sausage links on the racks over medium flames and close the lid. Turn the sausages every so often to keep them uniformly browned. The meat should reach its goal temperature in about 15-20 minutes.
After you've finished cooking the sausage links, allow the meat to rest for a few minutes before slicing it into bite-sized rounds. You can cut them in half and make them thicker or thinner depending on your personal pizza preferences.
Crumbles
Using sausage crumbles as a pizza topping involves removing the sausage link from its casing, crumbling the meat and frying it on the stovetop. To remove the sausage from the casing, use a knife to slit the sausage from end to end, flip it over so it's lying cut-side down, grab one end of the split casing and pull it back.
Once you've separated the sausage from its casing, you can place it in the skillet and turn the heat up to medium-high. Use a spatula to break up the meat into crumbles as it browns. Keep the sausage over the heat until it is fully cooked, then use a slotted spoon to transfer it from the skillet to your pizza.
Ground
Ground sausage meat can easily make the perfect pizza topping. Ground sausage is similar to sausage crumbles, but a bit quicker to prepare because you don't have to remove any casings. To cook ground sausage, you can simply place the raw meat in a heated skillet and break it apart as you would with crumbles. Once the meat is firm and done releasing liquid, remove it from the skillet and add it to your pizza.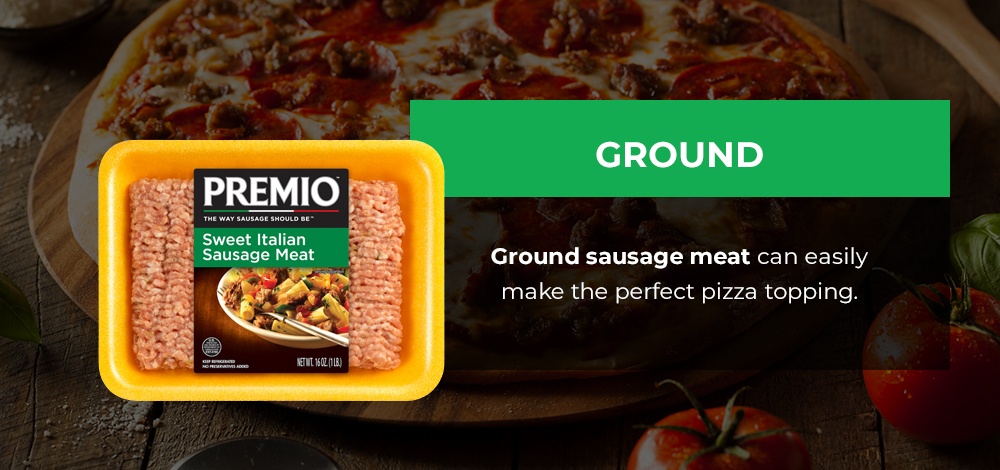 Types of Sausage You Can Use for Pizza Toppings
Now that you know how to turn sausage into pizza toppings, let's talk about your options. Here are the most popular types of sausage for pizza toppings — try some for your next homemade pizza night:
Pizza Recipes to Try Using Sausage
To kick-start your sausage-topped pizza party, consider trying one of these sausage pizza recipes as the blueprint for your Italian masterpiece:
Purchase Premio Sausage for Your Pizza Toppings
If you want your sausage-topped pizza to really be a hit, use Premio sausage. Premio Foods offers sausage made with fresh ingredients and without fillers — the way sausage should be! Check out our wide variety of Italian, pork and chicken sausages that will add some zest to your next pizza night.
Take your homemade pizza to the next level by locating the nearest store with Premio sausage today.