Recipes to Make for a Summer Pool Party
Do you hit a creative block whenever you try to come up with a pool party menu plan? Having a few reliable summer barbecue recipes in your back pocket can come in handy when hosting a backyard get-together. Keep reading to discover delicious pool party lunch ideas and make feeding hungry guests a breeze this summer.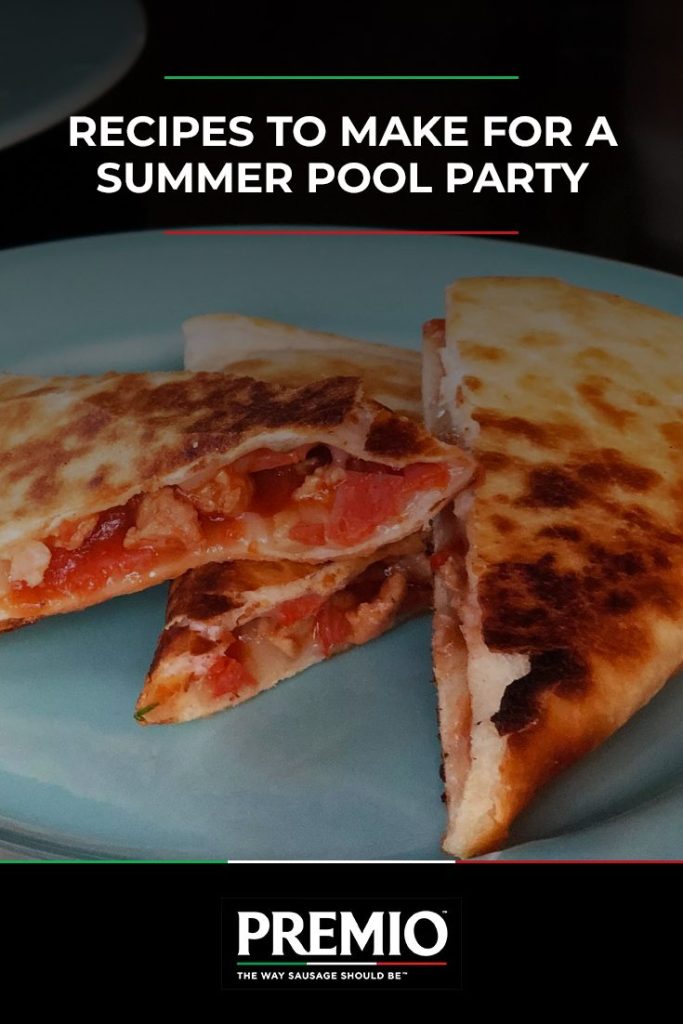 Top 10 Recipes for a Summer Pool Party
Make your pool party menu planning a snap by using this list of top 10 summer party appetizers.
1. Bacon and Premio Sausage Mac and Cheese
Who doesn't love a heaping bowl of mac and cheese at a pool barbecue? You can satisfy your pool party guests' mac and cheese cravings and keep them full for longer by adding some bacon and sausage to your signature cheesy dish. Along with being extremely tasty, both types of meats offer enough protein to fuel hours of splashing around the pool.
Making bacon and Premio sausage mac and cheese is easy — all you need to do is boil elbow pasta like you usually would, heat a simple cheese sauce and cook some Premio Sweet Italian Sausage rounds. Once you've prepared these components, all that's left to do is stir them all together and dig in!
2. Sausage and Pepperoni Pizzadillas
Get all the mouthwatering Italian flavors of pizza along with the cheesy goodness of a quesadilla by making sausage and pepperoni pizzadillas. A pizzadilla is the perfect union of pizza and a quesadilla, resulting in one beautiful, slightly crispy, flavor-packed snack. You'll get a flavor explosion of Premio Hot and Spicy Italian Chicken Sausage, salty turkey pepperoni, creamy mozzarella cheese and zesty pizza sauce.
Making a delicious sausage and pepperoni pizzadilla is just like making a regular quesadilla. Start by mixing your fillings, piling the ingredients onto a corn tortilla. Next, stack another tortilla on top of the fillings and grill both sides on a skillet until you achieve a beautiful golden brown.
3. Buffalo Chicken Sausage Sliders
Whether served as a light lunch or an appetizer, sliders make the perfect poolside snack. Put a twist on the classic cheeseburger slider by whipping up a batch of Buffalo chicken sausage sliders. These sliders exchange the regular hamburger patty for Premio Hot and Spicy Italian Chicken Sausage and add hot sauce, creating a flavor explosion so delicious that your guests won't be able to help coming back for more.
To make the sliders, you'll need to mix hot sauce with melted butter, grill the sausage and layer the ingredients between two buns. Top your Buffalo chicken sausage sliders with a blue cheese spread and some thinly sliced celery to earn bonus points for taste and texture.
4. Seven-Layer Sausage Dip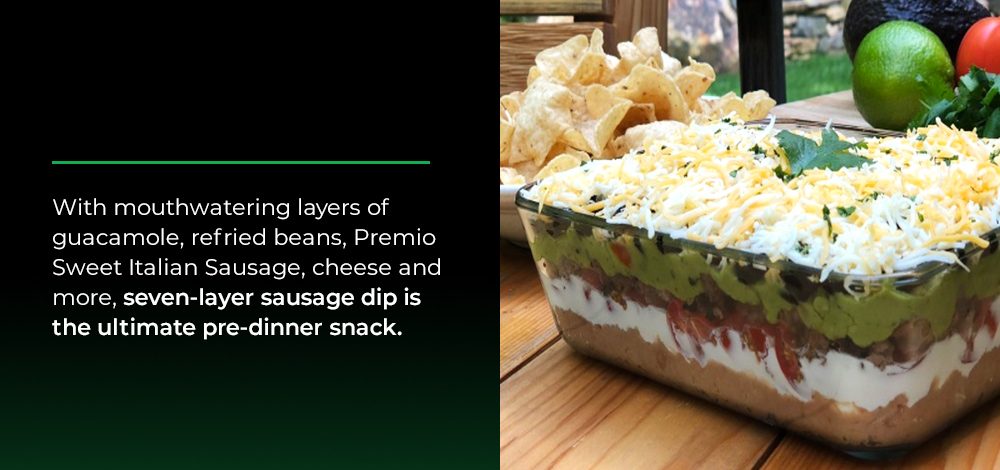 When serving summer party appetizers, it's hard to beat a seven-layer dip. You can elevate your seven-layer dip game a notch and wow your pool party guests with this seven-layer sausage dip recipe. With mouthwatering layers of guacamole, refried beans, Premio Sweet Italian Sausage, cheese and more, seven-layer sausage dip is the ultimate pre-dinner snack.
The bulk of the work for creating this dish consists of mashing homemade guacamole, cooking your ground sausage meat and making a batch of refried beans. After you've completed those components of the dip, all you have to do is craft your seven savory layers from the bottom up — refried beans, sour cream, tomatoes, sausage, guacamole, black olives and cheeses. Set the dip out with tortilla chips and enjoy!
5. Sausage Pinwheels
What could be more fitting for carefree summer days by the pool than a pinwheel-themed snack? Sausage pinwheels are among the best pool party lunch ideas because they're light, easy to snack on and adorable to look at. This puff pastry, cheese and sausage snack is excellent for tiding guests over until dinner without spoiling their appetites.
And if you weren't already feeling convinced, these cute appetizers are as easy to make. Roll out some puff pastry sheets, spread pasta sauce over them, sprinkle them with Premio Sweet Italian Sausage and cheese, then shape the pastry sheets into logs. Slice the log into individual pinwheels before popping the dish into the oven for about 15 minutes. Once they're golden brown, remove the pinwheels from the oven and encourage everyone to grab one while they're hot.
6. Italian Sausage Pasta Salad
If you've been searching for a kid-friendly pasta salad, you're in luck. This Italian sausage pasta salad recipe is sure to go over well with the little ones at your pool party. With simple ingredients like Italian dressing, flavored Premio Italian Sausage and pasta, this pasta salad is impossible not to love.
Along with its tasty flavors, you'll love how easy it is to make this pasta salad. Prepare your favorite pasta variety ahead of time, then place the sausage in a skillet with some butter until you've cooked it through. Once the sausage has cooled, toss the cooked pasta and Italian dressing with the sausage and serve chilled.
7. Italian Sausage Drizzled in Beer Cheese
Why limit beer to drinking it by the pool? You can get more out of beer by using it to make a round of Italian sausage drizzled in beer cheese. This brilliant collection of flavors starts with a Premio Sweet Italian Sausage base, then drenches the sausage in a creamy cheddar cheese sauce with hints of beer and garlic. Whether you serve this dish as-is or on a roll is up to you.
8. St. Louis Gerber Pork Burger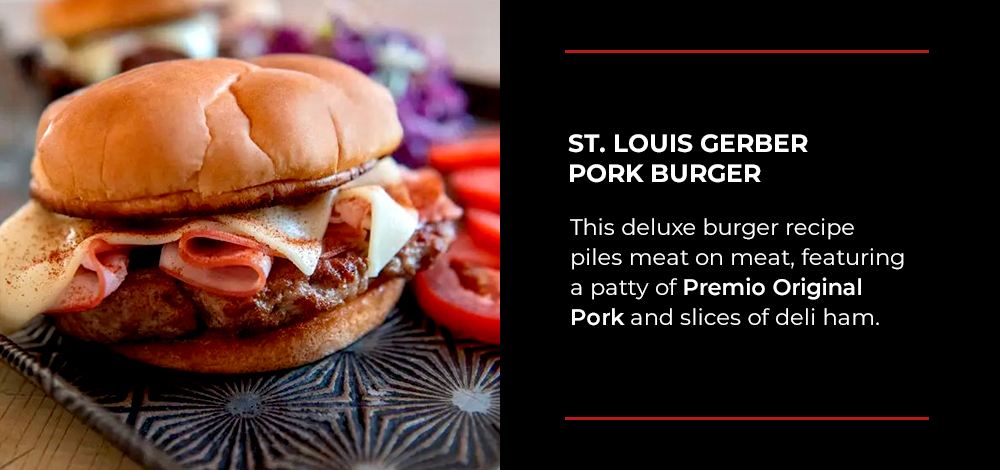 If you want to serve your pool party guests something more substantial, try following this St. Louis Gerber pork burger recipe. This deluxe burger recipe piles meat on meat, featuring a patty of Premio Original Pork and slices of deli ham. Provel cheese, garlic butter and a few dashes of paprika set this burger apart from regular barbecue burgers.
9. Sausage Dip
Sometimes, the star of a summer party is a simple sausage dip. You can make a stellar sausage dip by combining Premio Original Pork Sausage, cream cheese, tomatoes with green chilies, garlic powder and salt. This straightforward recipe allows each ingredient to truly shine. You can serve your sausage dip with anything from chips or fresh-cut veggies to a baked potato or rice.
If you want to incorporate some extra pool party fun, make the sausage dip part of a floating snack bar. First, fill a lightweight plastic container with snacks and attach pool noodles on all its sides to keep it afloat. Then, use a string to link the waterproof snack bar to a remote-controlled boat so guests can grab a bite to eat from anywhere in the pool.
10. Pizza Tornadoes
Pizza tornadoes are one of the coolest pool party lunch ideas because they allow guests to enjoy a customized piece of pizza on a stick. These twisty pizza-style skewers involve baking pizza dough, cheese and toppings into a spiral of deliciousness. This innovative snack is fun, creative and portable, making it perfect for enjoying poolside.
While you can use whatever pizza toppings you'd like to make your tornadoes, green peppers, mushrooms and Premio Hot Italian Sausage is the trifecta of ingredients. The sausage packs some heat and protein and the mushrooms bring a savory flavor, while the green peppers add a touch of freshness and crunch. Serve your pizza tornadoes with a side of marinara sauce to complete the pizza experience.
Purchase Premio in a Store Near You
If you're ready to try out one of the tasty pool barbecue ideas above, you'll need to stock up on top-quality ingredients. Premio offers pork, turkey and chicken sausage varieties, so you can create a dish for everyone at your pool party. When you cook with Premio products, you can be confident the ingredients are fresh, authentic and free of fillers — the way sausage should be!
Use our online store locator to find Premio in the store nearest you and get working on your pool party menu today.