10 Unique Chorizo Recipes
One of the best parts of being a sausage lover is the diverse range of sausage varieties that exist in every corner of the world, each with a unique spin on the same concept. From andouille to bratwurst and breakfast sausage to spicy Italian, there's a whole world of flavors and textures to try.
Have you tasted chorizo sausage yet? If so, then you know just how delicious it can be — and if not, you've got a special treat ahead of you.
Rather than a specific sausage type, the term "chorizo" encompasses a category of sausages that all share similar origins and characteristics, such as heavy seasoning. Paprika is the primary spice in many types of chorizo, although other varieties favor chilies. While pork typically is the chorizo meat of choice, you may also find mixed beef-and-pork samples. And if you're trying chorizo in the US, you're probably tasting sausage of either Spanish or Mexican origin. Although there are other varieties from other countries, these are the two most popular in America.
Ready to give chorizo a try? You'll love it plain, but we think adding it into a meal is the best way to enjoy it. To help you explore the wonderful world of chorizo, we've put together this list of some of our favorite chorizo recipes.
What Are the Benefits of Cooking With Chorizo?
We think chorizo tastes delicious — but is that the only benefit to cooking with it? Not by a long shot. Chorizo packs a great nutritional punch, making it a great addition to plenty of different dishes. And while it might not necessarily be a healthy super-food, it does have plenty to offer that makes it worth including in your weekly routine. Here are a few secret powers of chorizo sausage:

1. Protein Source
We all need protein in our diets. It gives us energy, helps us build muscle and keeps us going strong all day long. Most experts recommend consuming protein as anywhere from 10 to 35% of your daily calories. Chorizo is just one of the ways you might choose to add this protein into your diet. A small 3.5-ounce serving of this yummy sausage contains a whopping 24.1 grams of protein — easily meeting your recommended daily intake.
2. Thiamine Power
Never heard of thiamine? That's all right — you might also have heard it called vitamin B-1. This handy little vitamin is one of the tools that helps your body transform food into energy as well as put your amino acids to good use. The good news? One serving of chorizo contains about half the recommended daily amount of thiamine.
3. Vitamin B-12 Bonus
Vitamin B-12 plays an important role in nerve function, meaning it's crucial to include in your diet. Luckily, a single serving of chorizo contains almost all the B-12 you'll need for the day, although you may benefit from a bit extra if you're pregnant or nursing. Interestingly enough, Vitamin B-12 is also important to consume regularly if you have been diagnosed with celiac disease.
4. Selenium Boost
Selenium is another nutrient that can do wonders to help reduce your risk for certain diseases. Doctors and nutritionists recommend consuming about 55 micrograms per day. This becomes an easy task when you realize that chorizo sausage contains nearly half this amount when consumed in a typical portion size.
10 Easy Chorizo Recipes
Ready to try chorizo sausage in your diet and take advantage of terrific nutritional benefits like these? Sample some of these easy chorizo recipes to start.
1. Premio Chorizo Stuffed Mushrooms
Tired of serving cheese and crackers or chips and dip at every get-together? Why not spice things up by breaking out this flavorful, protein-packed alternative? These appetizers feature large white mushroom caps stuffed to the brim with chorizo, onions, breadcrumbs and Manchego cheese for a delightful Spanish-inspired treat.
Ready to serve up these Premio Chorizo Stuffed Mushrooms at your next gathering? Here's what you'll need:
1 Chorizo sausage link with the casing removed
18 large white mushrooms
1/3 cup olive oil, plus extra tbsp
1/3 cup finely diced onion
½ cup breadcrumbs, plus 2 extra tbsp
2 tbsp parsley leaves, chopped
¼ cup of chicken stock
1/3 coarsely grated Manchego cheese
Grab the full recipe for this tasty appetizer here.
2. Chorizo Dinner
Here at Premio Foods, this Chorizo Dinner recipe is one of our all-time favorites. A classic we've recommended to our friends and family over the years, this unique dish combines our best chorizo sausage, linguini, cherry tomatoes and the crowning touch — your choice of mussels or clams. This may not be the ideal choice for young children or eaters with developing palettes, but for seafood lovers and experimental tasters, we think you'll love a bite.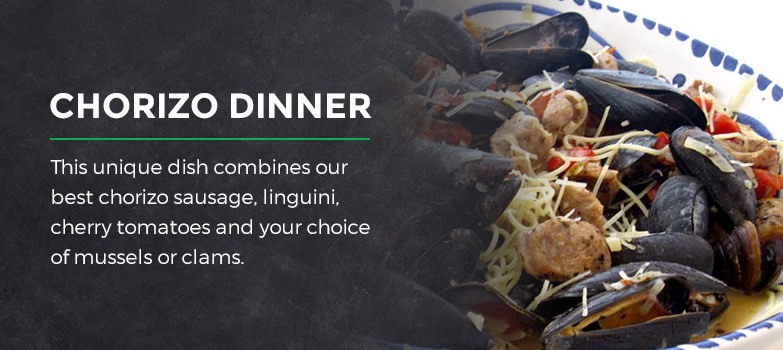 Gather the following ingredients to prepare this dish:
Premio Chorizo sausage, 16 oz package, sliced thick
Spaghetti or linguini, 1 lb
1 onion, quartered and sliced
5 cloves finely chopped garlic
3 cups cherry tomatoes, chopped
Dry sweet basil, ¼ cup
Moscato wine, 1 ½ cups
12 fresh mussels or little neck clams, cleaned
Romano cheese, grated
Salt and pepper
Grab the full recipe for yourself and get busy cooking by reading more here.
3. Premio Chorizo Bruschetta
For an elegant, sophisticated appetizer that still features the tasty flavors of chorizo, look no further than our Premio Chorizo Bruschetta. This appetizer features French baguette slices topped with chorizo, tomato, onions and garlic — all covered with Swiss cheese and baked until the cheese melts. These taste great when served out of the oven, but they're also a perfect option if you need to prep options before the guests get here. They taste delicious when served cold, too.
These are the ingredients you'll use to make this ground chorizo recipe:
Premio Chorizo sausage, 1 lb, peeled and ground
¼ cup chopped onion
Garlic powder, 1 tsp
½ cup chopped cherry tomatoes
Olive oil, 2 spoonfuls
Swiss cheese slices
1 French baguette
Salt and pepper
Get the whole recipe right here.
4. Chorizo Tacos
It doesn't get much easier than these tasty Chorizo Tacos. If you're looking for a quick and easy meal on a busy day, then you've come to the right place. These tacos are just like the ones you've always loved, with the added twist of a spicy Chorizo sausage. Whip these tacos up in just 30 minutes or less, and enjoy sharing them with the whole family.
To make these tacos, you will need:
Premio Chorizo Sausage, 1 lb, casing removed
Mexican-blend cheese, 8 oz
Yellow onion, sliced
2 sliced bell peppers, 1 red and 1 green
Your choice of flour or corn tortillas.
Keep reading to get the full recipe.
5. Gameday Chorizo Torta
It isn't truly a gameday celebration until friends start bursting through the door with their favorite snacks. From bags of chips to seven-layer-dips and soda of every conceivable flavor, we all know the typical gameday treats. This time, why not spice things up a little bit by making something that will leave your guests begging for the recipe — or at least for you to make it again next time? No matter who comes to your gameday parties, these sandwiches filled with sausage, beans, homemade salsa, cheese and avocado will be a hit with all your guests.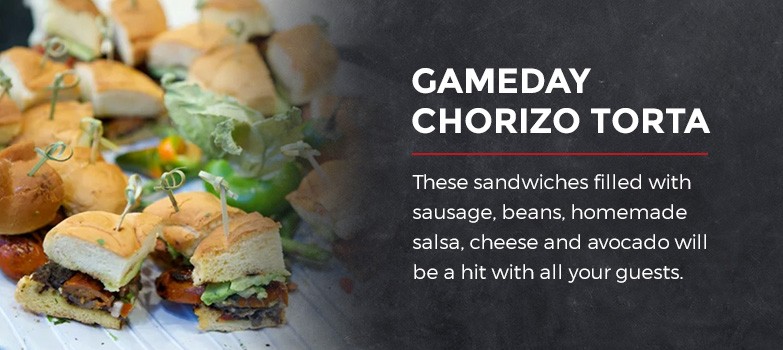 You'll need to gather the following ingredients to make the Gameday Chorizo Torta:
For the salsa:
6 links Premio Chorizo sausage
2 Roma tomatoes, diced
1 minced jalapeno
Cilantro, 2 tbsp
1 lime
Butter, 6 tbsp
6 rolls, Kaiser or Portuguese
1 avocado
For the beans:
Olive oil, 2 tbsp
1 minced jalapeno
1 minced garlic clove
Ground cumin, ½ tsp
Chipotle powder, 1 tsp
Lager-style beer, your choice, 8 oz
Black beans with liquid, 1 can
Read the whole recipe for yourself, and get ready for a gameday like no other.
6. Chorizo Skillet Rice
There are some days when cooking is fun — when you want to spend an hour or more perfecting an intricate recipe before sharing it with your loved ones. Other days, particularly after a long hard day of work, you probably just want something easy. For those times when you need a simple fix, we've got your back with this easy Chorizo Skillet Rice recipe — ready in 30 minutes or less. Best of all? It's also completely gluten-free to take one extra worry off your plate.
You'll need these ingredients to prepare this dish:
Premio Chorizo Sausage, 4 oz, casings removed
Olive oil, 1 tsp
Long grain rice, 1 cup
Chicken broth, 1 ½ cups
2 seeded and chopped tomatoes
Fresh chopped cilantro
Salt and pepper
Keep reading here to get the full recipe.
7. Macho Nachos With Premio Chorizo
If cooking is something you love, then it's also likely something you'll want to keep practicing. You'll want to challenge yourself with new and exciting recipes and techniques as you explore the boundaries of your skills. Are you looking to try something a little more elegant and intricate than what you might make every day? Why not give these Macho Nachos with Premio Chorizo a try?
The ingredients you will need are:
Stale tortilla corn chips
Canola oil
Premio Chorizo sausage, crumbled and removed from casing
Chopped garlic, 1 tbsp
Ground cumin ¼ tsp
Cooked pinto beans, 2 cups
Chili powder, ½ tsp
Salt, ¼ tsp
Grated pepper jack cheese, 1 ½ cups
Grated sharp cheddar cheese, 1 ½ cups
1 white onion, diced
5 jalapenos, seeded, stemmed and sliced
Sour cream, 1 cup
Fresh lime juice, 1 tbsp
Fresh cilantro leaves, chopped
Grab the full recipe here and get busy cooking.
8. Premio Chorizo Huevos Rancheros Omelet
Nothing makes the morning a little brighter than a delicious breakfast full of pizzazz. When you try this Premio Chorizo Huevos Rancheros Omelet, you can also enjoy the fact that it's low-carb and completely gluten-free. Focus on enjoying the flavors without any guilt about breaking your diet.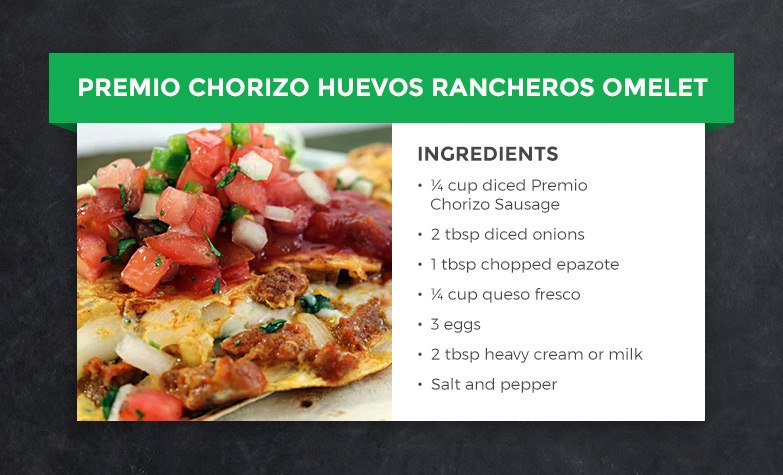 In addition to the ingredients for the salsa and the Pico de Gallo, here's what you'll need to make this dish:
Diced Premio Chorizo Sausage, ¼ cup
Diced onions, 2 tbsp
Chopped epazote, 1 tbsp
Queso fresco, ¼ cup
3 eggs
Heavy cream or milk, 2 tbsp
Salt and pepper.
Read the full recipe and list of ingredients here.
9. Roasted Chorizo, Garlic and Vegetable Farfalle
You know those days when Christmas draws near? When you're desperately trying to capture the spirit of the season by cooking a unique dish everyone will love? We've got a solution for you. Try our Roasted Chorizo, Garlic and Vegetable Farfalle for a colorful holiday meal unlike any other. This recipe features roasted veggies and chorizo, farfalle pasta, garnishes of cheese, basil and garlic all tossed together in the same dish for a treat that will tempt even the pickiest of holiday eaters.
To make this recipe, you will need to gather:
Premio Chorizo sausage, 16 oz
1 carrot, peeled
1 bell pepper, red
1 zucchini
1 yellow squash
1 red onion, sliced into rounds
1 garlic cluster, fresh
1 diced tomato
¾ cup shredded Asiago or Romano cheese — choose your favorite
Farfalle pasta, 1 lb
Olive oil
Salt and pepper
Ready to start experimenting with this recipe and seeing if it might be right for your family? Read the whole recipe here.
10. Premio Stuffed Jalapeno Peppers
If you have guests coming over and know they live for spicy foods, there's no better appetizer to serve than these Premio Stuffed Jalapeno Peppers. While these may not be a great choice for young kids or those who don't enjoy the heat, we think they'll be a huge hit when served to the right crowd. They're also gluten-free and low-carb, making them great for many different diets.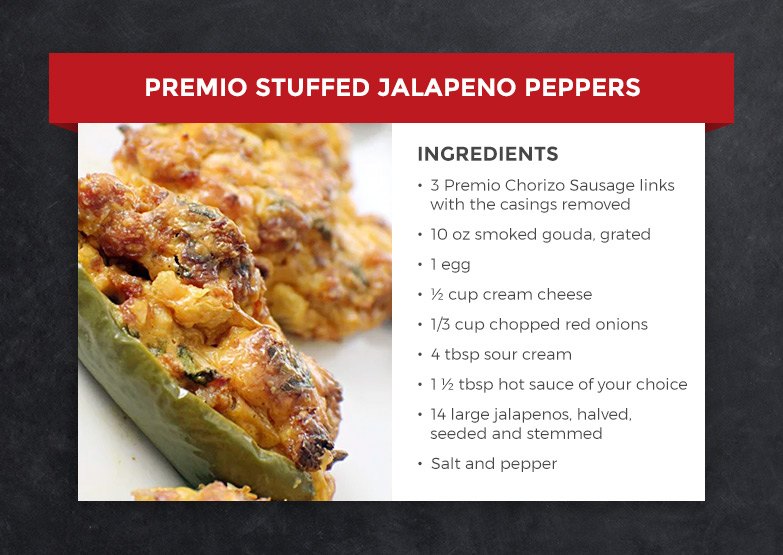 The ingredients you will need are:
3 Premio Chorizo Sausage links with the casings removed
Smoked grated Gouda, 10 oz
1 egg
Cream cheese, ½ cup
Chopped red onions, 1/3 cup
Sour cream, 4 tbsp
Hot sauce of your choice, 1 ½ tbsp
14 large jalapenos, halved, seeded and stemmed
Salt and pepper
Find Premio in a Store Near You Today
Ready to try our mouthwatering whole and ground chorizo recipes? You can't do it without the right chorizo sausage — and nothing will taste better in our original recipes than our authentic Premio chorizo.
Use our handy store locator tool to find a Premio distributor near you, and explore all our delicious chorizo recipes today.