Best Thanksgiving Recipes
Thanksgiving can be a stressful time for even the most seasoned and prepared home cooks. Depending on the size of your family and guest list, you could find yourself responsible for feeding a significant number of people. Other factors can also add to the stress of Thanksgiving Day cooking, like kitchen size, budget, resources, time and a lack of helping hands.
When it comes down to deciding on the best Thanksgiving Day recipes for your family, there are a few things to consider. Are you serving the food in courses or buffet style? Do you need to make options for people with dietary restrictions? What's the main dish? Which dish takes the longest time to cook? Which takes the least amount of time?
This process can quickly become overwhelming, especially if you're doing it for the first time. To help ease the stress and chaos of Thanksgiving, here's a list of some of the best dishes to make for Thanksgiving this year.
Premio Chicken Sausage, Cranberry and Brie Egg Rolls
If you're looking for a nontraditional recipe to spice up your Thanksgiving dinner table this year, these sausage, cranberry and brie egg rolls are the way to go. This Asian-inspired dish will be sure to impress your guests and family, whether you serve it as an appetizer or a side dish.
These delicious treats perfectly balance the classic flavors of Thanksgiving with modern cooking by combining the traditional sausage and cranberry sauce with the unique twist of brie and egg roll wraps. Once you try this easy and quick recipe, it'll soon become a staple at every Thanksgiving.
To prepare this recipe, you'll need:
1 cup of Premio Sweet Italian Chicken Sausage, removed from casings and crumbled
Salt and pepper to taste
1/8 tsp. of poultry seasoning
8-10 egg roll wraps
1 cup of cranberry sauce
8-10 slices of brie cheese
1 tbsp. of honey
1 tbsp. of Dijon mustard
Holiday Twice-Baked Sweet Potatoes
Sweet potatoes are a staple of the holiday season. Whether you choose to bake, mash or broil them, these golden veggies are a fantastic addition to any Thanksgiving table. However, some home cooks find themselves in a sweet potato rut, making the same dish over and over again.
If you're looking to add a new Thanksgiving recipe to your sweet potato repertoire, this is the perfect recipe to try out this season. The cranberries, brown sugar and cinnamon in the dish bring out the natural sweetness of the potatoes, while invoking the flavors we all know and love at Thanksgiving. The double-baking method also infuses all the flavors together and leaves the skin delectably crispy.

For this recipe, you'll need:
1 lb. of Premio Sweet Italian Sausage, removed from casings
8 medium sweet potatoes
1 tbsp. of olive oil
2 tbsp. of cold butter, cut into cubes
4 tbsp. of brown sugar
1/2 tsp. of cinnamon
1/2 tsp. of salt
2 tbsp. of flour
2 tbsp. of pecans, finely chopped
1/4 cup of dried cranberries, chopped
Premio Sausage Stuffing Cups
Stuffing is one of the most popular Thanksgiving side dishes on the dinner table. Whether you stuff it into a large bird or make it on its own, stuffing comes in all different flavors, textures and styles. However, stuffing is another dish most home cooks only know how to make one or two ways. After a few Thanksgiving dinners, the recipe might become boring.
One way to add an exciting twist to your stuffing is by baking it into small, individual bites — or stuffing cups. This recipe features tasty chunks of sweet Italian sausage and a full range of spices, including thyme, sage and nutmeg.
To make this dish, you'll need:
1/2 lb. of Premio Sweet Italian Sausage, removed from casings
9-10 tbsp. of butter
1 lb. of white bread, crusty and cut into cubes
1 cup of celery, chopped finely
2 cups of yellow onion, finely diced
1/2 cup of parsley, minced
1 tbsp. of thyme, minced
1/4 tsp. of grated nutmeg
1 tbsp. of sage, minced
Salt and pepper to taste
2 large eggs, beaten
1 1/2 cups of chicken stock
Pumpkin-Filled Ravioli With Brown Butter Sauce, Sweet Premio Sausage and Pecans
Although this is the most ambitious and complex recipe on our list, this homemade pumpkin ravioli dish offers the biggest payoff with a decadent, beautiful result. While it might seem challenging to make from-scratch pasta, it's not as hard as it looks. There are only four ingredients in pasta: water, flour, eggs and salt. Once you've mastered the ratios, you can make almost any pasta dish at home and impress your entire family.
The filling is a tasty combination of pumpkin, sausage and a range of ground spices. The sweetness of the filling perfectly complements the smoothness of the sauce. With just a touch of acidity and nuttiness, the decadent sauce rounds out the flavors of the rest of the dish. If you're looking to impress your family or guests this Thanksgiving, this dish will be the perfect centerpiece of your dinner.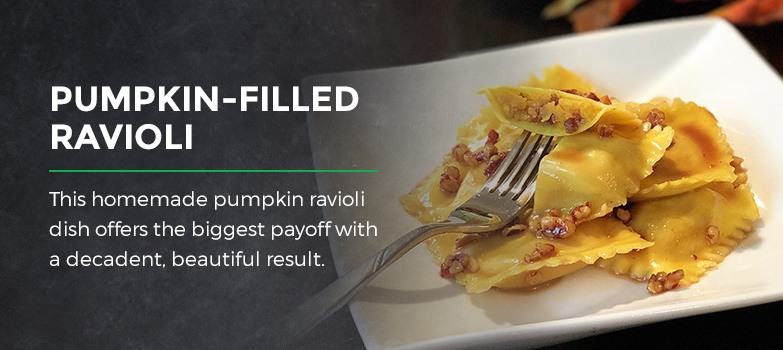 To prepare this recipe, you'll need:
1/2 tsp. of salt
2 1/2 cups of flour
2 eggs
1/2 cup of warm water
For the filling:
1 lb. of Premio Sweet Italian Sausage, removed from casings
8 oz. can of mashed, organic pumpkin
2 tbsp. of brown sugar
1/8 tsp. of ground nutmeg
1/8 tsp. of ground ginger
1/8 tsp. of ground cinnamon
1/8 tsp. of ground allspice
1/8 tsp. of ground cloves
Salt and pepper to taste
For the sauce:
4 oz. of butter
1 1/2 tbsp. of brown sugar
2 1/2 tbsp. of apple cider vinegar
1/4 cup of toasted, chopped pecans
Thanksgiving Pizza
If you're looking for an easy recipe to serve as the main course of your Thanksgiving dinner, this pizza dish is an excellent option. The recipe offers a fun Thanksgiving twist on the classic Italian recipe everyone loves. Instead of tomato sauce and cheese, this recipe calls for stuffing, mashed potatoes and cranberry sauce.
The whole family can help make this simple dish. If you've got small kids who want to help out in the kitchen, you can prepare all the toppings and let the children decorate the dough however they want. Plus, Thanksgiving dinner always tastes better when many hands help make it.
For this family-friendly recipe, you'll need:
1/2 lb. of Premio Sweet Italian Chicken Sausage, cooked
1 homemade or premade pizza crust
4 tbsp. of butter
1 tbsp. of garlic olive oil
1 cup of prepared stuffing mix
1 cup of prepared mashed potatoes
1/2 cup of cranberry sauce
1 cup of fresh mozzarella
Savory Stuffing
As you start searching for the best Thanksgiving recipes to serve your family this year, you'll probably encounter a significant amount of bland stuffing recipes. Most home cooks tend to think of stuffing as a vehicle for other flavors, rather than a dish that can stand on its own. However, savvy cooks know stuffing is a vital part of any Thanksgiving dinner, as long as it brings something interesting to the table.
This savory stuffing recipe is an excellent way to breathe new life into your dinner. Whether you're using it to stuff a bird or as another side dish, this recipe is sure to impress. Between the cornbread, sweet Italian sausage and pine nuts, each flavor works together to create a meal worthy of the holidays.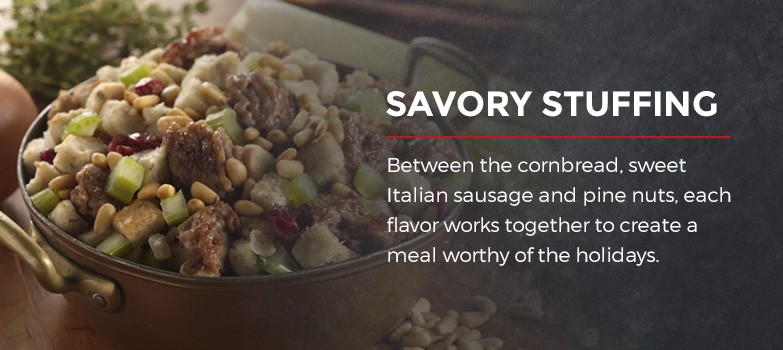 For this dish, you'll need:
12 oz. of Premio Sweet Italian Sausage, cut into small pieces
3/4 cup of red onion, finely chopped
1/2 cup of orange pepper, chopped
1/2 cup of celery, chopped
2/3 cup of dried cranberries
1/2 cup of butter
5 cups of dry white bread, cut into cubes
4 cups of crumbled cornbread
1 tsp. of poultry seasoning
1/8 tsp. of white pepper
3/4 cups of toasted pine nuts
1 1/4 to 1 1/2 cup of vegetable broth
My Traditional Green Bean Casserole
Green beans aren't usually at the top of most kids' "favorite foods" list. However, this green bean casserole will have the smallest hands at the Thanksgiving dinner table reaching for more. Instead of dry, tasteless beans, this casserole recipe drapes the beans in bacon bits, crispy potatoes and cream of chicken soup. With only a few steps and minimal preparation, you can have a delicious casserole on the table that will become a favorite Thanksgiving recipe for years to come.
To prepare this dish, you'll need:
1 lb. of your favorite Premio Sausage, sliced into bite-sized pieces
4 strips of bacon
1 medium onion, chopped
4 large potatoes, sliced thinly
1 can of green beans
1 can of cream of chicken soup
1/4 tsp. of McCormick Grill Mates Molasses Bacon Seasoning
Brown Butter Garlic Honey Roasted Carrots With Sweet Premio Sausage
Carrots are another tricky vegetable to get children to eat, especially on Thanksgiving. If carrots are too raw, they can break baby teeth, and if you overcook them, they lose all flavor. Typically, the best way to get kids to eat vegetables like carrots is by hiding them in other foods.
Sausage does a particularly good job of complementing sautéed carrots. This recipe for roasted carrots and sausage with brown butter, garlic and honey will be a hit at Thanksgiving for adults and children alike. The sharpness of the garlic and honey intensifies the flavors in the sweet Italian sausage, and the juices from the sausage coat the carrots to make every bite a mouthwatering experience.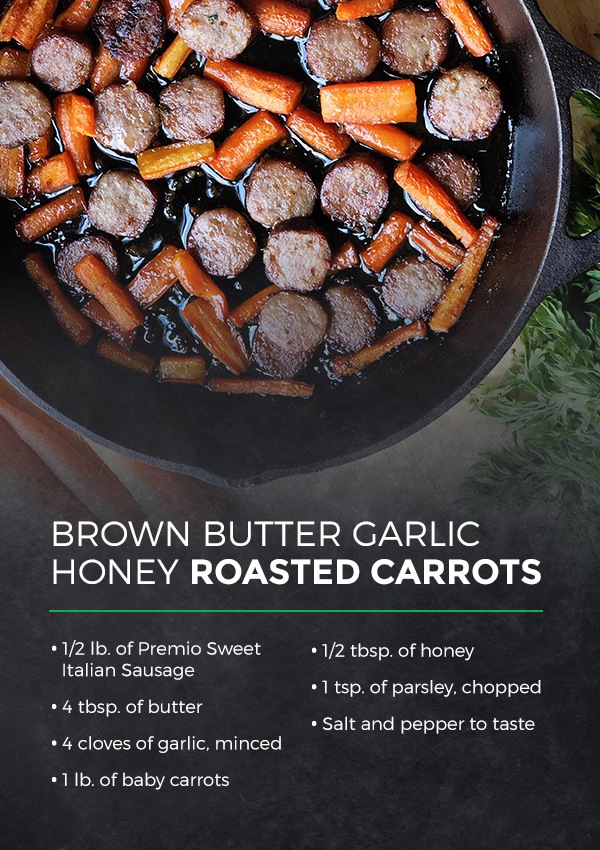 For this recipe, you'll need:
1/2 lb. of Premio Sweet Italian Sausage
4 tbsp. of butter
4 cloves of garlic, minced
1 lb. of baby carrots
1/2 tbsp. of honey
1 tsp. of parsley, chopped
Salt and pepper to taste
Cornbread Stuffing Muffins With Sausage
Two of the best Thanksgiving dishes are stuffing and cornbread. The sweet cornbread provides a contrast of texture and a vessel for you to catch all the excess juices and sauces on your plate, whereas stuffing serves as a versatile tool for cooking a poultry dish, as well as an independent side dish.
However, if you don't have the time or resources to make both of these Thanksgiving classics, you can combine them into one dish with these cornbread stuffing muffins with sausage. This versatile recipe will work well as either an appetizer or side dish on Thanksgiving Day. Why make two dishes when you can make one?
To prepare this recipe, you'll need:
1 lb. of Premio Mild Italian Sausage, cooked and chopped into small pieces
1 package of cornbread mix
1/3 cup of diced celery, sautéed
1/3 cup of cranberries
4 tbsp. of red or green onions, chopped
Premio Sausage Mac 'N' Cheese
Gooey, creamy mac 'n' cheese is easily the best Thanksgiving food, but is there a way to make it even better? You'll find recipes all over the internet and in cookbooks promising they hold the secret to great mac 'n' cheese. Some swear it comes down to the type of cheese, while others credit the amount. However, the secret to great mac 'n' cheese isn't in the cheese itself, but rather in the other ingredients.
With this recipe for sausage mac 'n' cheese, you can bring your home cooking to the next level and keep all your guests and family members coming back for seconds. Sausage is the perfect addition to mac 'n' cheese, with its crumbly texture and delicious spices.
For this recipe, you'll need:
1 lb. of Premio Sweet Italian Sausage, removed from casings
3 tbsp. of butter
3 tbsp. of all-purpose flour
2 1/2 cups of milk, heated
1 cup of Parmesan cheese, grated
1 cup of cheddar cheese, grated
4 cups of cooked pasta
Crispy Potato Roast With Premio Sausage
Potatoes are an incredibly versatile tool in any meal. From mashing to baking, there are endless methods for cooking potatoes of all types, sizes and colors. However, most people only know how to make potatoes a few ways. Thanksgiving is a great time to try new methods of cooking potatoes, like this crispy potato roast with sausage.
This recipe takes a long time to make, but most of it is in the oven, so you can set it and forget it. The recipe also requires you to cook the potatoes twice. The first time cooks the potatoes through, while the second time makes them crispy on the edges. The contrast in textures, plus the addition of the sweet Italian sausage, makes this dish an ideal addition to any Thanksgiving dinner table.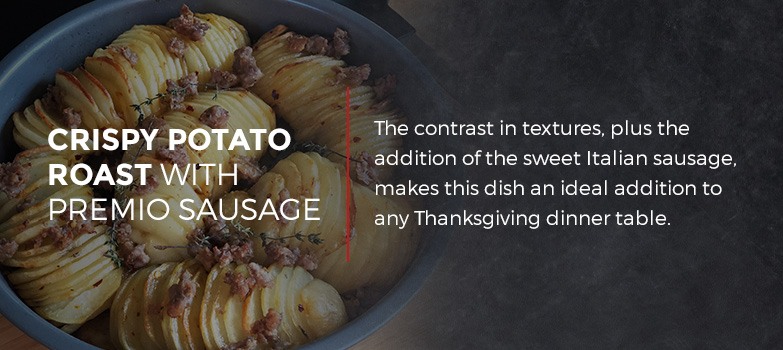 For this recipe, you'll need:
1/4 lb. of Premio Sweet Italian Sausage, removed from casing
3 tbsp. of olive oil
3 tbsp. of melted butter
10 russet potatoes, peeled
1 small onion, sliced thin
Salt to taste
1/2 tsp. of red pepper flakes
4 sprigs of fresh thyme
Find Premio in a Store Near You
Premio Foods has been passionately making fine Italian sausage for over 40 years. We offer traditional Italian favorites, like sweet, hot and mild sausages — but we also honor other classic, ethnic varieties, including our hearty traditional bratwurst, beer bratwurst, chorizo and kielbasa. We also have a variety of healthier options, including chicken and turkey sausage.
At Premio, we have worked tirelessly to maintain the pillars of family-owned businesses. We have committed to preserving the quality of our products, the loyalty of our customers, the trust of our employees and the support of our community.
If you're looking for a delicious, high-quality sausage to complement your Thanksgiving dinner this year, look no further than Premio. With our full range of products, you'll be sure to find the product you're looking for.
To find Premio sausages in a store near you, use our handy store locator tool.