Easy Recipes to Make on Vacation
Are you hoping to save a bit of money on your family vacation by making some meals on your own? Providing your own food on a family trip doesn't have to mean eating the same boring thing every day or surviving off of snacks.
Take a look at these tips and recipes to help you save money, serve some delicious meals and avoid the stress of coming up with dinner ideas while on vacation.
3 Quick Tips for Planning Meals for Vacation
Before looking at specific vacation rental food ideas, here are a few general meal planning tips to make your vacation dinners easy:
1. Plan Ahead
You can ensure you have plenty of easy family meals while on vacation by planning ahead. When you pick out your recipes before ever leaving the house, you can have a relaxing vacation free of stressing out over meal planning or missing ingredients. Mapping out your meals ahead of time also allows you to pack non-perishable ingredients to bring with you.
2. Keep It Simple
When it comes to keeping your vacation rental meals simple, there are two main components to focus on — ingredients and recipes. Here's what to keep in mind when picking each:
Ingredients: Pick up a bunch of basic, versatile ingredients when you go grocery shopping, such as bread, noodles, sausage, cheese and veggies. These ingredients can be used in a variety of recipes, like sandwiches, salads and pasta dishes. Stay away from specialty foods or spices that can only be used for one dish and might not be enjoyed by everyone in the family.
Recipes: Along with your ingredients, you'll want to keep your recipes simple. No one wants to spend half of their vacation in the kitchen. Choosing simple recipes can both save you time and keep you from having to hunt around for complicated kitchen gadgets. Look for one-pot meals and sheet pan entrees to save you clean-up time, too.
3. Make the Most of Leftovers
Think about how much food your family is likely to have left after a meal and build this into your meal plan. You may be able to save yourself from a couple of extra days of cooking during your vacation if you use your leftovers wisely. In addition, try to pick recipes that are refrigerator or freezer friendly so you can store them for as long as you need.
10 Easy Vacation Dinners
If you're stuck on meal planning, here are 10 easy vacation meals to cook that the whole family will love:
1. Sausage, Potato and Pepper Skillet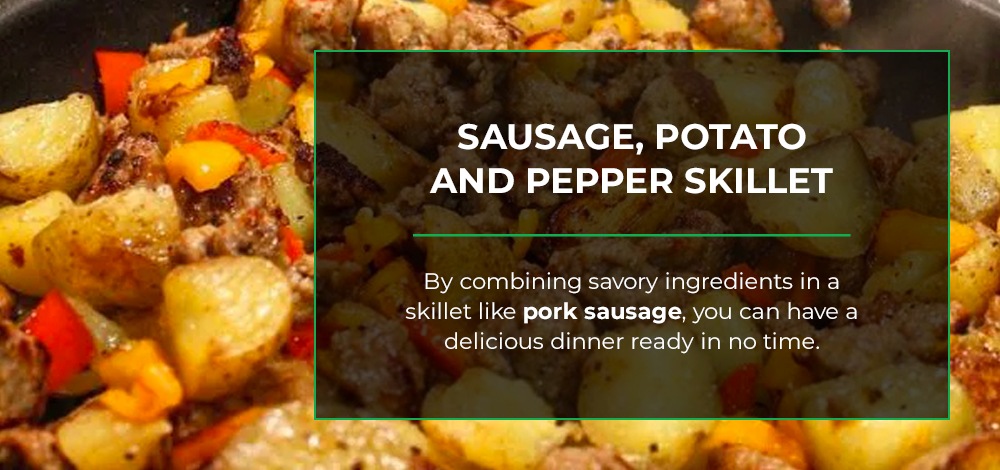 If you want a simple dinner with minimal clean-up, this sausage, potato and pepper skillet recipe is the meal for you. Just boil some potatoes in a large pot, and while they are cooking, chop up the remaining ingredients. Once the potatoes are done, cut them up as well and toss everything in a skillet. By combining mouth-watering, savory ingredients like pork sausage, potatoes and bell peppers in a skillet, you can have a delicious dinner ready in no time.
2. Sausage, Peppers and Onion Sheet Pan Dinner
This sausage, peppers and onion sheet pan recipe is perfect if you only want to dirty one pan. By using this recipe as your secret weapon, you can have a satisfying meal of Premio Sweet Italian Sausage and roasted vegetables in the blink of an eye. Simply lay out all the ingredients on a baking sheet, place the baking sheet in the oven for about an hour and enjoy!
3. Taco Salad
This taco salad recipe is an easy vacation meal that kids and adults alike will love. This recipe makes the most of the few ingredients it calls for by using crumbles of Premio Sweet Italian Sausage Meat, Mexican cheese and zesty salsa to pack the salad with flavor. The best part about a taco salad is that it is a completely customizable meal, so you can swap out ingredients or include additional toppings that your family will enjoy.
4. Nonna Josephine's Rigatoni
With just four ingredients, this delicious rigatoni recipe couldn't be easier. To make this mouth-watering dish, all you need to do is boil pasta, brown sweet Italian sausage in a skillet and mix it all together with some cheese and eggs in a large pot. You'll have a tasty meal without sacrificing any more precious vacation time than you need to.
5. Egg Roll in a Bowl
Get all the delightful tastes of an egg roll without going to the trouble of creating a bunch of tiny, individual rolls with this egg roll in a bowl recipe. This one-pan meal includes all the fan-favorite flavors of a traditional egg roll, including savory pork sausage, sesame oil, ginger and soy sauce. Sprinkle in some coleslaw for a bit of texture, and you've got yourself an easy vacation meal that tastes as good as takeout.
6. Grilled Quesadillas
Quesadillas are a classic quick meal for a reason — they're simple, kid-friendly, easy to make and delicious. If you're looking to live it up a little on vacation, this grilled quesadillas recipe elevates the humble cheese version by adding a few finer ingredients like Premio Sweet Italian Sausage links, seedless red grapes, spinach and scallions. Once your family tastes these culinary creations, they'll never want to go back to boring old cheese quesadillas again.
7. Sausage Mac and Cheese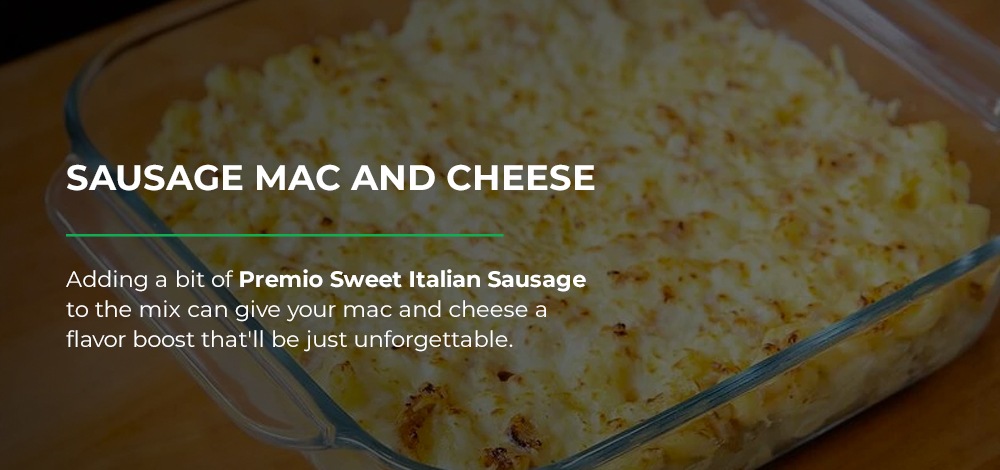 Packed with ooey-gooey cheesy goodness, mac and cheese is always a crowd-pleaser. Fortunately, it's also an incredibly easy meal to prepare that doesn't require any fancy ingredients or kitchen equipment. Take your traditional mac and cheese up a notch this vacation by trying this sausage mac and cheese recipe. Adding a bit of Premio Sweet Italian Sausage to the mix can give your mac and cheese a flavor boost that'll be just as unforgettable as your family vacation.
8. Mexican Spaghetti
Spice up your pasta night with this Mexican spaghetti recipe. This Tex-Mex twist on the traditional Italian meal is just as easy to make as regular spaghetti, while offering double the flavor. Thanks to slices of spicy Chorizo sausage, bold salsa and spices like chili powder and cumin, this Mexican spaghetti is a meal that will stand out without requiring you to do anything more involved than boiling pasta and stirring up a sauce.
9. Sweet Italian Sausage With Four Cheese Tortellini
If you're looking for a pasta dish with some more familiar flavors, look no further than this sweet Italian sausage with four cheese tortellini recipe. By making a simple sauce and tossing it with tortellini, you can enjoy the amazing flavors of white wine, sundried tomatoes, mushrooms and Premio Sweet Italian Sausage. Even if you're not vacationing in Italy, you might feel like you're there.
10. Chicago Deep-Dish Pizza
Who doesn't love treating themselves to a slice of pizza on vacation? To take your pizza-eating experience to the next level on your vacation, though, try this Chicago deep-dish pizza recipe. A homemade pizza night is also the perfect opportunity to get the kids involved with prepping dinner and make even more fun vacation memories. They'll love adding tasty ingredients like Premio Sweet Italian Sausage, fresh tomatoes and a dash of oregano to their pizza. A hand-held meal means less silverware to wash, too.
Purchase Premio Foods for Your Vacation
To ensure your vacation meals go off without a hitch, make sure to stock up on Premio ingredients before you go. Premio products are perfect for cooking vacation meals because they always produce a taste that is fresh, familiar and authentically Italian. Premio sausage contains quality cuts of meat and no fillers — the way sausage should be!
Use our store locator to find Premio sausage nearest you, and get ready to enjoy some memorable meals on your vacation.