8 Savory Brunch Recipes to Try
A delightfully savory dish is essential to a good brunch spread. Since so many brunch favorites are sweet — pancakes, waffles, French toast — a savory brunch dish can easily stand out and may steal the show!
To help you make a knockout brunch dish, we'll discuss what makes a savory brunch recipe great before giving you a few of our favorite recipes to ensure your next brunch is sensational.
What Makes a Good Savory Brunch Recipe?
Everyone recognizes a savory brunch recipe as soon as they taste it. It maximizes classic breakfast ingredients, such as sausage, eggs, bacon and potatoes, and transforms them into one cohesive brunch dish. The recipe must effortlessly blend and balance these rich, savory flavors with lighter, more refreshing ingredients like sauteed veggies to be a success.
Instead of merely plopping some scrambled eggs and a slice of bacon on your plate, a brunch recipe worth getting out of bed for expertly incorporates these ingredients to create something beautiful, such as a quiche, casserole or frittata. Ideally, the perfect savory brunch recipe is visually pleasing as well as appetizing. To impress your brunch guests even further, dream up a cute or creative presentation for a dish.
Top 8 Savory Brunch Recipes
If you get stuck in a recipe rut, check out these eight savory brunch ideas that are sure to brighten your day.
1. Wild Mushroom and Sausage Quiche
Quiche is a classic brunch dish for a reason — it is the perfect combination of fluffy eggs, filling ingredients and flaky crust. This wild mushroom and sausage quiche elevates the traditional recipe by incorporating delicious crumbles of Premio Sweet Italian Sausage and mouthwatering shiitake mushrooms. With such sophisticated flavors perfectly placed in a pastry pie crust, this quiche will add a touch of elegance to any brunch.
If you're somehow not sold on this quiche yet, it is also a breeze to prepare. Heat the sausage and mushrooms in a skillet before combining them with the egg mixture and pouring everything into the pie shell. Bake for about half an hour, slice and enjoy!
2. Mini Frittatas in a Jar
The only brunch option better than a frittata is a miniature version of a frittata. But don't let their size fool you — these adorable mini frittatas are jam-packed with flavor. By combining Premio Sweet Italian Sausage with equally hearty ingredients like eggs, manchego cheese and potatoes, these mini frittatas contain all the components needed for a successful savory brunch.
While frittatas offer the same amount of indulgent yumminess as omelets, they are much easier to make. And by baking these tiny delicacies in canning jars, you'll win major points for presentation.
3. Avo-Sausage Egg Melt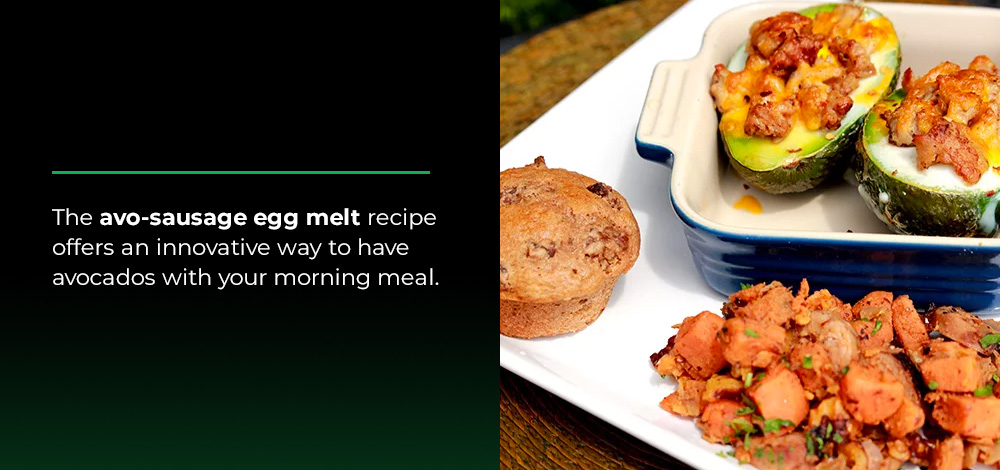 Looking for a more modern take on savory brunch? This avo-sausage egg melt recipe offers an innovative way to have avocados with your morning meal. Acting as the perfect built-in serving dish, avocado halves support a scrumptious blend of Premio Hot Italian Sausage slices, eggs and cheese to create a deliciously melty main dish.
To prepare this dish, all you need to do is hollow out the avocado halves and broil an egg in each half for a bit before adding the remaining ingredients and continuing to broil. Once the cheese has melted, you'll know it's time to take the avocados out of the oven.
4. Sausage-Hash Brown Quiche
This unique quiche recipe offers a fun twist on the old classic by using tasty hash browns to form the crust. With Premio Sweet Italian Sausage links, diced peppers, cheese, spinach and spices, this quiche checks all the boxes of iconic savory brunch flavors. Layering all these flavors on a bed of shredded hash browns may make this quiche the ultimate savory brunch dish.
Along with making the quiche extra delicious, a hash brown crust means this quiche is a breeze to make. First, soften the hash browns by baking them in a large casserole dish. As the hash brown crust cooks, saute the sausage, peppers, spinach and parsley. Once the crust is out of the oven, crumble the sausage mixture over the dish before whisking the eggs with the milk and spices and pouring the wet mixture over the dry ingredients. Sprinkle with cheese, bake and dig in!
5. Breakfast Sliders
Who says you can't have sliders for breakfast? This brunch-worthy sliders recipe uses pancakes as the buns, sandwiching salty bacon and flavorful Premio Italian Sausage links between the sweet bookends to create a perfectly balanced sweet and savory meal. These expertly paired flavors are sure to wow everyone at your brunch table.
To prepare these breakfast sliders, make the bacon patty by shredding half a potato and scrambling an egg with the potato shavings, bacon pieces and sausage crumbles. Form the meat mixture into patties and fry them in a skillet. Lightly coat two pancakes with maple syrup and ketchup before placing the sausage patty between them to complete this sweet and savory masterpiece.
6. Great Morning Brunch Pizza
For those who enjoy leftover pizza in the morning, brunch pizza is sure to become your new favorite treat.  This tasty morning brunch pizza recipe creates the perfect pie by using Premio Sweet Italian Sausage for flavor, shredded hash browns for texture, eggs for extra substance and a sour cream drizzle for a bit of pizzazz.
You can whip this winner of a recipe up in a flash by using refrigerated pizza dough and thawed frozen hash browns. After cooking the sausage in a skillet, all you have to do is sprinkle the toppings over the pizza dough and bake for half an hour.
7. Premio Brunch Cups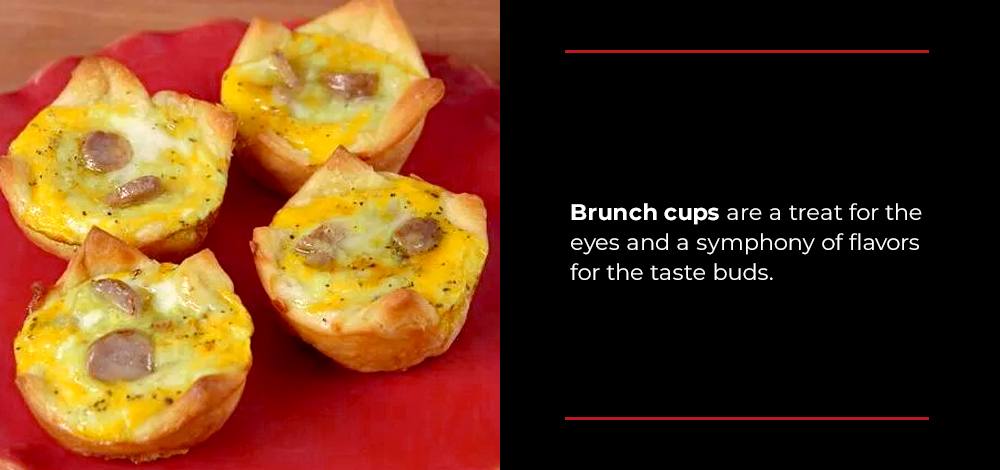 Delight your brunch guests with these cute-as-can-be Premio brunch cups. These brunch cups are a treat for the eyes and a symphony of flavors for the taste buds. Look forward to a burst of salty Premio breakfast sausage and cheddar cheesy goodness when you pop one of these brunch cups into your mouth.
Using crescent rolls as the foundation of the brunch cups makes this recipe quick to prepare while adding a hint of velvety butter to the flavor profile. Place the crescent roll dough in a muffin tin and fill the cups with the egg mixture and sausage pieces before baking for 15 minutes. Be sure to let the cups cool before digging in.
8. Quiche Premio
This rich quiche recipe is a brunch delicacy fit for royalty. From bold and zesty spaghetti sauce to flavorful Premio Sweet Italian Sausage links, there's no question this quiche has it all. And mixing in heavy whipping cream and mayonnaise gives the quiche a light, fluffy texture that you won't find anywhere else.
While this quiche is a surefire home run, it comes together in a snap. All you have to do is put the sausage in a pie shell, spread the spaghetti sauce on top and sprinkle it with cheese. Finally, pour the egg, cream and mayonnaise mixture over everything and pop it in the oven for about 35 minutes.
Purchase Premio to Make Your Savory Brunch Complete
The secret to a successful savory brunch is using top-notch ingredients. You can ensure your brunch dish stands out by using Premio sausage in your recipe. At Premio Foods, we make our products with only the freshest ingredients and no filler or preservatives — the way sausage should be! When you use Premio products, you can be confident you're serving your brunch guests authentic, high-quality food.
Find Premio in the store nearest you and get started on planning the ultimate brunch feast today.