10 Unique Ground Sausage Recipes
We all love classics like ground beef, chicken and pork. These ingredients are perfect for including in many different recipes and are all great staples to keep on hand in your freezer. But variety is truly the spice of life, and some days, it can be fun to mix things up. On the days you're looking to try something a little different, you can substitute these staple ground meats for some tasty ground sausage.
One of the easiest ways to start incorporating ground sausage into your diet is to simply substitute it into your favorite tried-and-true recipes. You can often keep everything about these recipes the same, and just substitute sausage for the meat recommended in the recipe. This is one method of adding a little variety to your protein intake, but we've got another idea as well.
Rather than just re-using your old favorite recipes, why not try some new ones that we've designed specifically around the central ingredient of ground sausage? These recipes are perfect for highlighting the natural flavors of ground sausage, all while complementing them with a variety of other delicious tastes.
Wondering what you can make with ground sausage? Try one of these unique recipes and be sure to let us know how you liked it.
Ground Sausage Recipes to Try
Grab your ground sausage and put it to work in one of these creative recipes.
1. Premio Avocado Sausage Garlic Bread
Avocado toast is truly having its moment in the sun right now. With little skill, you can easily whip up a clever twist on this fan-favorite with our Premio Avocado Sausage Garlic Bread. These slices of bread are packed with flavors and toppings to make for an appetizer that is healthy, delicious and perfect for keeping your guests entertained before you serve dinner. If you're feeling adventurous, it also makes a terrific breakfast.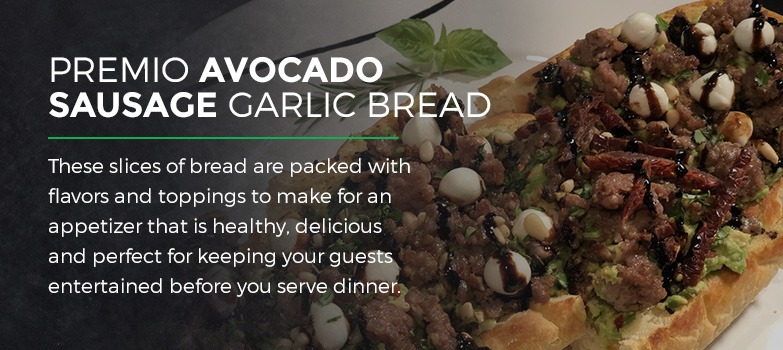 Here's what you'll need to prepare your own take on this recipe:
Premio Sweet Italian Sausage, 1 package, casings removed
Italian bread, 8 oz.
Olive oil, 3 tbsp.
Butter, 2 tbsp.
Avocados, 2
Minced garlic cloves, 5
Sun-dried tomatoes, dried, drained and chopped
Fresh mozzarella cheese
Pine nuts
Chopped fresh rosemary
Chopped fresh basil
Chopped fresh parsley
Balsamic vinegar
Crushed red pepper flakes to taste
Salt and pepper to taste
Get the full recipe and try it for yourself today.
2. Premio Sausage Butternut Squash Risotto
Who says appetizers need to be finger foods? On chilly autumn days, you might rather serve your guests something that'll warm them up and carry all the cozy flavors we love best about fall. For times like this, Premio Sausage Butternut Squash Risotto is just the thing. This recipe serves four and is the perfect side dish or snack for a brisk fall day.
To prepare this recipe, make sure to have these ingredients on hand:
Premio Sweet Italian Sausage Meat, 1 package
Chicken stock, 4 cups
½ butternut squash, diced and peeled
1 Vidalia onion, diced
Olive oil, 3 tbsp.
Rice, 1 1/2 cups
Dry white wine, 1/2 cup
Chopped rosemary, 1 tbsp.
Butter, 2 tbsp.
Parmesan cheese, 1 cup
Salt
Pepper
Ready to try this autumn-themed treat for yourself? Grab the full recipe here to get started.
3. BLT + Sausage & Waffle Fries
Some of the very best dishes are the ones you can all share together. When it comes to tear-and-share style dishes that everyone can dig into and enjoy together, we dare you to find anything as flavorful and fun as these BLT + Sausage & Waffle Fries. This dish features homemade waffle fries topped with sausage, cheese, bacon, tomatoes, lettuce and Ranch dressing for an absolute flavor explosion that everyone in your house is sure to love.
To make this recipe, stock up on:
Your favorite flavor of Premio sausage, 8 oz.
2 Yukon gold potatoes, or 1 bag of frozen waffle fries
Shredded mozzarella cheese, 4 oz.
Shredded iceberg lettuce, 1 cup
Diced tomatoes, 3/4 cup
4 bacon slices, cooked and chopped
Ranch dressing
Your choice of vegetable or olive oil
Head over to our recipe section to get the full recipe.
4. Super Sausage Nachos
If you're making something elegant and involved, like a full Thanksgiving dinner, then you might expect to spend the whole day in the kitchen. If you're just looking for a quick snack like a bowl of nachos, however, then the last thing you want is to spend hours making it. That's why we created our Super Sausage Nachos recipe. You can easily whip it up in under 30 minutes flat. This recipe can serve as many as eight people, so it's perfect for breaking out when you have a house full of company.

To make this recipe, you will need the following for the nachos:
Premio Hot Italian Sausage, 1 lb.
Your choice of kidney beans or black beans, 1 can, drained and rinsed
Chunky salsa, mild or medium, 2 cups
Water, 3/4 cup
Taco seasoning, 1 package
Blue tortilla corn chips, 5 cups
Shredded 4-cheese Mexican blend, 1 1/2 cups
For the toppings, be sure you have:
Sour cream, 1/2 cup
Your choice of guacamole, 1/2 cup
Sliced jalapeño peppers, 1/3 cup
Sliced and pitted black olives, 1/3 cup
Sliced green onions, 1/4 cup
If you're in the mood for a quick snack, then continue on to read the full recipe here.
5. Premio Sausage Carbonara
Let's be honest — not all of us are five-star chefs. While some of us might love the challenge of experimenting with different ingredients, flavors and techniques, not everyone feels this way. For some of us, the goal is to create the tastiest dish possible while using only the simplest ingredients and most basic techniques. If this sounds like you, then our yummy Premio Sausage Carbonara might be the perfect solution. This dish uses only four ingredients and is an easy ground sausage recipe to make for dinner that's ready in under 30 minutes.
To create this pasta dish, you will need:
You can find the full recipe here.
6. Three-Cheese Italian Sausage Alfredo Bake
Looking for a dish that will have all your friends and family clamoring for the recipe? Our Three-Cheese Italian Sausage Alfredo Bake is absolutely what you're looking for. This hearty meal is great for entertaining a large party and makes for great leftovers the next day if guests are hanging around overnight. For a new casserole dish that will add a little variety into your rotation, this cheesy and creamy creation is just the ticket.
You'll need to following ingredients to make this recipe:
Premio Sweet Italian Sausage, 1 16-oz. package
Olive oil, 2 tbsp.
Penne pasta, 1 lb.
Alfredo sauce, 2 8-oz. jars
Low-fat sour cream, 8 oz.
Part-skim ricotta cheese, 1 15-oz. container
Fresh shredded Parmesan cheese, 1/4 cup
Crushed garlic cloves, 3
Beaten eggs, 2
Chopped fresh parsley, 1/4 cup
Part-skim Mozzarella cheese, 2 cups
Invite some friends over, grab the full recipe and get busy cooking this delicious ground sausage recipe.
7. Crispy Potato Roast With Premio Sausage
There's one ingredient that's guaranteed to be a hit no matter what form you serve it in, and that's potatoes. We all love our potatoes whether they're mashed, fried, roasted or seasoned, and this Crispy Potato Roast with Premio Sausage is no exception to that rule. Potatoes and sausage work together as the twin stars of this dish and are perfectly complemented by onions, red pepper flakes and a tasteful sprinkling of thyme. This cozy recipe makes the perfect side dish to any fall or winter feast.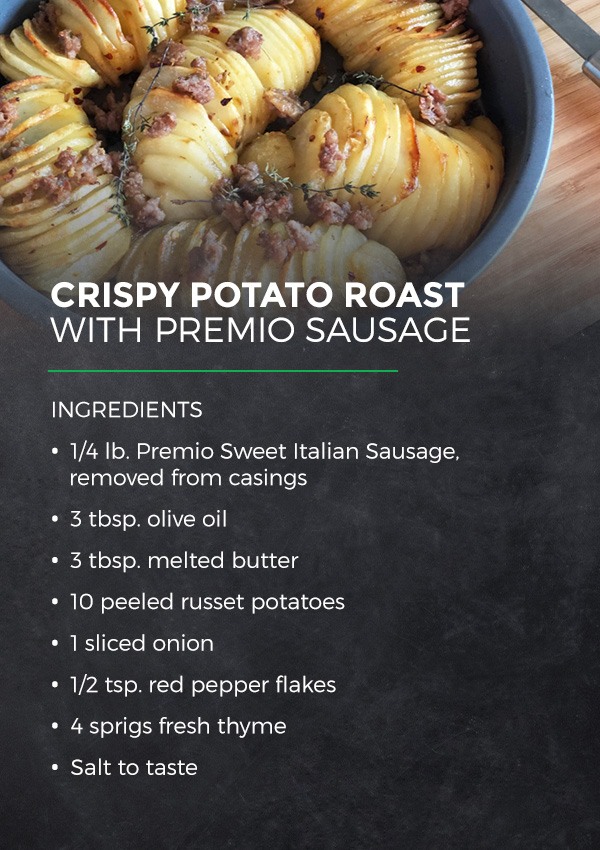 For this recipe, you will need:
Premio Sweet Italian Sausage, 1/4 lb. removed from casings
Olive oil, 3 tbsp.
Melted butter, 3 tbsp.
Peeled russet potatoes, 10
1 sliced onion
Red pepper flakes, 1/2 tsp.
Fresh thyme, 4 sprigs
Salt to taste
Keep reading and grab the full recipe here.
8. Spicy Sausage Pecan Crumbled Salmon
Sausage isn't just terrific as a key ingredient in casseroles and other hearty wintertime dishes. It's also perfect for the summer and makes a great addition to plenty of grilling recipes. In particular, we'd like to introduce you to this one-of-a-kind Spicy Sausage Pecan Crumbled Salmon. With this recipe, you can jazz up your ordinary salmon night by breaking out the grill and topping your fish with spicy sausage and a delicious mixture of Dijon mustard, butter, honey, breadcrumbs and pecans.
Gather these ingredients to get started with this recipe:
Premio Hot Italian Sausage Meat, 1/2 package
4-oz. salmon filets, 4 pieces
Dijon mustard, 1 tbsp.
Melted butter, 3 tbsp.
Honey, 1/2 tbsp.
Breadcrumbs, 1/2 cup
Finely chopped pecans, 1/2 cup
Fresh chopped parsley, 1 tbsp.
Salt, 1 tsp.
Black pepper, 1 tsp.
Ready to get grilling tonight? Check out the full recipe here.
9. Premio Sausage and Spinach Skillet Pizza
If you're like us, then you're probably always looking for new and clever ways to enjoy a good pizza — and we think this is one dish that's utterly delicious no matter how you try it. With our Premio Sausage and Spinach Skillet Pizza, you can keep it traditional or experiment with some toppings you may not have tried before.
Assemble these ingredients to get busy making this masterpiece:
Premio Sweet Italian Sausage, 8 oz., removed from casings
Olive oil, 1 tbsp.
Tomato sauce, 1 5-oz. can
Tomato paste, 2 tbsp.
Grated Parmesan cheese, 3 tbsp.
Dried oregano, 3/4 tsp.
Crushed red pepper, 1/4 tsp.
Dried crushed basil, 1/2 tsp.
Baby spinach, 1 6-oz. package
Frozen pizza dough, thawed, 1 lb.
Shredded mozzarella cheese, 6-8 oz.
Take a look at the complete recipe here and put a new spin on pizza night.
10. Chicken Sausage Cordon Blue Dip
Popping open a container of pre-made dip is easy, but it just can't beat a homemade dip. And if you're relaxing with the family or a group of friends over a weekend movie night, then you're going to want the best. That means stocking up on bags of your favorite chips and stirring up a big batch of our Chicken Sausage Cordon Blue Dip. Whether you're entertaining adults, kids or both, this is one snack that's sure to be a crowd-pleaser.

Here's what you'll need to make it:
Premio Sweet Italian Chicken Sausage, 1/2 lb. casings removed
Finely chopped ham, 2 slices
Cream cheese, 8 oz.
Unsalted butter, 1 tbsp
Grated Parmesan cheese, 1/4 cup
Shredded Swiss cheese, 1/4 cup
Worcestershire sauce, 1/2 tsp.
Dijon mustard, 1 tsp.
Salt, 1/2 tsp.
Black pepper 1/2 tsp.
Crushed Ritz crackers, 8
Your choice of chips or dippers
Read the full recipe here to get ready for your next movie night.
Find More Ground Italian Sausage Recipes
Love these recipes? Wish there was an easy way to track down more meals you can make with ground sausage? Luckily, there is. At Premio Foods, we do more than simply provide you with the top-notch sausage products you need to keep your kitchen stocked. We also want to share our love of cooking, and to us, that means sharing a wide range of recipes that are all based around sausage as the key ingredient. Furthermore, we've made it easy to sort through our backlog of recipes so that you can find exactly what it is you're in the mood for.
Looking for a mouth-watering grilling recipe for a cookout at the end of a lazy summer day? We've got those. Need an appetizer for an upcoming party? We've got those, too. Maybe you're not picky about the recipe itself, but you need it to be quick and easy for those days when you get home from work late. We can help you there as well. Browse our full catalog of recipes to view them all.
Find Premio Sausage in a Store Near You
As tasty as these recipes are, it'll be impossible to make them without the proper ingredients. For these and more of our recipes, you'll want to shop our extensive variety of Premio sausage products. We offer a full range of products from sausage links and patties to ground sausage meat, and they come in a variety of flavors including traditional styles like sweet and hot Italian or international flavors like Chorizo and Andouille.
Wondering where you can stock up on all the Premio sausage you'll need to try out these and other fantastic recipes from our archives? Start by using our handy store locator tool to find a distributor near you. And once you know where you're going, don't forget to save yourself a little money by signing up to receive your Premio coupons today.