10 Unique Sausage Taco Recipes
Taco Tuesday is one of our favorite nights of the week. From hard shells to soft tortillas and spicy to mild meats, there are a million different ways to mix up this delicious dish. If you feel like your taco nights are growing a bit stale as you cycle through the same one or two recipes time and again, why not try mixing things up by swapping out your beef, chicken or pork for sausage as the key ingredient in your tacos?
Perhaps the best part about using sausage in your tacos is the sheer variety it offers. After all, there isn't just one kind of sausage. There's Italian sausage and spicy chorizo and chicken sausage and dozens more flavors in between. Combine these different sausage flavors with a mix of exciting new toppings, and you've got a world of new taco combinations to try.
Not quite sure where to begin with the wonderful world of sausage tacos? We've got plenty of ideas to suggest. To get you started exploring the possibilities, we've compiled 10 of our favorite sausage taco recipes. Give them a try and don't forget to comment back here to let us know which ones are going to earn a place on your rotating roster of best taco recipes.
Sausage Taco Recipes to Try
Next Taco Tuesday, scroll through these recipes and pick a sausage taco recipe to try.
1. Ultimate Sausage Tacos
Where better to start then with the original? Our Ultimate Sausage Tacos combine the best of any basic sausage taco recipe for an experience that provides a terrific window into what this dish can be, while at the same time not going too wild with any of the toppings. This recipe is quick, easy to make and only calls for a handful of ingredients. Here's how to make it:
In a pan, brown one package of Premio Sweet Italian Sausage, removed from their casings. Add one can of rinsed black beans, three-quarters of a cup of water, one package of taco seasoning and mix the whole pan together thoroughly.
To assemble your tacos, grab a package of hard taco shells and fill the bottoms with shredded lettuce. Spoon your taco meat mixture in next, followed by shredded cheese. Top with your preferred amounts sour cream, guacamole and salsa.
2. Taco With a Twist
These tacos still use one of our favorite sausage meats, but they represent a bit more of a twist on the classic taco recipe. If you're feeling a bit more adventurous, this can be a great way to expand your taco repertoire. Best of all? The recipe is so easy you can easily prepare it in 30 minutes or less. Here's how to make your Taco With a Twist:
Pick your preference of Premio Sweet Italian Sausage or Premio Mild Italian Sausage, remove the casings and saute it in a pan. Drain any fat. In a separate pan, cook two packages of chopped frozen spinach. Drain any excess water.
Combine the sausage and spinach, seasoning the mixture with garlic powder, salt and pepper to taste. Divide this mixture evenly among eight flour tortilla wraps. Top with sliced black olives, shredded cheddar cheese and grated Parmesan cheese.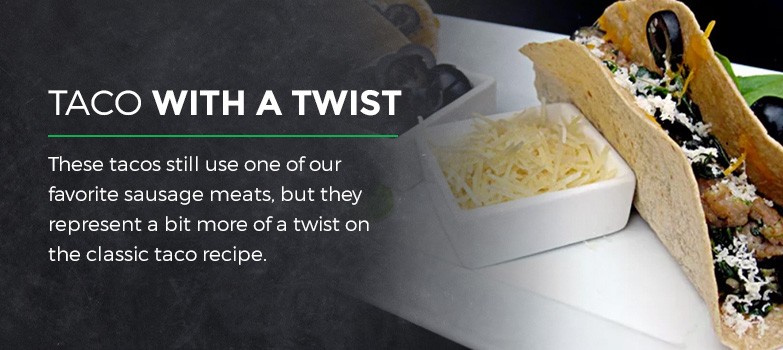 3. Chicken Taco Lettuce Wraps
Looking to get away from taco shells and tortillas? The great thing about these Chicken Taco Lettuce Wraps is that they do away with shells altogether. Instead, you'll wrap all your vegetables, toppings and ingredients in a simple lettuce wrap. Here's what you'll do to whip up a batch of these tasty tacos:
Open a package of Premio Hot & Spicy Italian Chicken Sausage and cook it in a skillet with olive oil, stirring it and breaking it into small pieces as you go. Set this aside once fully cooked.
Peel the leaves off a head of Romaine lettuce, placing two large leaves on each of your serving plates. Pile each leaf with 3 tablespoons of sausage, 1 tablespoon of diced Roma tomato, 1 tablespoon of corn, 1 tablespoon of diced red bell pepper and 2 tablespoons of cheddar or Monterey Jack cheese. If desired, add further toppings of guacamole, sour cream, salsa and black beans. Garnish with cilantro and serve with a side of tortilla chips.
4. Taco Salad
This Taco Salad is about as simple as it gets, with one special twist. There's no wrap or shell at all in this recipe. Rather than eating your taco with your hands and wrapped in a shell, this recipe cuts out the middleman and serves the ingredients mixed together in a big salad. This recipe has a list of ingredients that are simple enough that everyone from adults to kids will enjoy them, and you'll also love how quick and simple it is to prepare. Here's how you'll make it:
Cook a package of Premio Sweet Italian Sausage Meat in a pan until well-browned. Drain any grease. Empty a jar of your favorite type of salsa into a saucepan and warm it on the stove.
On serving plates, begin layering your taco ingredients. Start with chopped lettuce, followed by tortilla chips, sausage meat, chopped tomatoes, shredded cheese and warm salsa.
5. Grilled Shrimp Tacos With Crumbled Sausage & Sriracha Slaw
These Grilled Shrimp Tacos With Crumbled Sausage & Sriracha Slaw are far from your basic sausage taco. With a landslide of exciting ingredients and flavors, they make a terrifically interesting and spicy dinner to try at your next taco night. You'll need your grill for this recipe, so we recommend choosing a warm summer night to sample this recipe. Here's what you'll need to put it all together.
For the tacos:
Premio Hot Italian Sausage Meat, ½ package
Uncooked shrimp, 1 lb.
Minced garlic, 3 cloves
Cayenne pepper, ½ tsp.
Paprika, 1 tsp.
Cumin, ¼ tsp.
Small corn or flour tortillas, 8 or as many as needed
Shredded Pepper Jack cheese
1 quartered lime
For the Sriracha slaw:
Sriracha, 2 tbsp.
Sour cream, 2 tbsp.
Mayonnaise, 2 tbsp.
Sugar, 1 ½ tbsp.
Salt, 1 tsp.
Black pepper, ½ tsp.
Paprika, ¼ tsp.
Cumin, ¼ tsp.
Apple cider vinegar, 1 tbsp.
Shredded cabbage, ½ head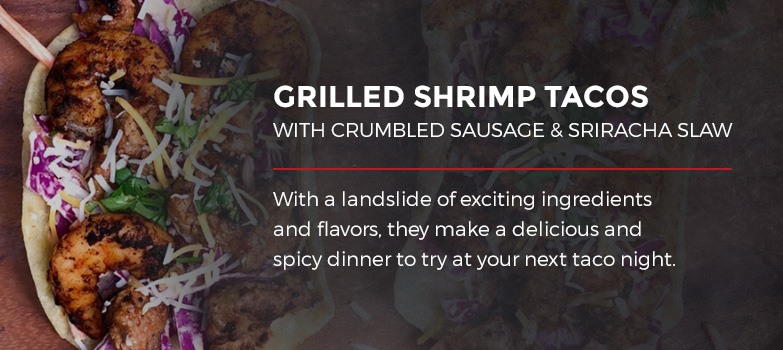 6. Premio Italian Soft Tacos
For a soft taco that evokes all the best flavors of a hearty veggie sauce, there's nothing better than our Premio Italian Soft Tacos. This recipe is always a hit with the kids, and we think it'll be a hit with the adults as well — if not for the delicious flavors alone than certainly for how quick and easy it is to fix after a long day at work. Here's how to make these tacos:
Brown one pound of Premio Sweet Italian Sausage Meat in a skillet, stirring regularly. In another skillet, heat olive oil. Add one green squash, cut into 1-inch cubes, as well as 1 teaspoon of parsley, 1 teaspoon of basil and four cloves of garlic. Coat these ingredients with oil, add 2 tablespoons of water and cover the pan while it cooks on low heat. Stir occasionally.
When the meat is cooked, drain both the meat and vegetables before combining the two. Add 12 ounces of marinara sauce and stir together. Cover the pan and heat for another five minutes.
Place eight small flour tortillas on a plate, cover with a damp paper towel and heat them in the microwave for 45 seconds. Once warmed, fill each tortilla with the meat and veggie mixture, top with shredded Mozzarella cheese and add hot sauce, if desired.
7. Chorizo Tacos
Are you curious to move beyond the realm of Italian sausage taco recipes and ready to test out how some of our further-flung sausage varieties can add to your taco experience? These Chorizo Tacos are a terrific place to start. They only call for six ingredients, making them a perfect choice for nights when the cupboards are looking bare, and you can easily prepare them from start to finish in 30 minutes or less. Here's how to make them:
Remove the casings from one pound of Premio Chorizo Sausage and cook it in a skillet, breaking it up as you go until the meat is well-browned. Remove the meat from the pan when cooked. Use this same pan to saute two sliced bell peppers and one sliced onion until they're soft and tender.
In a non-stick pan, spread eight ounces of Mexican blend cheese. Top this with the cooked sausage meat and the peppers and onions and bake until the cheese has melted. Scoop the mixture out of the pan to serve on warm corn or flour tortillas.
8. Spicy Grilled Sausage Tacos
Cooking sausage on the stove is a great solution for the cold season when your grill is safely packed away, or for days when you want to keep things simple. But on days when grilling is an option, we think it adds something truly special to your sausage and to your sausage tacos. These Spicy Grilled Sausage Tacos give you the chance to put those grilling skills to the test through creating this hot and spicy recipe. Here's how to make them:
Create your sausage glaze by mixing 1 cup of apricot preserves, the juice from two squeezed limes, 1 teaspoon of Tabasco sauce and salt and pepper.
Turn your grill onto high heat. Open a 16-ounce combo package of Premio Sweet & Hot Premio Sausage and brush them with salt, pepper and canola oil. Grill the sausages lightly until they reach a light golden brown, then cut them in half lengthwise and glaze both sides. Place them back on the grill with the glazed side down until they become dark golden brown. When fully cooked, cut them into slices.
Grill your tortillas very lightly on each side before filling them with sausage slices. Top with grated Monterey Jack cheese and garnish with cilantro.
9. Smoked Sausage Tacos
Sometimes, crafting the perfect taco isn't about gathering all the craziest ingredients we can find and throwing them together in a tortilla. Sometimes, it's just about using the simple ingredients we know and love and using them in the most effective way possible. With our Smoked Sausage Tacos, that's exactly what we've tried to do. For a crowd-pleasing taco that keeps it simple while getting the job done right, this recipe fits the bill perfectly. Follow these steps to make them:
Choose one package of either Premio Hot Italian Sausage Meat or Premio Sweet Italian Sausage and cook it on the stove with 1 tablespoon of your favorite taco seasoning. Remove from heat once the meat is browned and fully cooked. Add this meat to either hard or soft taco shells and quickly cover with half a cup of your favorite shredded cheese.
To top off these tacos, add shredded lettuce, diced tomatoes, sour cream, salsa and guacamole in whatever order you prefer.
10. Touchdown Taco Dip
Are tacos one of your favorite dishes of all time? Then why not find ways to use these same flavors in other dishes and meals? Our Touchdown Taco Dip seeks to borrow all the best flavors and ingredients from sausage tacos and re-imagine them as a bowl of dip that's perfect for sharing with friends on the big game day. Here's how you can make it:
Cook and crumble one pound of Premio Sweet Italian Sausage according to the package instructions. Drain this out onto paper towels. In a separate saucepan, combine one jar of salsa con queso, one can of hot dog chili, one can of re-fried beans and 6 ounces of shredded cheddar cheese. Mix in the sausage and stir until the cheese is melted.
Pour this dip into a serving bowl. Layer 8 ounces of sour cream over the top and garnish with two chopped tomatoes. Serve with chips.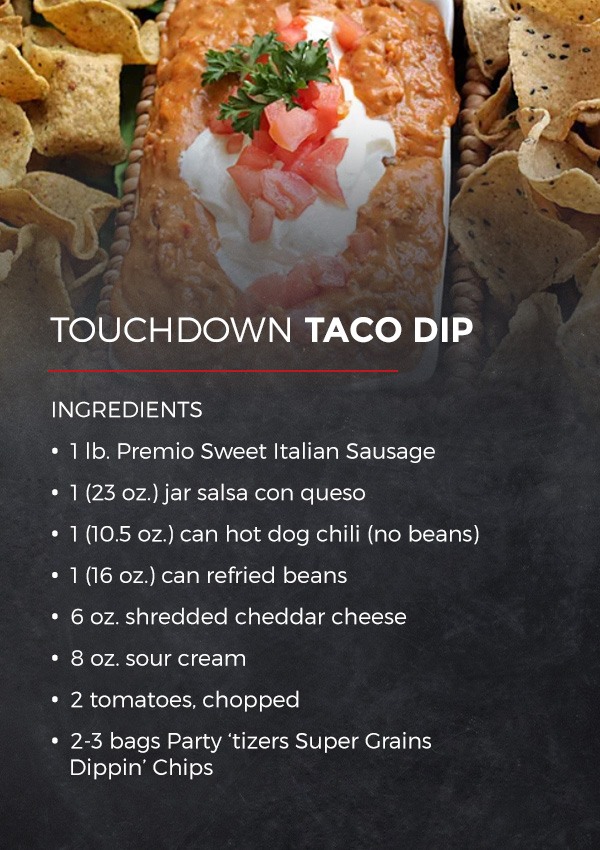 Shop Premio Sausage Today
What's a sausage taco without the sausage? You can have all the fantastic recipes in the world, but if you're missing the key ingredient, then your cooking ventures won't get very far. That's why here at Premio, we make it our business to provide you with both halves of this equation. We create delicious recipes and then supply you with the sausage you'll need to make them.
We don't just sell one basic type of sausage, either. We stock a wide variety of flavors, styles and forms so that whether you're looking for sweet or hot meat, spicy Italian or breakfast sausage and ground sausage meat or links in casings, we've got exactly what you need to get busy cooking your perfect sausage tacos.
Are you ready to get started trying a few of these sausage taco recipes for your family this week? Then start by stocking all the right ingredients. To find out where you can buy Premio sausage, use our store locator tool to locate the Premio distributor closest to you. And once you've done that, don't forget to sign up to receive a coupon today to save on your purchase of Premio products.