How to Throw an Italian Pasta-Themed Party
Few things in life are more fun than a themed party, and there's no theme better than an Italian pasta party! From the vibrant Italian music to the delicious carbs, a pasta dinner party has it all.
Although there are as many pasta party ideas as there are ways to cook pasta, we'll give you our favorite tips for throwing a sensational Italian-themed event. From the pasta party menu to decorations, we've made the ultimate guide to throwing a pasta party fit for Caesar himself.
10 Tips for Throwing an Italian Pasta-Themed Event
Check out our top 10 tips for hosting a pasta party.
1. Invite in Style
Start building your guests' excitement for your event from the moment you announce it by sending out customized Italian-themed invitations. Personalizing your invites doesn't have to be expensive. In addition to saving you the cost of stamps, some e-vite services are complimentary and provide fun invitation templates for you to choose from.
If you prefer the old-fashioned way, snail mail is still an excellent choice for getting the word out about your party. It allows you to use custom printed invitations, which are typically more impressive than an electronic version.
2. Set the Mood
Create an Italian-themed playlist that will give your party ambiance and set the tone for the night. Make sure you include some classic, kitschy Italian ballads along with some upbeat songs that will make people want to dance even if they've overindulged in pasta. Put your playlist on while you're cooking to have a little pre-party of one before your guests arrive.
3. Dress up Your Table
Complete the look with some standard Italian decor like a red-and-white checkered tablecloth, mini Italian flags and vases filled with uncooked pasta shapes instead of flowers. Get creative and resourceful by saving the large tomato cans you cook with to use as holders for utensils, napkins or extra seasonings at your party. You can accomplish two goals at once if you decide to put out a charcuterie board. A large wooden cutting board filled with quality meats and cheeses will complete your table's aesthetic, while serving as a delicious appetizer for your guests to snack on.
4. Start Small
Traditionally, an Italian meal begins with an antipasto tray as its first course. Try to choose some bite-sized appetizers for your antipasto spread that your guests can easily grab while continuing to gab. You can never go wrong with a tasty tomato bruschetta at an Italian party, but feel free to think outside the box with appetizers like mini lasagna rolls, supreme pizza dip or Caprese crostini.
5. Load up the Buffet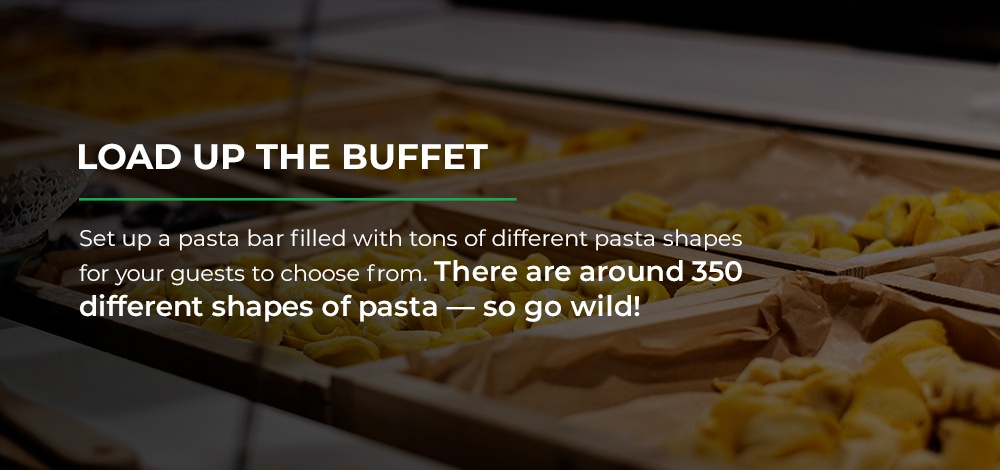 Set up a pasta bar filled with tons of different pasta shapes for your guests to choose from. There are around 350 different shapes of pasta — so go wild! Put out a variety of traditional noodles like spaghetti, linguine and bowties, along with some less common pasta shapes like fusilli, gnocchi and orecchiette. If you want to get creative, throw some of your noodles in food coloring to add a pop of color to your pasta.
Encourage your guests to get adventurous and combine differently shaped noodles with various types of sauces. You can make a strictly plain pasta smorgasbord and let guests smother the noodles in their choice of sauce, or you can add premade dishes like stuffed shells or spaghetti pie to your pasta party menu as alternative options.
6. Mix and Match
Complete your endless noodle buffet with a variety of sauces to top the different pasta shapes with. The secret to offering a bunch of sauces is keeping it simple — stick with basic pasta sauces like marinara, alfredo, pesto or bolognese. These popular sauces are easy to make and sure to please nearly everybody.
Ideally, all your sauces would be homemade, but there's nothing wrong with doctoring up a store-bought sauce or serving it straight from the jar if you don't think anyone can taste the difference.
7. Go Over the Top With Toppings
Take your pasta bar to the next level by offering fun toppings and protein options like Italian sausage, chicken or shrimp. Other toppings or garnishes your guests might enjoy with their pasta include diced tomatoes, black olives, shaved Parmesan cheese and fresh basil leaves. Be sure to set out seasonings like fresh-cracked black pepper, salt and red pepper flakes for guests to sprinkle onto their pasta masterpieces.
8. Provide Some Sides
When it comes to an Italian-themed night, double the carbs is always a yes! Whether you go the traditional garlic breadstick route or try baking a loaf of this sausage pull-apart bread, make sure you serve some bread alongside your pasta. Side dishes are also your best opportunity for sneaking more vegetables into the meal — check out this stuffed peppers recipe or whip up a side salad to get some greens on your guests' plates.
9. Pair Perfectly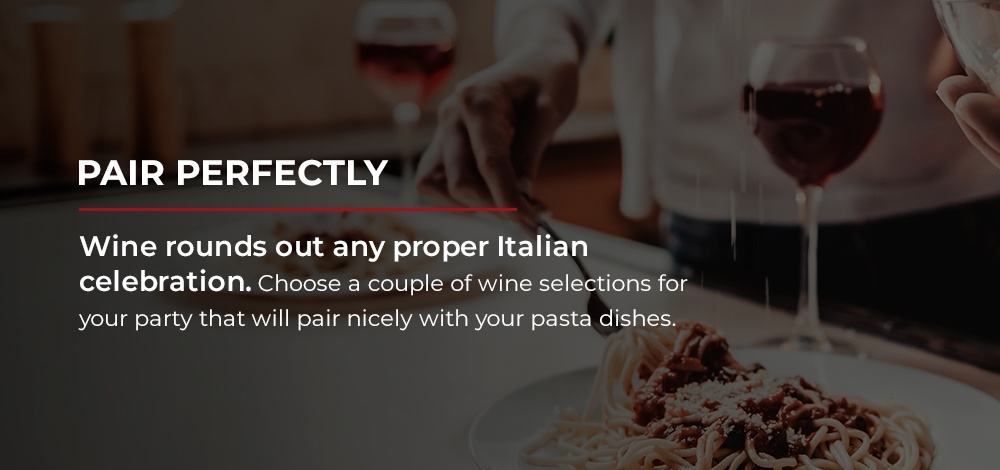 Wine rounds out any proper Italian celebration. Choose a couple of wine selections for your party that will pair nicely with your pasta dishes. Typically, red wines accompany meaty sauces, while white wines complement the flavors found in lighter, olive-oil-based sauces. Don't forget to put out a sparkling cider option if you plan on having any underage guests.
10. Throw Dinner and a Show
Plan out some games for your guests to play during dinner. Find out which of your guests could survive the trivia equivalent of the Colosseum by quizzing them on fun pasta facts and general Italian history. Crown your trivia king or queen by giving them a basket full of Italian ingredients and supplies for making a mini pasta party at home.
Bonus Tip: End on a Sweet Note
What good would a perfectly executed party be without dessert? Make sure you close the party with a classic Italian dessert, such as tiramisu or cannoli, to ensure all your guests leave with a good taste in their mouth.
3 Perfect Pasta Party Recipes
If you're thinking about hosting a pasta party, here are three classic pasta recipes that are quick, easy and delicious.
Classic spaghetti and sausage: This traditional spaghetti recipe tastes just like Mama used to make and is sure to be a hit at any pasta party.
Spaghetti bolognese: A bolognese is the quintessential red meat sauce for a reason, and no bolognese tastes quite as good as this recipe. Give your guests something to talk about with a bolognese they'll never forget.
Simple spaghetti and sausage: If you're looking to save time in your party planning process, pick this easy sausage with tomatoes and garlic on spaghetti recipe. You can whip this dish up in a flash, but the flavors are so fresh, your guests will never know you weren't preparing the sauce for days.
Find Premio at a Store Near You
The secret behind any good meal is the freshness of its ingredients, so make your pasta party unforgettable by using Premio sausage. At Premio Foods, we offer over 40 varieties of sausage without any fillers — the way sausage should be! Combine your pasta with Premio sausage to make a dish so flavorful your party guests will think they've traveled to Italy.
If you're planning an Italian-themed party, find Premio in the store nearest you to make your pasta party perfect.