10 Festive Christmas Appetizers
Christmas is a time for family, friends and delicious food. Appetizers are the ideal party food because they are easy to prepare and fun to eat. Many party appetizers can even be made ahead of time for ultimate convenience.
Whether you are searching for a classic family recipe or want to try your hand at some fun DIY Christmas appetizers, Premio Foods is here to help. Keep reading to learn more about our favorite Christmas appetizer recipes and visit our recipes page to find even more holiday hits.
Tips for Successful Holiday Appetizers
If done correctly, preparing the holiday appetizers can be just as much fun as your holiday party itself — especially if you involve your loved ones. Ask your children, spouse or friends to join you in the kitchen. You will create fun holiday memories together, and the extra set of hands can make the process much easier.
For ultimate, stress-free appetizers, follow the tips below.
1. How to Choose Amazing Christmas Appetizers
Plan your appetizer menu ahead of time. Having a game plan for your holiday cooking lets you see in advance what each recipe calls for and how much time it will take. When designing your menu, keep the following considerations in mind:
The number of guests attending: For traditional dinner parties, the rule of thumb is to have two or three different appetizers, each with six servings per guest.
The age of your guests: If your guest list includes young children, be sure to incorporate kid-friendly appetizers into your meal.
Any dietary restrictions: Ask your guests ahead of time if they have any food allergies or dietary restrictions, such as vegetarian or gluten-free preferences.
The meal format: What time of day will you be serving your appetizers? Early morning parties lend themselves perfectly to breakfast or brunch-themed treats, while evening parties call for more savory appetizers. Also, decide what type of appetizer you wish to serve — easily accessible finger foods, or more substantial appetizers that require utensils?
Sweet or savory flavors: To plan your appetizers, look at the rest of your party menu. Is it more savory or sweet? If your party menu is filled with baked goods, Christmas cookies or hot cocoa, consider incorporating more savory appetizers to provide balance. Alternatively, if you plan for a large holiday meal, your appetizers could act as dessert.
Hot or cold temperature: Decide whether your appetizers will be served cold, hot or a combination of the two. The setting of your party — including access to a kitchen or electrical outlets — will impact your choice of food temperature. If you prepared any appetizers ahead of time and need to reheat them, do not forget to account for the time it will take to do so.
2. Shop And Prepare Early
Shop early to make sure you get every ingredient. The earlier, the better — grocery stores may run low on certain holiday favorites during the season. This also gives you more time to organize and prepare your ingredients together in your fridge or pantry.
Combine any dry ingredients ahead of time. Peel or prepare garlic and vegetables. Remove any existing seals from packaged goods. Gather all utensils needed for storing and serving appetizers. If you plan to serve your appetizers formally, set the table the night before.
Create an actionable to-do list for the big day. Arrange items in a way that promotes efficiency — for example, if your appetizer requires a roasted or baked element, tackle that early in the day, before less time-consuming tasks.

3. Make Appetizers Ahead of Time
Holiday parties are the perfect time to pause all responsibilities and focus on spending quality time with your loved ones. Making appetizers ahead of time is one way to guarantee you will be spending less time in the kitchen and more time enjoying the party. Some recipes can be made entirely ahead of time by preparing them, freezing them in freezer-safe bags and then reheating them on the day of your event.
While you cannot make every appetizer in advance, you may be able to make some elements of the recipe ahead of time. For example, cooking your Premio sausage the night before your event will save you time when it comes to appetizer assembly.
Best Christmas Appetizers
Offer your guests appetizers with a variety of different flavors, textures and temperatures. Label each appetizer with Christmas-themed place cards and place them on a festively decorated buffet table.
Looking for a little holiday appetizer inspiration? Here are 10 of our favorites.
1. Scrumptious Stuffed Mushrooms
The holidays are a time of celebration — and what better way to celebrate than with wine? These scrumptious stuffed baby bella mushrooms are soaked in red wine and loaded with a cheesy blend of chicken sausage, kale and Italian breadcrumbs.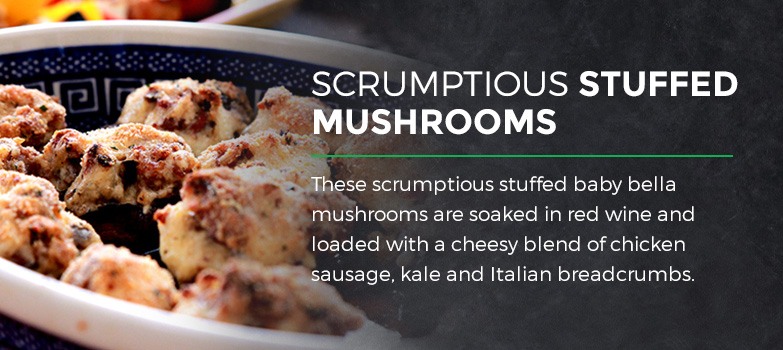 This recipe calls for:
8 ounces of Premio Sweet Italian Chicken Sausage with Kale, removed from casings
2 (8-ounce) packages of baby bella mushrooms
4 ounces of shredded sharp white cheddar cheese
4 ounces of shredded Swiss cheese
4 ounces of cream cheese, softened
1/4 cup of Italian breadcrumbs
2/3 cup of red wine, approximately
2 tablespoons of butter
Grab your corkscrew and get the full recipe here.
2. Premio Sausage and Cream Cheese Pinwheels
Christmas celebrations are often a busy time. Sometimes, all you want is an easy appetizer that does not take too much time or work to get right. Luckily, this pinwheel recipe is both simple and delicious. You can use all that extra time to mingle with your guests.
For this recipe, you will need:
Feel free to personalize these pinwheels to your taste. You could add a blend of herbs to your cream cheese, or add a layer of pesto in your pinwheel. Keep reading to learn how to assemble and bake this classic appetizer.
3. Mini Premio Sausage Lasagna Rolls
For many families, lasagna is a favorite holiday meal. Why not make it bite-sized? Mini Premio Sausage lasagna rolls are a fun new take on the familiar traditional Italian flavors of thyme and ricotta cheese.
The full list of ingredients includes:
1/2 package of Premio Sweet Italian Sausage, removed from casings
1 tablespoon of olive oil
2 cups of ricotta cheese
1 egg
2 teaspoons of lemon juice
Zest of 1 lemon
1/2 teaspoon of salt
1/2 teaspoon of sugar
1 tablespoon of minced thyme leaves
10 lasagna noodles, cooked al dente
1/2 cup of your favorite pasta sauce
1 cup of shredded mozzarella cheese
Get the full recipe here.
4. Sausage Pull-Apart Bread
Pull-apart bread has become very popular in recent years, and it is easy to see why. With layers of garlic, butter and mozzarella cheese, this sausage pull-apart bread will not disappoint. Use Premio Hot Italian Sausage to add just the right amount of heat.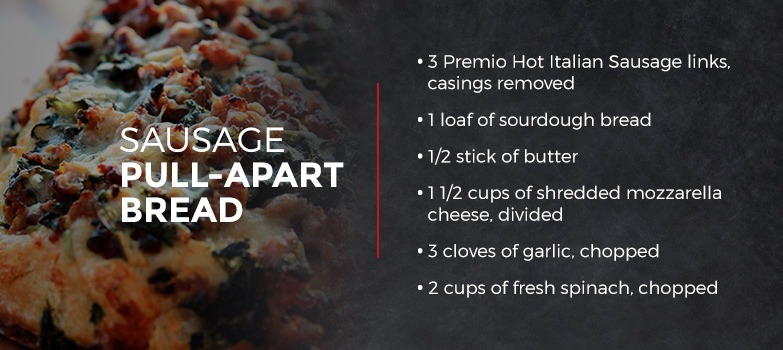 To create this recipe, you must have:
3 Premio Hot Italian Sausage links, casings removed
1 loaf of sourdough bread
1/2 stick of butter
1 1/2 cups of shredded mozzarella cheese, divided
3 cloves of garlic, chopped
2 cups of fresh spinach, chopped
Read on for further instructions and prepare to wow your guests.
5. Holiday Sausage Wreath
Holiday wreaths are no longer just for your front door. They are for your table, too — and this one, you can eat. Cut into this holiday sausage wreath, and your guests will be delighted to find it filled with mushrooms, garlic and sweet Italian sausage.
The ingredients for this recipe are:
2 packages of Premio Sweet Italian Sausage
3/4 cups of brown cap mushrooms, finely chopped
3 shallots, peeled and finely chopped
2 garlic cloves, crushed
1 egg yolk, to glaze
2 cups of puff pastry
2 teaspoons of oil
You can substitute Premio Sweet Italian sausage for any of your favorite sausage flavor combinations. Sweet Basil Italian Sausage and Italian Sausage with Tomato, Garlic and Rosemary would both be excellent choices. Learn how to create this new kind of holiday wreath.
6. Premio Sweet Sausage Madeira Bites
Madeira and roasted red peppers combine with ricotta and Romano cheese to take these sweet Italian sausage bites to the next level. Each bite is sure to deliver plenty of sweet-and-savory flavors.
For this recipe, make sure you have the following ingredients on hand:
1 pound of Premio Sweet Italian Sausage, casings removed
3/4 cup of sweet yellow onions, diced
1 tablespoon of garlic, minced
2 teaspoons of dried Italian seasoning blend
1 (16-ounce) package of sliced button mushrooms
1/3 cup of Madeira
2/3 cup of ricotta cheese
2 tablespoons of roasted red peppers, drained and finely chopped
1/3 cup of freshly chopped chives, divided
Salt and pepper to taste
1/2 cup of shredded Romano cheese
45 mini fillo shells
Keep reading to get the full recipe for this yummy Christmas hors d'oeuvre.
7. Bacon-Wrapped Sausage Coins With Pineapple Dipping Sauce
Who said pineapple is a summer-only treat? Not us. These bacon-wrapped sausage coins with pineapple dipping sauce are perfect for adding a touch of sunshine to your holiday party. While you can use any of your favorite Premio sausage combinations for this recipe, some of our favorites to use are Premio Italian Chicken Sausage or Premio Hot and Spicy Italian Chicken Sausage.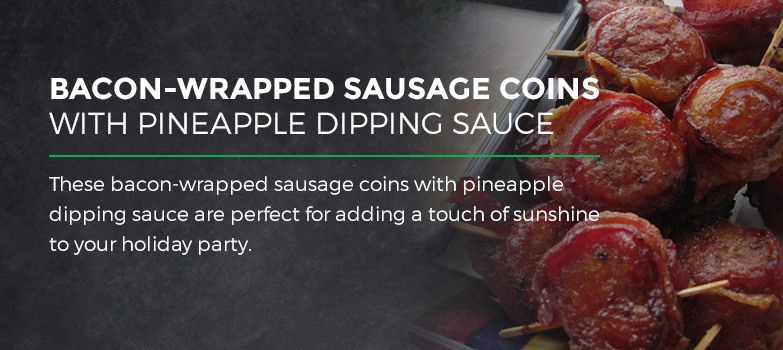 To make this appetizer, you will need:
1 package of Premio Sausage, cut into 1/3-inch rounds
1/2 cup of pineapple preserves
1 tablespoon of water
2 teaspoons of fresh lime juice
2 teaspoons of soy sauce
1 teaspoon of Dijon mustard
1/4 teaspoon of crushed red pepper flakes, or to taste (optional)
11/2 pounds of bacon, each slice cut in half
Surprise your guests with this summer-turned-winter appetizer. Visit the recipe page to learn more.
8. Premio Festive Pita Trees
What could be more festive than these colorful Christmas pita trees? Make this recipe ahead of time, or use it as an opportunity to get your guests involved. Consider letting each person decorate their pita tree with their favorite toppings. We use colorful bell peppers and guacamole for our trees, but you can get as creative as you would like.
Our favorite way to make this recipe calls for:
1 package of Premio Sweet Italian Chicken Sausage, casings removed
1 tablespoon of oil
4 plain or flavored pita folds or pocket bread
16 thin pretzel sticks, halved
1/2 cup of your favorite guacamole
1/2 cup of fat-free sour cream
1/4 teaspoon of garlic-pepper blend
1/4 cup of red bell pepper, finely chopped
1/4 cup of yellow bell pepper, finely chopped (optional)
Ready to get started? Get the full recipe and make your own delicious Christmas trees!
9. Premio's Holiday Wreath Pizza
If you thought holiday decorations couldn't get any better, have we got a treat for you. Premio's holiday wreath pizza puts a mouthwatering twist on an Italian classic using arugula, red peppers, Parmesan-Reggiano and sweet Italian sausage meat.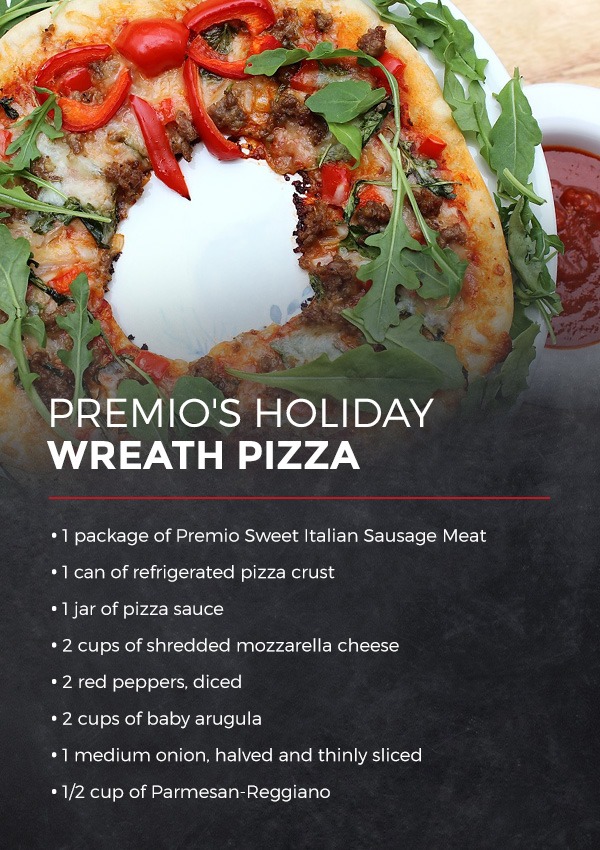 To make your own, be sure to have:
1 package of Premio Sweet Italian Sausage Meat
1 can of refrigerated pizza crust
1 jar of pizza sauce
2 cups of shredded mozzarella cheese
2 red peppers, diced
2 cups of baby arugula
1 medium onion, halved and thinly sliced
1/2 cup of Parmesan-Reggiano
Read more about this Christmas appetizer.
10. Premio Chorizo Stuffed Mushrooms
Combat the cold weather with these soul-warming Chorizo stuffed mushrooms. Your family will love these bite-sized treats. Each mushroom combines our Chorizo — made with a blend of chili and garlic — with mushrooms, breadcrumbs, parsley and Manchego cheese.
For this recipe, you need:
1 link of Premio Chorizo Sausage, casings removed
18 large white mushrooms
1/3 cup plus 1 tablespoon of olive oil
1/3 cup of onion, finely diced
1/2 cup plus 2 tablespoons of breadcrumbs
2 tablespoons of chopped parsley leaves
1/4 cup of chicken stock
1/3 cup of Manchego cheese, coarsely grated
Read on to get the full instructions for this appetizer.
Find Premio in a Store Near You
Premio Foods has been carrying on the tradition of crafting fine Italian sausage — using our generations-old family recipe — for over 40 years. We use only the best pork, chicken and turkey in our sausages, as well as special blends of spices and other gourmet ingredients. We work to maintain the four pillars of family-owned businesses of yesteryear: a commitment to quality, a commitment to our customers, a commitment to our employees and a commitment to our community.
Use our store locator to find Premio sausage near you — and don't forget to comment below and tell us which of these Christmas appetizer ideas you are making this holiday season.
2 responses to "10 Festive Christmas Appetizers"