The Ultimate Grilling Bucket List
As the weather heats up, so does the grill. Summer is the perfect time to cook on the grill, and the options are endless, so we've put together the ultimate guide for summer grill recipes. Follow this advice, and you'll have everything you need to become the reigning grill master this summer.
We started with seven broad categories of fun things to grill, then filled them in with a variety of tasty takes on the dish depending on what sort of flavor you're craving — or what the picky eaters of your house will tolerate!
With plenty of room for customization within each category, this list of best things to cook on the grill has something everyone will enjoy. So invite the family over for a cookout and start working through it.
1. Pizza
Pizza is an easy, quick, crowd-pleasing meal to whip up, and there are endless topping possibilities. There are no rules for making your pizza — from the traditional cheese and pepperoni to the modern fig and prosciutto, let your creativity run wild with our wide variety of Premio Foods products.
Here are some of our tried-and-true grilled pizza favorites:
Pro tip: If you're a fan of pineapple on your pizza, try charring your fruit separately on the grill before tossing it on your pie.
2. Tacos
Make Taco Tuesday something to celebrate! Tacos are already a go-to meal for many households as a dependable dish that everyone in the family will enjoy, but putting them on the grill will make them even better. After your family tries these recipes, tacos won't just be for Tuesdays anymore.
These are just some of our favorite grilled taco recipes, with a quesadilla bonus:
Pro tip: If you're having a complete Mexican-themed night, grill your avocadoes for a few minutes before mashing up your guac to give it a unique, smoky flavor!
3. Kebabs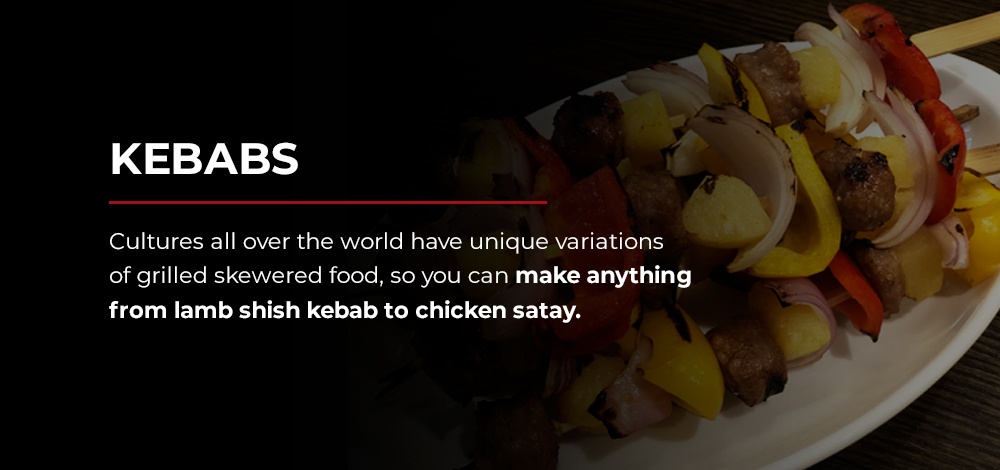 With kebabs, your options and flavor combinations are once again limitless. Cultures all over the world have unique variations of grilled skewered food, so you can make anything from lamb shish kebab to chicken satay. The good news is no matter which type of kebab you decide to make, kebabs are always quick to assemble, easy to cook and delicious to eat.
Below are some of our favorite grilled kebab recipes:
Pro tip: Use metal skewers to make stabbing tough foods easier.
4. Burgers
The classic burger has become more and more versatile over the years, making it one of the best summer grilled dinners. Nowadays, you can order anything from a plain hamburger to a bacon gruyere cheeseburger topped with a fried egg at a restaurant. Even the base of the patty can vary for those trying to avoid red meat. Feel free to stick with the traditional hamburger or deviate from the norm with Premio chicken patties.
Check out some of our best burger recipes:
Pro tip: Don't press on your burgers with a spatula as they cook — that allows the juices to escape and dries out the burger.
5. Bratwursts
For any outdoor sporting event, bratwursts are a must. Of course, there's nothing wrong with straightforward bratwurst on a bun with some ketchup and mustard, but there are so many ways to dress up your brat. Go ahead and browse through these options, then grill up some brats and gather the family to watch the big game.
Here are our top bratwurst-based recipes:
Pro tip: The perfect bratwurst requires a low-and-slow cooking approach. If you have the time, grill your brats over medium-low heat for a bit longer than you usually would, and see if you can taste the difference.
6. Sandwiches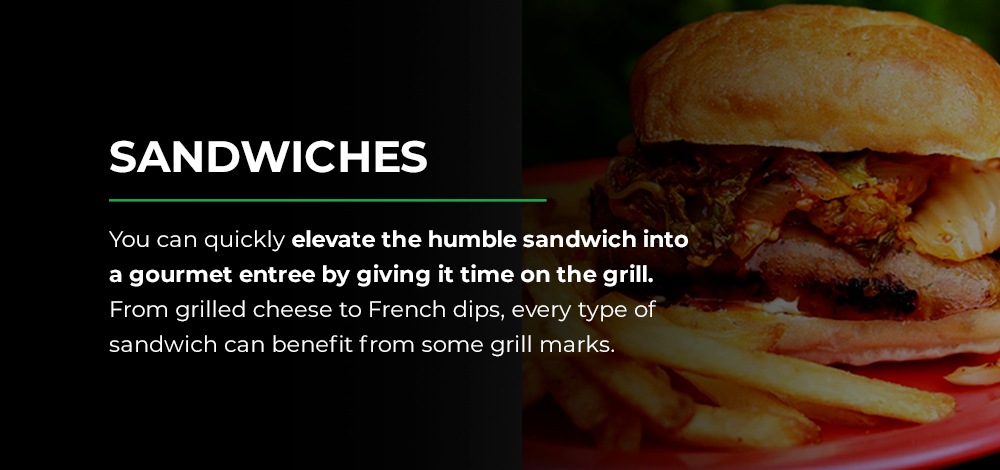 You can quickly elevate the humble sandwich into a gourmet entree by giving it time on the grill. From grilled cheese to French dips, every type of sandwich can benefit from some grill marks. And there are no limits to the kind of sandwich you can design — club, hoagie, open-face, waffle, melt, panini — the list goes on. Let the sandwich serve as a blank canvas for your next culinary masterpiece.
Here are some recipes that prove everything's better between bread:
Pro tip: If you want to take your sandwich game to the next level, butter and grill your bread before filling it with the rest of your ingredients. Don't be afraid to put your wraps on the grill as well.
7. Side Dishes
Stellar sides can round out any meal. And why should grilled main dishes get to have all the fun? Make the grill your one-stop cooking station by using it to prepare mains and sides alike — it might just save you some time, too.
Here are some showstopping side dishes:
Pro tip: Choose a side that complements your main dish — pair spicy with cool, rich with light, etc. That way, you're not overloading your plate with spice, sweetness, acidity or any other flavor that might offset your palate.
Get Grilling With Premio
As you can see, there's no limit to what you can make with a grill, Premio ingredients and a little bit of creativity. Using this ultimate list of the best things to grill in summer, you can wow your family — and their taste buds – with a five-star grilling experience during the warmer months.
These recipes let you experience flavors from around the world right in your backyard, making each day of summer a different destination. Visit our website to embark on your next culinary adventure today.